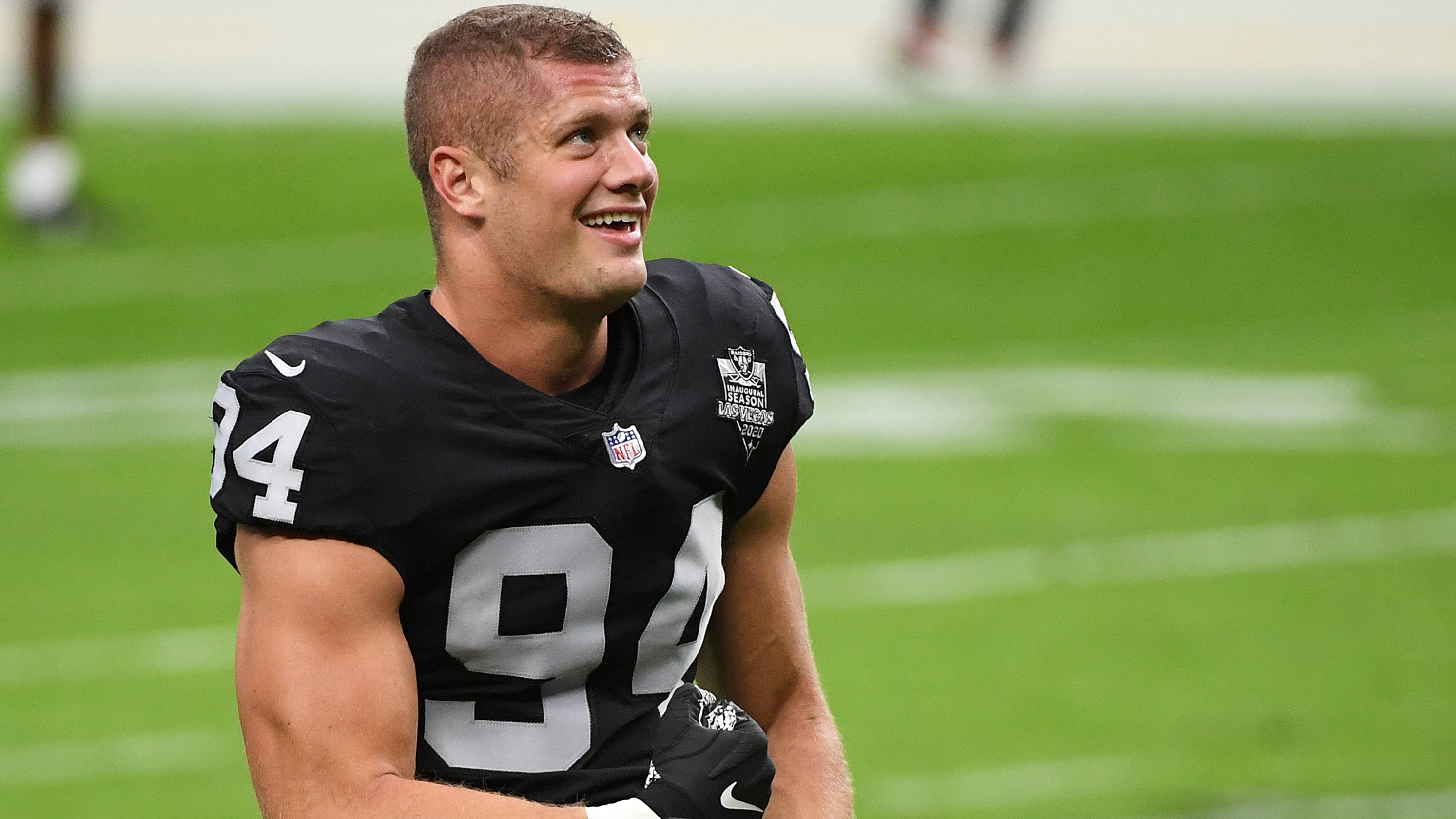 Credit: Getty Images/Ethan Miller
The NFL now has its first openly gay active player as the Las Vegas Raiders defensive lineman Carl Nassib took to social media to publicly come out. Representation was the motivating factor but he also said he hopes announcements like his will become a non-issue in the future.
"I've been meaning to do this for a while now, but I finally feel comfortable enough to get it off my chest," he said in the Instagram video. He also announced he'd be supporting The Trevor Project with a $100,000 donation. It's an impactful message and donation during pride month and a monumental moment for the NFL.
View this post on Instagram
And while some sports fans will predictably roll out their hot takes from 1985, most of the enlightened world, including Nassib's NFL colleagues, were supportive.
Before we delve into the world of support, let's address comments like "why does it matter???". Here's why – helpfully explained by Nassib and echoed by ESPN's Mike Golic Jr.
Carl Nassib's announcement on his IG page included this note which was particularly compelling, especially for those who may meet this news with "what's the big deal/why does it matter?" pic.twitter.com/o1lQLoSqSa

— Mike Golic Jr (@mikegolicjr) June 21, 2021
"Studies have shown all it takes is one accepting adult to decrease the risk of an LGBTQ kid attempting suicide by 40 percent. Whether you're a friend, a parent, a coach or a teammate, you can be that person."
And onto that support! From current players, stars, coaches, the commissioner, and so on…
Jon Gruden showing his support for Carl Nassib 👏 pic.twitter.com/dyqKHapBE1

— PFF (@PFF) June 22, 2021
Much respect brudda ✊🏾 https://t.co/1G2ewVOWje

— Saquon Barkley (@saquon) June 21, 2021
Awesome moment. Spreading the love to the @TrevorProject very classy move. ❤️ https://t.co/pOWGsvRMUW

— Julian Edelman (@Edelman11) June 21, 2021
This simple but powerful message of acceptance from an organization will go a long way in making the @NFL a place for all of its athletes to succeed! https://t.co/XfcPo4bLGO

— R.K. Russell (@RKRelentless) June 21, 2021
I was proud of Carl when he led the nation in sacks, but I'm even more proud of him now. #WeArehttps://t.co/W4T9Arx6S6 pic.twitter.com/KkcvDh3cAe

— James Franklin (@coachjfranklin) June 22, 2021
Really proud of Carl Nassib. The first active football player to ever do so. I played with several guys who never were comfortable enough to go public. They were great teammates, & obviously very talented.

— Warren Moon (@WMoon1) June 22, 2021
Much love and respect to Carl Nassib. ✊ https://t.co/WW2u3uNRjz

— Atlanta Falcons (@AtlantaFalcons) June 22, 2021
Good for you Carl.

Glad you feel comfortable enough to share and hopefully someday these types of announcements will no longer be considered breaking news. https://t.co/eevr8cgRay

— JJ Watt (@JJWatt) June 22, 2021
It's a big step from a great player, and it's heartening to see so much support for him throughout the league. Someday it won't matter, but that day is not today, and this will go a long way in making millions of people more comfortable in their own skin.