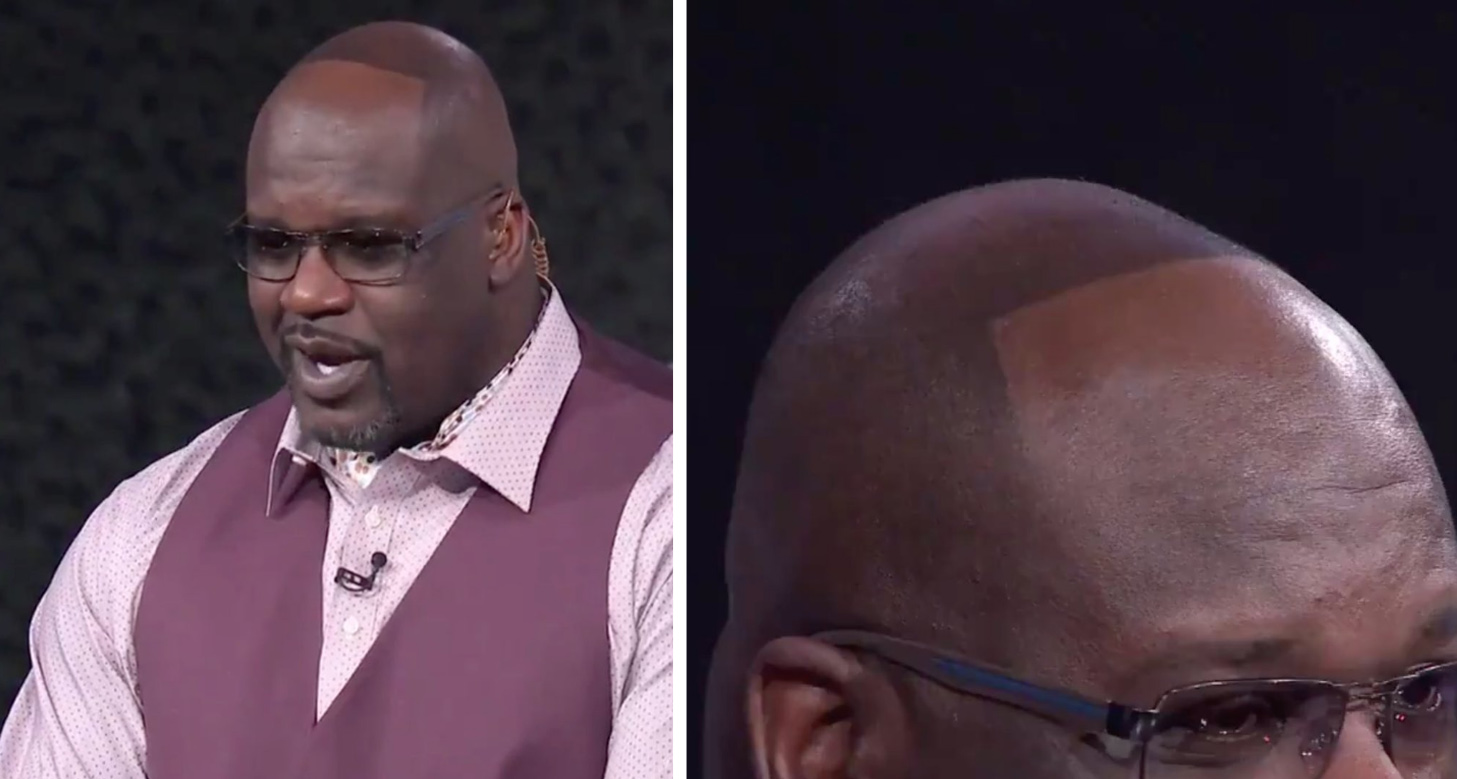 Credit: Twitter/SportsCenter/NBAonTNT
The best wagers made between friends always involve something more damaging than the transaction of funds. A good bet between friends has to involve some level of humiliation, and that is the explanation for why Shaq appeared on his NBA show looking like you've never seen him before.
Shaq lost a bet to Dwyane Wade on a prediction of how the Milwaukee v. Miami game would pan out. Shaq saw the Bucks winning in a blowout. Wade saw the Heat prevailing. The latter was right. And the result? Shaq, the notoriously shaved-headed giant, had to let his hairline grow out.
Shaq lost a bet to D-Wade. Now America knows what his hairline looks like 💀

(via @NBAonTNT)pic.twitter.com/4Anp0ohY6e

— Bleacher Report (@BleacherReport) March 4, 2020
— DWade (@DwyaneWade) March 4, 2020
"Let's just get it out of the way, America," Shaq said during the show. "I had a bet against one of my good friends, D-Wade, Milwaukee versus the Heat. I said Milwaukee was gonna win by 20 and the Heat won. I said, 'Well, what do you want me to do, pay you?' He said, 'Nah, you gotta let your hairline grow.' "
I think Shaq knows how ridiculous he looks, which is why he invited the hardest, cruelest comments possible on his Instagram post (which, honestly, would've happened anyway even without the incentive).
View this post on Instagram
And this is the type of NBA content we can all enjoy (unless your hairline is, in fact, worse than Shaq's).
.@DwyaneWade's drawing of Shaq's hairline has me dead 💀 pic.twitter.com/hPBI972xro

— Bri Lewerke (@brilewerke) March 4, 2020
.@SHAQ lost a bet to @DwyaneWade, so he had to let his hairline grow out 🤣

(via @NBAonTNT) pic.twitter.com/450Ow3qyPj

— SportsCenter (@SportsCenter) March 4, 2020
.@SHAQ's hairline gave us a few ideas 🤔 pic.twitter.com/6r0kYTm8VP

— NBA on TNT (@NBAonTNT) March 4, 2020