'Let's walk': Sheriff Joins Peaceful Protest in Sign of Solidarity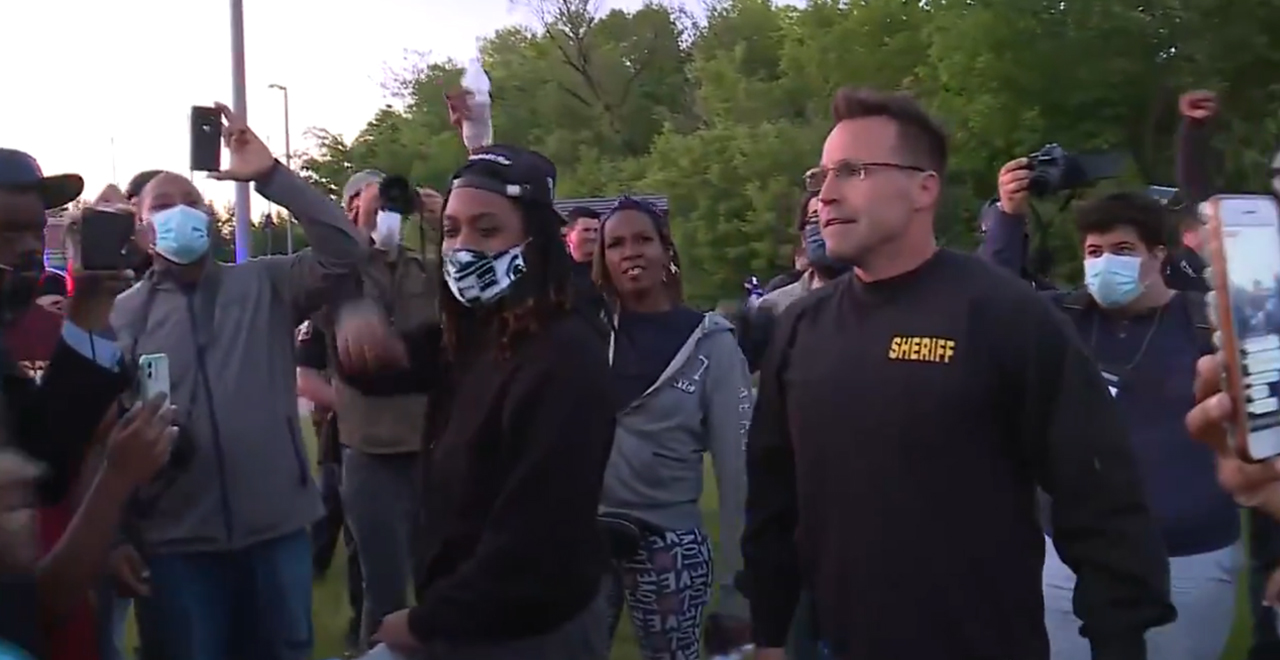 The country is in a tough spot right now. The coronavirus has everyone on edge, and just as things seem to potentially be slowing down, a long-simmering firestorm exploded over the weekend.
After George Floyd, a fellow dad who deserved the same treatment the most privileged among us are privy to, was unjustly killed by an overzealous (at best) policeman, an outraged, fed-uo population took to the streets. They're out there protesting not only Floyd's murder, but the countless similar incidents in which people of color have been mistreated, taken advantage of, marginalized, and destroyed.
The scenes of unrest taking place all over the country are unpleasant to watch, but not unprecedented, and certainly not unwarranted. Unfortunately, protests that were meant to remain peaceful turned violent thanks to bad actors on both sides, including an aggressive and intimidating police force that too often seems to strike first, especially when it comes to conflict in black and underprivileged communities.
Not all policemen, of course. Some, maybe even most, seem to understand that what's needed now is empathy, understanding, unity, compassion, and collaboration.
One police force in Flint, Michigan is leading the way with a heartening example of how we should all be responding to the justified outrage of our most marginalized people.
Faced with a mob of protesters, Genesee County Sheriff Chris Swanson decided to listen. He took off the intimidating riot gear police are wearing, stood up in front of his community, and told them, "We wanna be with y'all, for real. I took my helmet off, I laid the batons down. I wanna make this a parade and not a protest!"
Those who were marching in anger responded with cheers and chants of 'walk with us!' as the sheriff embraced his community, recognized their valid complaints, and marched alongside them.
It gives you chills just watching. And makes you wonder how different this weekend might have gone if more policemen empathized with their communities the way Sheriff Swanson does. We're all in this together.
Watch the video:
Amazing scene unfolding in Flint, Twp, Michigan. Genesee County Sheriff Chris Swanson has joined protesters in a peaceful march. Read More: https://t.co/4ioyUnymNv @MichStatePolice @GovWhitmer pic.twitter.com/nMCVuXQ0TZ

— Mid-Michigan NOW (@midmichigannow) May 31, 2020