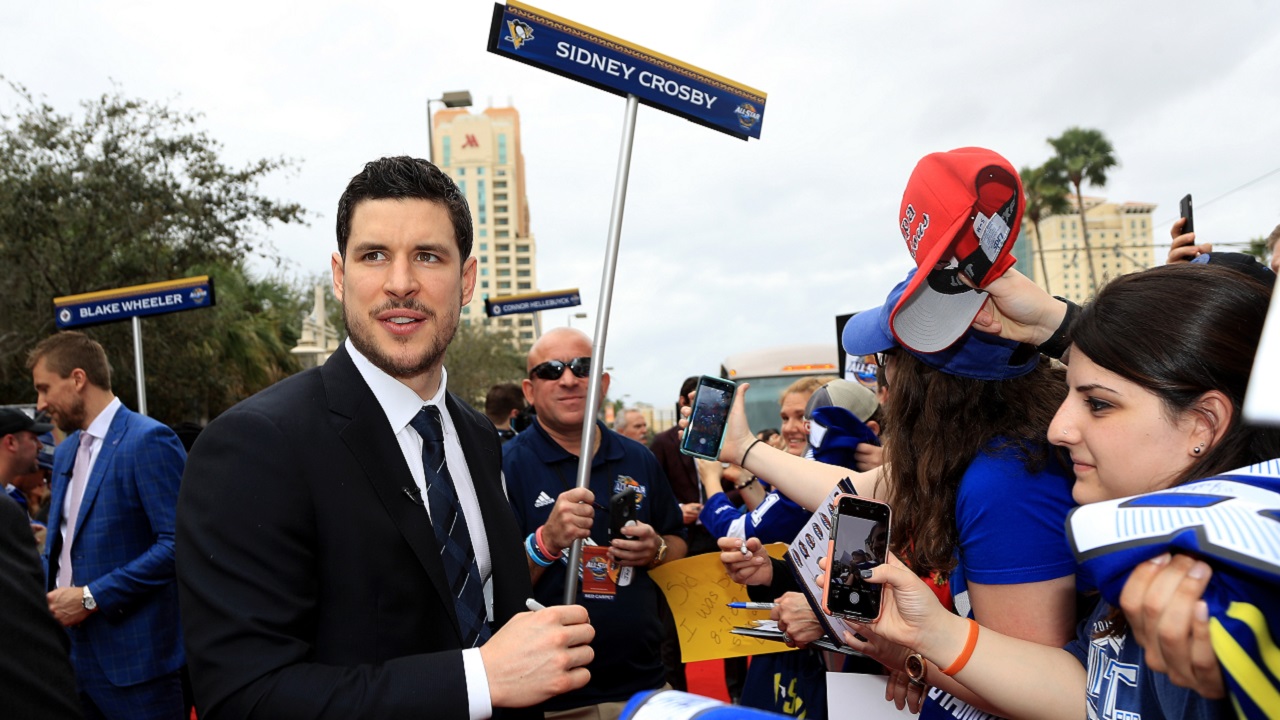 Credit: Getty Images/Mike Ehrmann
Let this story thaw your icy heart
Does the NFL have you bummed out? Is today's Super Bowl a depressing reminder of all the ways the No Fun League has let you down lately, what with the concussions and the politics and the criminals and the Patriots? Well this story may be the antidote!
You see, not every superstar athlete is embroiled in controversy. Some of them actually nice guys! Especially the Canadian ones. Don't believe me? Just watch.
CBC News tells the story of one lonely teenager's lucky day in the middle of January, when he was skating by himself in Mont-Tremblant, Quebec, when, suddenly, another skater approached the rink. Turns out it was beloved and/or despised NHL star – depending on your allegiances, of course – Sidney Crosby, and he wanted to know if the 19-year-old Guillaume Ouimet was waiting for anyone.
"He asked me a question about the ice and if I was alone, and then I tell him I'm alone and I can see he just wants to skate and not be bothered by a lot of persons."
The two ended up skating together for a while, with Crosby even repeatedly buying extra time from his impatient girlfriend.
The young man spoke to Crosby in English, and Crosby still spoke back to him in French as best as he could. And when Crosby's girlfriend said they had to go, he said "ten more minutes" twice…I love these random stories of Sid doing stuff like this when no one is watching.

— Sara Civ (@SaraCivian) January 31, 2018
For his part, Ouimet was impressed with the star's skills.
"He's so good. It's not even comparable to what you see on TV," he told CBC News. "I was just so impressed."
I'm not sure why, the Sid the Kid is was the #1 overall pick, a veteran NHL star, two-time league MVP and three-time Stanley Cup winner. But hey, I'm from the States, maybe I'm easier to impress.
The Pittsburgh Penguin, who's originally from Nova Scotia, was vacationing in Quebec when he happened upon the lone skater and decided to indulge some nostalgia for his youth and lace 'em up on the outdoor rink, making a 19-year-old hockey player's day/life in the process.
Guillaume wasn't the only one who was impressed.
Just a casual skate on the local rink AND THEN SIDNEY CROSBY SHOWS UP. https://t.co/OB0TT5zQNZ

— NHL (@NHL) January 31, 2018
Sidney Crosby is the best. Not sure how many people would show up at a random rink in tremblant and skate with a young man for an hour or longer #BellLetsTalk https://t.co/SSZXcpeuEo

— Nik (@NikkF07) January 31, 2018
I know someone who wouldn't: Bill Belichick!
Of course, this being sports, feelings run deep, and people just can't be swayed.
Sent this story to my mom, who hates Sidney Crosby. I was sure she would change her tune, but alas, she is steadfast in her contempt. https://t.co/XCoIgJPJCG

— Kamila Hinkson (@kamilahinkson) February 1, 2018
Or can they!
UPDATE: After I called her heartless, she admitted her heart was warmed "a bit." Progress!

— Kamila Hinkson (@kamilahinkson) February 1, 2018
That's the healing power of sports. And Canadians. Remember that when the relentless Patriots are lifting their latest trophy.