Skateboarding Man In Suit Lives in Shelter, Teaches Low-Income Kids to Skate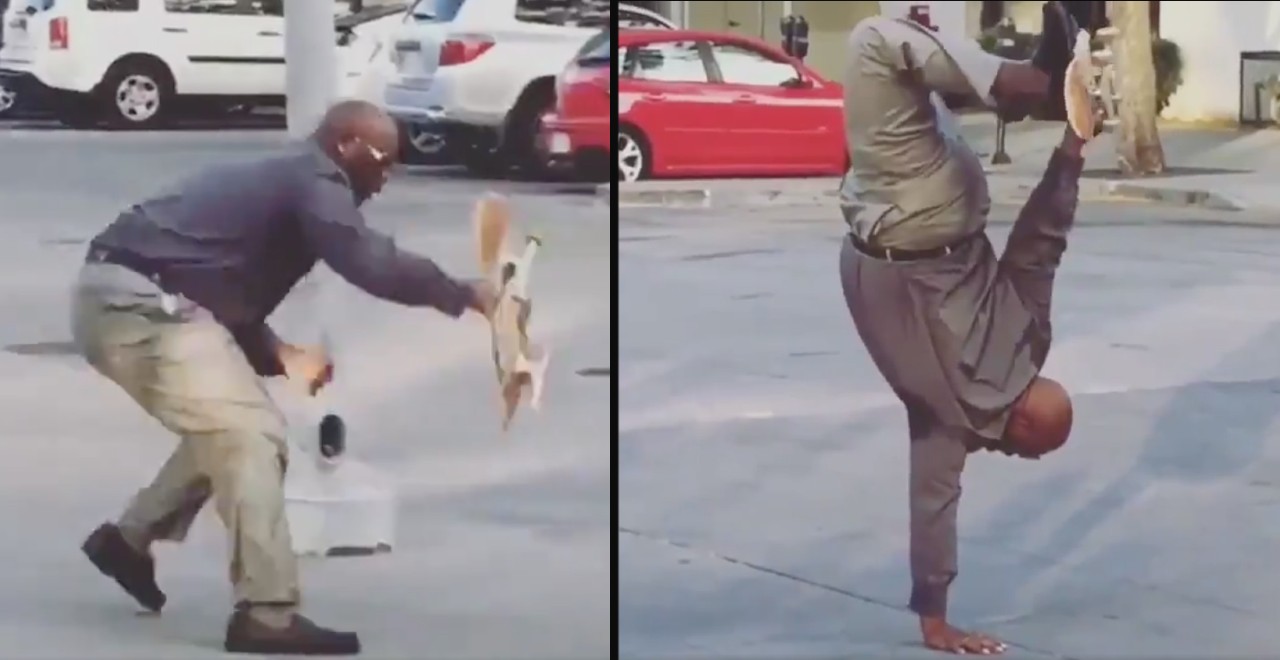 Watching Tony Hawk tear up skate parks for decades has conditioned us to be more or less obsessed with all things skating. Between the thrill of watching someone seemingly defy gravity with ease and fantasizing about one day doing it yourself (please don't try), the art of skateboarding is exhilarating. Earlier this week, a viral video of a man skateboarding in a full suit kick-flipped its way into our hearts. Little did we know, his skateboarding skills weren't even the coolest thing about this mystery man.
me buying a skateboard at 29 pic.twitter.com/aa0ngUc5jH

— himbophile prey (@beautifuldaddi) June 19, 2020
Fortunately for us, Jenkem Magazine managed to track him down – his name is Avery Baxter, and his story is worlds away from what anyone expected. When you see a man in a suit, you probably assume that he's off to work (skateboards would definitely be cheaper than Uber). However, Baxter is currently homeless – he lives in transitional housing. He lost his house several months ago, and as a result, had to separate from his children and fiancé. According to the update to the viral video, Baxter wears a suit wherever he goes. His adoptive dad always said that you never get a second chance to make a first impression. After his dad passed away, the suits became a staple in Baxter's wardrobe. Not only was it a great way to honor the memory of his late father, but the suit was the tool to ensure he was always ready to meet someone who may be important to him later down the line.
hes from the bay too and he wears the suit EVERY DAY because of the feeling he gets when people treat him with respect, this man is truly inspiring pic.twitter.com/jAxSK6cTwq

— 𝐞𝐭𝐡𝐨𝐭 𝐬𝐥𝐚𝐲𝐞𝐫 (@floricets) June 20, 2020
Baxter's dad is undoubtedly smiling down on him now, vindicated that the trusty suit helped catapult his son into the public eye. The video, taken on Mother's Day, shows Baxter on his way to surprise his adoptive mom. While passing a group of skaters, he decided to stop, ask them to borrow a skateboard, and attempt a trick he had never actually tried before. As you can see, he absolutely nailed it.
Baxter has always loved skating – he's been doing it since he was little, and even taught his kids to skate. "I also teach kids skating from age three to 11, since they're easier to work with," Baxter told Jenkem Magazine. "They don't think they know everything. I work with low income or Section 8 families. It's more important for their kids to do something positive."
Baxter has had far from an easy time in life. He was homeless, in foster care, horribly abused – he has seen more hardship in 38 years than most people would see in the course of 10 lifetimes. Even through all of it, he maintained a positive attitude. He continues to try his best to support his children, teach kids on the street to skateboard (and channels his own anxiety into skateboarding), and perhaps most importantly of all, he never forgets his suit.