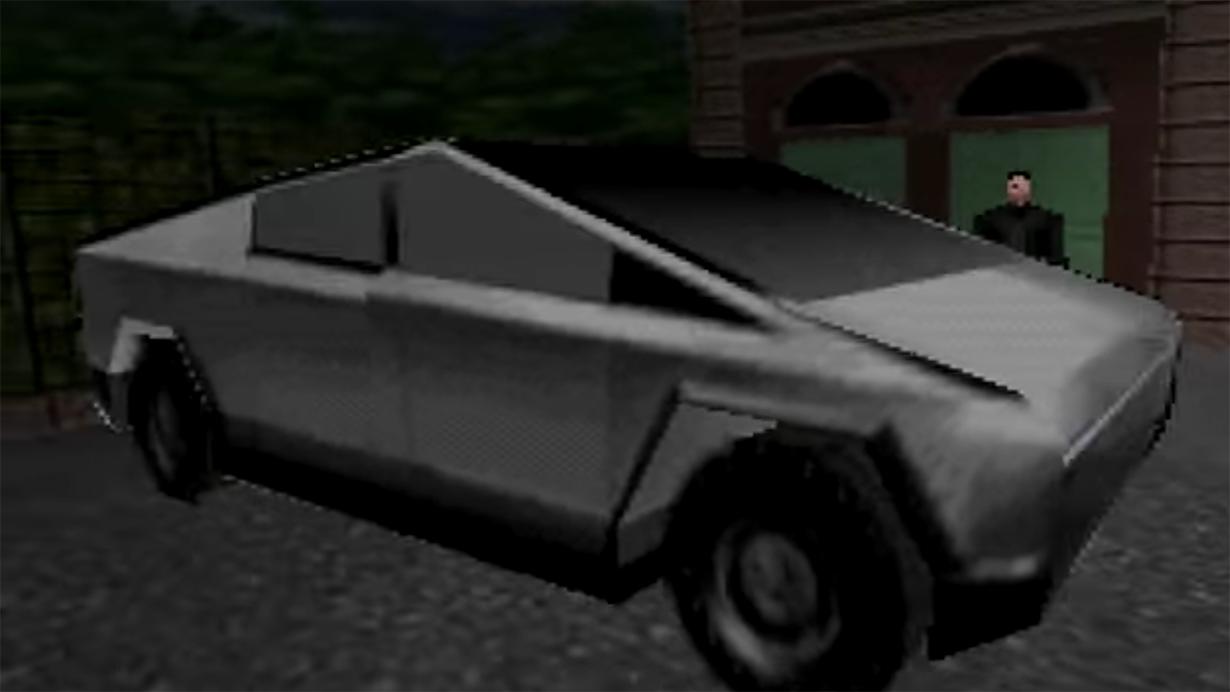 Credit: YouTube/Graslu00
Whether you're on board for Tesla's new futuristic Cybertruck or think it's just laughably weird, people can't seem to stop talking about it. It's been the subject of jokes, memes, and thousands of internet searches, and now it's even somewhere you probably didn't expect: Goldeneye 007 for the Nintendo 64.
YouTuber Graslu00 shared gameplay of the classic N64 shooter and thanks to a little modding magic, Bond stumbles across both the Cybertruck and Tesla CEO Elon Musk (we still aren't quite sure what Elon was doing on the streets of St. Petersburg at this time of night but he seems to be holding his own).
Booting up the 'Streets' level, the player casually strolls over to where the tank usually sits and instead finds Elon accompanied by the Cybertruck in all her low-polygonal glory. The best part is that it all kind of works. Sure, the Tesla CEO's face is all sorts of distorted (like all faces in the game) but the Cybertruck looks pretty spot-on for what we thought a high-tech car from the future would look like back in the '90s.
Hell, Bond even takes damage through the car just like he would if he drove the actual "bulletproof" stage model from Tesla's unveiling event. Realistic!
But who needs bulletproof windows when you can launch tank shells during a leisurely drive through the city, right? Maybe Tesla should take a page out of this modder's handbook and add some MI6-level firepower to their electro-truck.