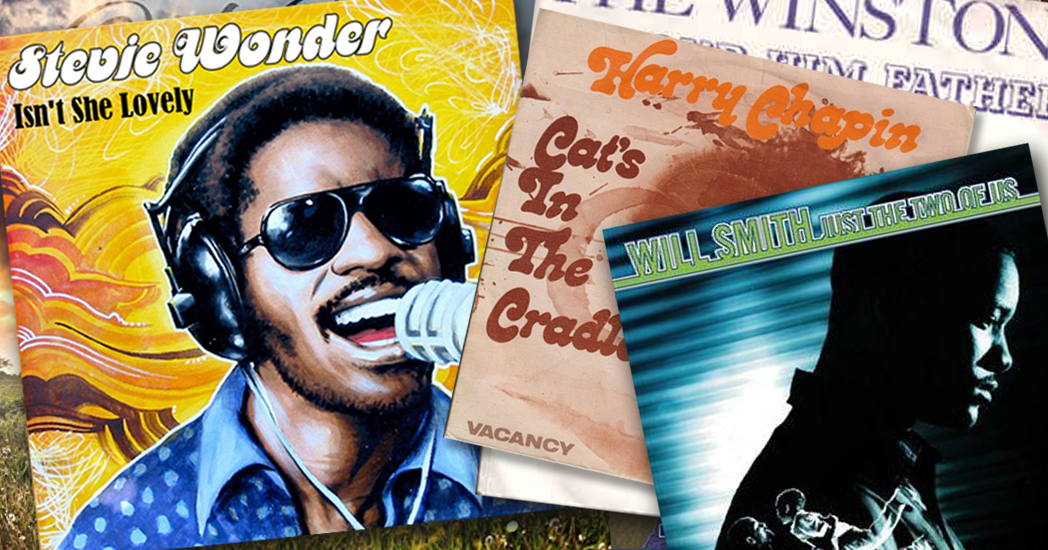 Credit: iTunes
Sadly, the roller coaster ride of parenting often causes us to lose touch with quality music. We're too busy. We're too tired. We're fine with listening to Raffi's greatest hits because the kids stay quiet in the car. We've got the Paw Patrol theme stuck in our head. Heck, Baby Shark recently became the most played YouTube video ever with 7 billion plays. We must remain vigilant and keep our inner DJs alive. We must replace "Doo-Doo-Doo-Doo-Doo" with quality lyrics as often as possible.
Here's a list of wonderful songs about fatherhood to help you wage a war against that Peppa Pig theme song you can't shake.
1. Isn't She Lovely by Stevie Wonder
Far and away the best pop song ever written about the profound joy of seeing your newborn kid for the first time. Catchy as hell, and a testament to both the daddy-daughter relationship and how unparalleled Stevie Wonder's talent is.
Best lyrics:
Isn't she pretty?
Truly the angel's best
Boy, I'm so happy
We have been heaven blessed
2. Show Me The Good Life by Blu & Exile
One of the best tracks from one of the best hip hop albums this side of the millennium. The track covers a lot, from Blu dealing with an unexpected pregnancy to Aloe Blacc running down a list of things he'd wished his dad told him. Doesn't hurt that the beat is also fresh as hell.
Best lyric:
Trying to hit reset knee deep in debt
Trying to figure how to feed a mouth that ain't got teeth yet
3. Not All Heroes Wear Capes by Owl City
If you dug "Fireflies" back in 10th grade, you're sure to dig this sweet and melodic tune about a boy simply revering his dad. The singer celebrates his father's golden heart, his love of rock 'n' roll, and his ability to fix anything.
Best lyric:
He built me a house in the arms of a tree
He taught me to drive and to fight and to dream
When he looks in my eyes, I hope he can see that
My dad's a hero to me
4. Yesterday by Atmosphere
If the jovial piano beat doesn't hook you, rapper Slug's introspective lyrics about his late father, with whom he's still trying to make amends. Slug also alludes to his own struggles with fatherhood, and his aim to be a better dad than the one he had.
Best lyric:
A whole house full of dreams and steps
I think you'd be impressed with the pieces I kept
You disappeared, but the history is still here
That's why I try not to cry over spilt beer
5. Glory by Jay-Z
Outside the Royal Family, Jay-Z and Beyonce's firstborn was probably history's most highly publicized childbirth. In this charming song from 2012, produced by The Neptunes, Hov speaks on the heartbreak of losing a pregnancy, his relationship with his dad, and his full intent to spoil Blue Ivy, who's listed as a guest on the track.
Best lyric:
Get ready for part two
A younger, smarter, faster me
So a pinch of Hov, a whole glass of Bey
6. Joy by Talib Kweli ft. Yasiin Bey (Mos Def)
"Joy" is the perfect name for this track in which Talib Kweli recounts the birth of his son, and then immediately follows it up with a verse about the day he first held his daughter. Backed by an uplifting beat, this is the perfect song about the day you become a dad.
Best lyric:
I'm about to be a father, the sights and sounds,
Seem brighter around me
And for starters, I know I'ma work harder
7. Color Him Father by The Winstons
This is a beautiful, touching song about stepdads. The singer talks about "big and strong" man who lived in his house, smiled a lot, and cared for his mom and younger sister. "I think I'll color this man father," he says. No, YOU'RE crying.
Best lyric:
He says education is the thing if you want to compete
Because without it son, life ain't very sweet
I love this man I don't know why
Except I'll need his strength till the day that I die

8. Just The Two of Us
You knew this one was coming. In this track that samples the song of the same name by Bill Withers and Grover Washington, Jr., Will recaps that pivotal day in the maternity ward, mulls over what it means to be a good dad, and passes along nuggets of fatherly wisdom to his son, Trey. A classic. The Dr. Evil/Mini Me cover is also great.
Best lyric:
Got you home safe, placed you in your basonette
That night I don't think one wink I slept
As I slipped out my bed, to your crib I crept
Touched your head gently, felt my heart melt
9. Daughter by Loudon Wainwright III
You might recognize this song from the end credits of Knocked Up. It's an endlessly catchy tune about how much the singer loves his daughter, and will do absolutely anything for her. It's such a wholesome, affecting ditty, and the perfect soundtrack to any daddy-daughter beach outing.
Best lyric:
Everytime she blinks
She strikes somebody blind
Everything she thinks
Blows her tiny mind
10. Cats In The Cradle by Harry Chapin
Not many people know this, but Harry Chapin's timeless ode to his son, Josh, was actually written by his wife, Sandy. He just turned it into music. And that collaborative effort manifest as the single greatest song about the difficulties of parenthood ever written. Few things are as simultaneously tough and exciting as watching your kid grow up, and this song captures it mastefully.
Best lyric:
My son turned ten just the other day
He said, "Thanks for the ball, Dad, come on let's play
Can you teach me to throw", I said "Not today
I got a lot to do", he said, "That's okay"
And he walked away but his smile never dimmed
And said, "I'm gonna be like him, yeah"