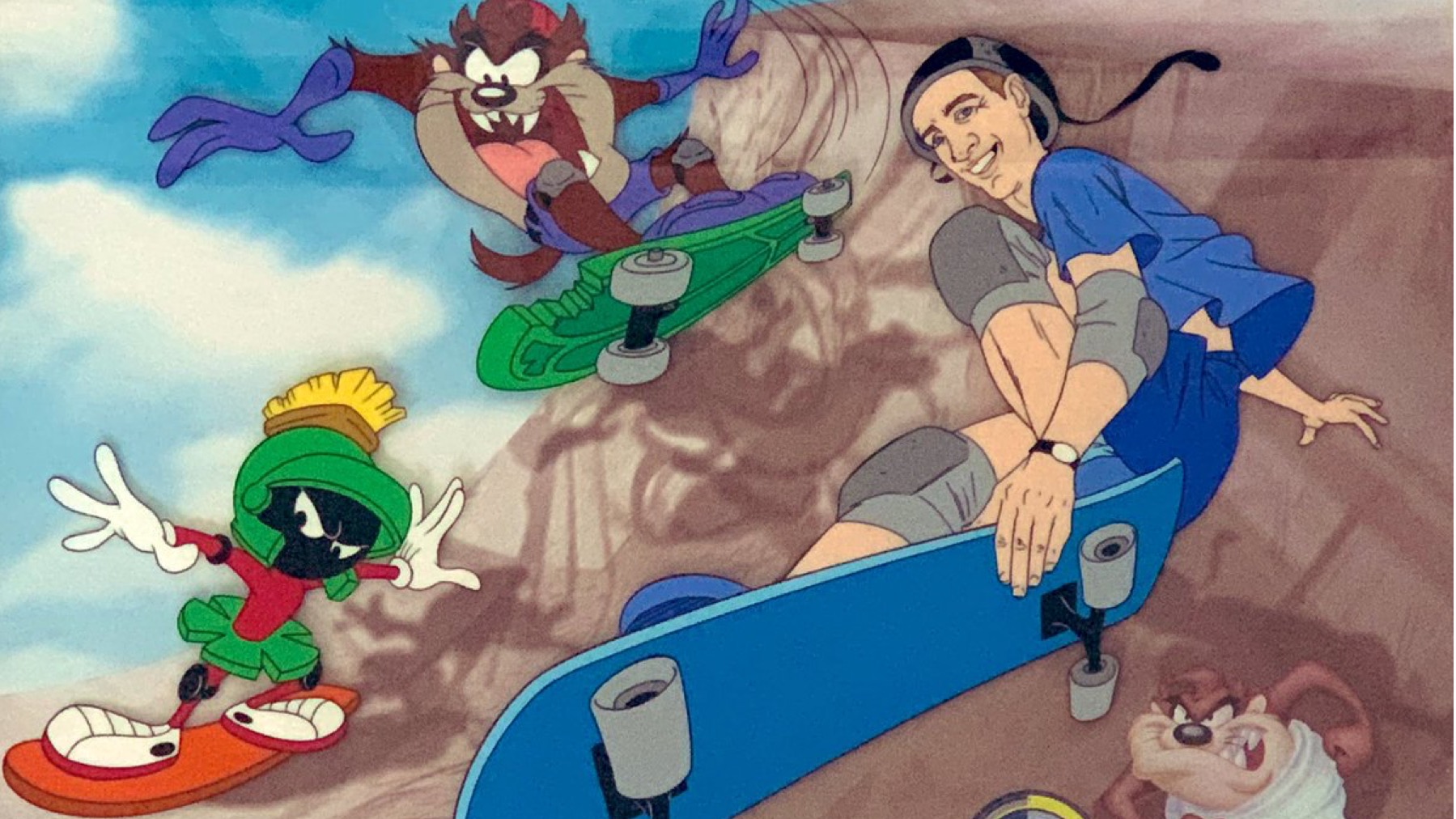 Credit: Twitter/tonyhawk
Over two decades since the release of original Space Jam, a sequel is finally in the works starring LeBron James. But did you know there was an earlier follow up to the Micheal Jordan blockbuster in the works that wasn't going to be a basketball film at all?
According to skateboard legend Tony Hawk, he was approached in the early 2000s by Warner Bros execs who wanted him to show the entire Looney Tunes crew how to do grinds, aerial jumps, and, uhh… 360 indy… spin-a-rooskis? Probably?
Whatever.
Here's what Tony had to say about it on Twitter:
in 2003, I was requested to meet with Warner Brothers about doing a film tentatively titled "Skate Jam." They were bringing back Looney Tunes with "Back In Action" & then wanted to start on my project immediately. A week later Back In Action bombed & Skate Jam was shelved forever pic.twitter.com/9giKzBnlWH

— Tony Hawk (@tonyhawk) January 5, 2019
Then he dished even more details on Instagram:
"in 2003, I was requested to meet with Warner Brothers about doing a film with the Looney Tunes characters that was tentatively titled "Skate Jam." Their plan was to bring back Bugs, Taz, etc into the cinema with a current release called "Back In Action" and then immediately start working on my project. I was about to leave for a skate trip in Australia so they met me at that iconic dome-shaped restaurant in the middle of LAX before my flight that evening. They were SERIOUS. We talked about storylines and shooting schedules, and they casually mentioned that I would get $1 million up front for signing on. I flew to Sydney that night with a sense of wonder and excitement; I had never met with Hollywood heads and felt so sure about something happening. During my week-long trip, "Back In Action" was released in theaters and bombed. By the time I got home, Skate Jam had been "indefinitely postponed" and I never heard about it again. I still think it would have been a hit considering skateboarding's popularity at the time, and the reverence kids (now young adults) had for Space Jam. This drawing was given to me at a skate demo that Looney Tunes sponsored years before our movie talks began; with Marvin fittingly on a hoverboard."
Warner Bros was expecting big numbers from Looney Tunes: Back in Action, but when it bombed, Skate Jam was promptly shelved along with any hope for the cartoon crew to wear backward baseball caps and say things like, "Sick grind, Taz!" or "Whoa, Daffy totally ate it on the vert!"
Skate Jam wasn't the only potential Space Jam sequel that got the boot either. The original plan was for Michael Jordan to star in his own sequel but he wasn't interested. Then, a film called Spy Jam starring Jackie Chan fell through. After that, Race Jam was on the table to star NASCAR driver Jeff Gordon. Finally, Tiger Woods was briefly discussed for the lead in another Space Jam before plans fell through yet again. With such little momentum behind so many potential movies, it's no surprise the Space Jam franchise died before it could even get off the ground.
However, this also reinforces just how monumental it was that WB finally gave the green light to producer Ryan Coogler, director Terence Nance, and LeBron James to make a sequel that might actually work.
Plus, who knows? Maybe one successful sequel will open the door to others and we'll finally see our favorite characters doing boardslides and… wallie vert jumpers and… 360 no-scope banana stands?