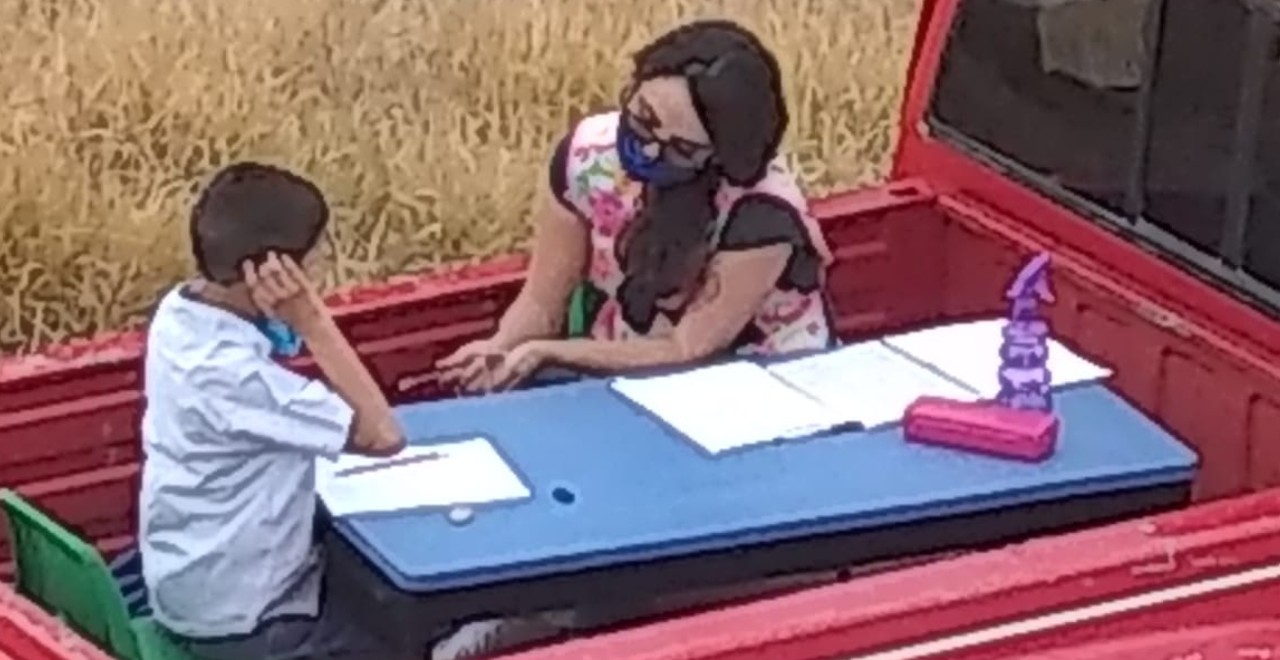 Credit: Twitter/Nay_EdEsp
While parents everywhere fret about what the school year is going to look like, it's also important to remember what teachers are going through. The extra amount of prep and precautions teachers will be undertaking to get ready for a who knows what year, compounded with the same anxieties and stresses about staying safe parents are feeling, is a tough combo. And yet, teachers will find a way, even during a global pandemic, to give everything they have to students.
A photo capturing just that has gone viral as one special ed teacher has turned her truck into a makeshift mobile classroom, and was driving two hours per day to help teach autistic students safely in-person. Teachers are meeting this moment, whether it's through viral videos explaining COVID regulations or through helping out those in need.
— Kim Kardashian West (@KimKardashian) August 10, 2020

This specific teacher works in Guanajuato, Mexico, and used her makeshift classroom to help autistic students with their homework. A student's mom took the viral photo, which was of the teacher as she was going over a test to evaluate how effective distance learning had been for the child. The teacher, Nay, told a local newspaper she wanted to connect with the students to see how they were doing emotionally while acknowledging that everyone was struggling.
While the photo of Nay went viral and earned effusive praise, in a twitter response, she did defer praise and rightly pointed out that while the picture may be of her, all teachers are putting in the extra effort right now.
Quiero agradecer a todos los que han apoyado, en compartir, con sus buenos comentarios, por sus donaciones.
Ahora yo me comprometo con ustedes a subir más fotos del día que fui con mis alumnos.
Para que sigan creyendo y confíen en que esto es real.
Bendiciones a todos 🙏❤ pic.twitter.com/BECqpSPCoY

— Nay (@Nay_EdEsp) August 13, 2020
Many parents are worried about what this school year will be and worried about their kids falling behind. But everyone is in the same boat, as this school year will be normal for no one. And it's important to appreciate the teachers giving it their all, whether it's over Zoom, a remote learning plan, or in-person through a mask and face shield.