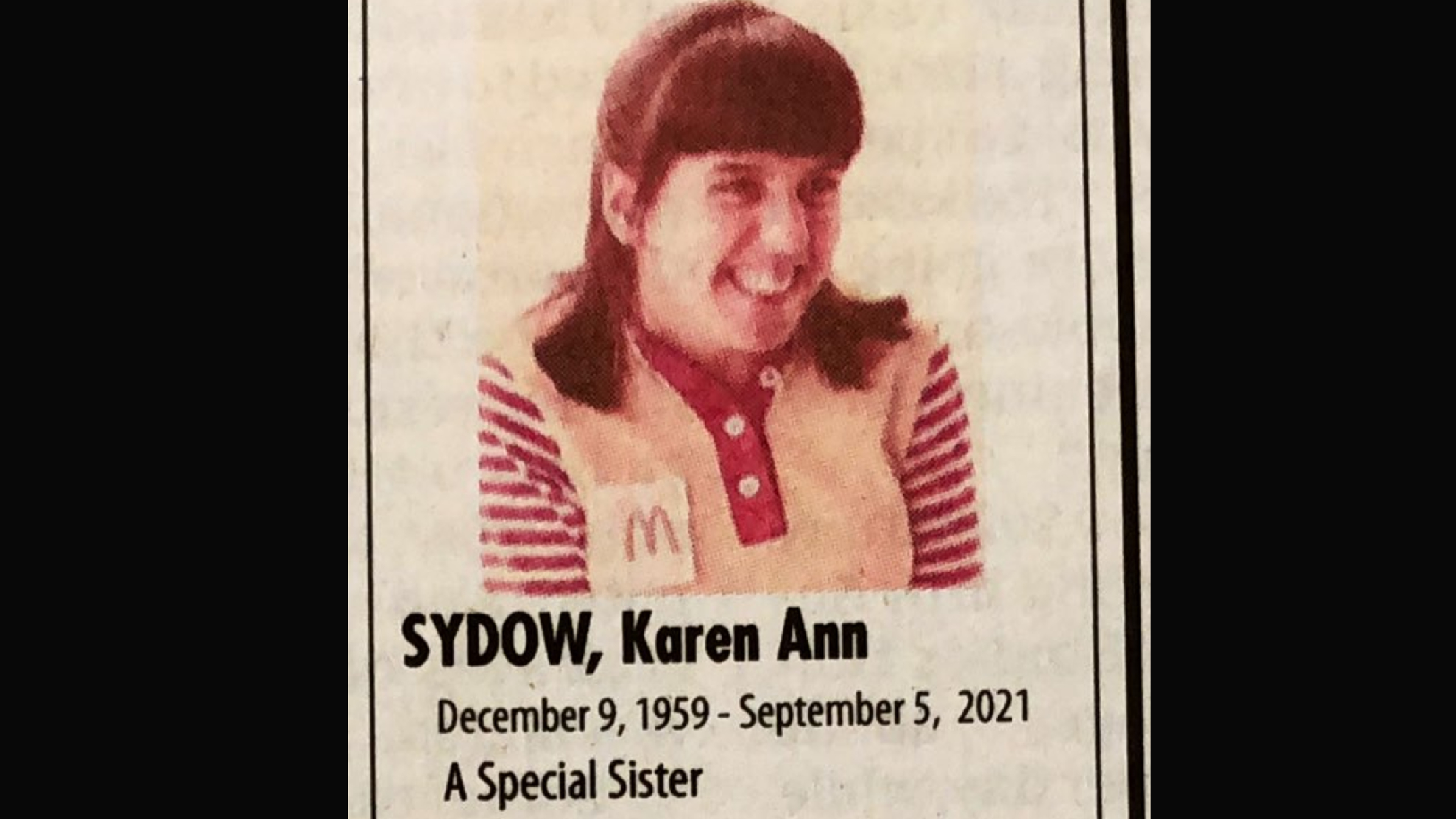 Credit: Twitter/DanielNMiller
Few things are harder to write than an obituary. But the way a brother summed up the life of his "special sister" was moving and emotional in a way that few things are, and it quickly went viral. A writer at the LA Times was so moved by Erik's obituary for his sister Karen that he shared it on Twitter.
Remarkable obituary in today's paper. pic.twitter.com/UbgbxzwHg6

— Daniel Miller (@DanielNMiller) September 18, 2021
Erik started it simply enough: "In memory of my sister who never had wants or misgivings." He wrote she was born with cerebral palsy and could only say three words. Mom. Donalds (she loved McDonald's) and Piano (she also loved music).
Erik wrote about how hard it was to see her during the pandemic. And the most poignant part was explaining to her how their mom passed away in the spring. On his last visit with his sister, she started saying "mom, mom."
"I held her hand and told her mom isn't here anymore," he wrote. "Karen totally out of the norm put her head on my shoulder and tears ran down her cheek. Yes she understood."
Karen passed away two weeks later, and Erik said he thinks it's because she "wanted to be with mom."
"Karen, I wish I could have made you laugh one more time. I needed you too.
Love, your brother Erik."
The tribute went viral and was shared tens of thousands of times. Erik was able to tell more of Karen's story on TV and in other interviews. And thousands of readers thanked him for sharing some of his sister with the world and shared how his story affected them.
The original tweet and the thousands of replies are full of similarly touching stories and tributes to others who have gone too soon, or who left us wanting one more laugh.
If the point of an obituary is to make you feel you knew the person and to share their loss then the fact her brother did so in so few words is astounding. What a beautiful tribute. Thank you for sharing your sister with us Erik. I'm so sorry for your loss.

— Mosatch8 (@Mosatch8) September 19, 2021