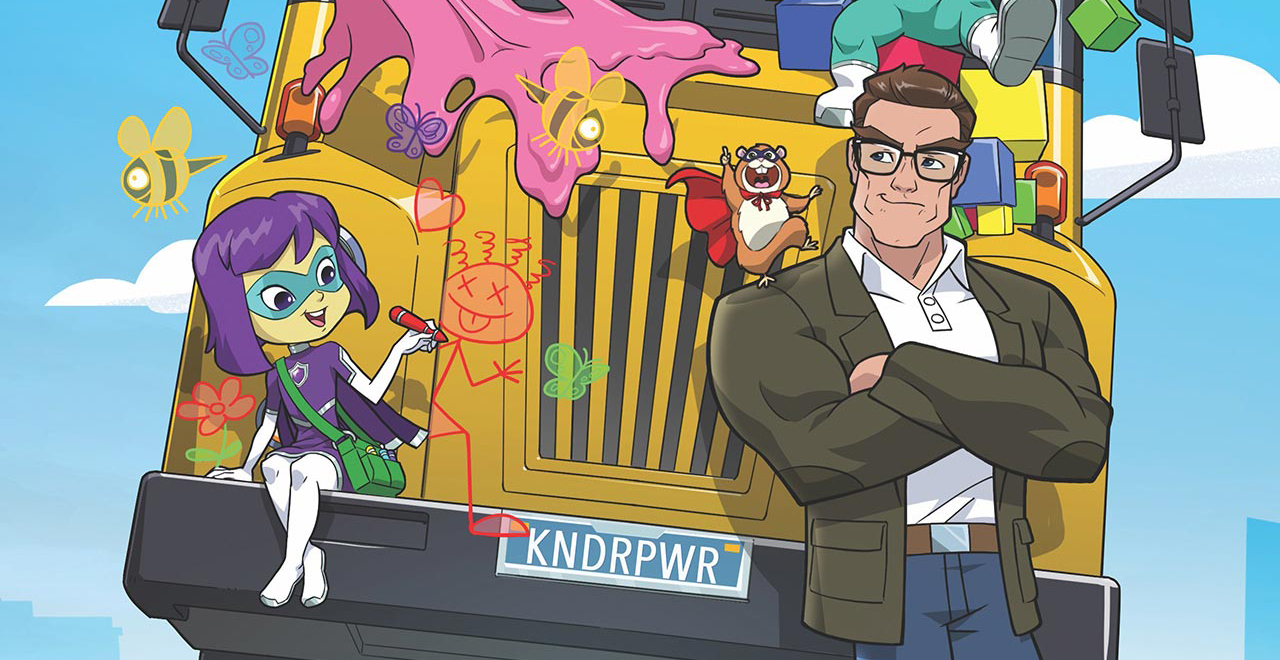 Credit: GENIUS BRANDS INTERNATIONAL
Marvel Comics head honcho and all-around legend passed away late last year, just before the debut of the final installment of the ambitious 10-year run of Avengers movies based around characters his company created. Lee had a cameo in every single Marvel movie, including End Game's record-breaking culmination, but due to his passing, that seemed to be the last we'd hear from the man.
Turns out he had one more trick up his sleeve, and he got a real-life superhero to help bring it to life.
Arnold Schwarzenneger is lending his voice to Arnold Armstrong, the lead character in Stan Lee's Superhero Kindergarten, an animated comedy/action-adventure series written by Deadpool writer Fabian Nicieza. And Stan Lee himself, well, an animated version, will appear on the show.
The show comes courtesy of Genius Brands International, who announced on Wednesday that it was Stan Lee's last project and that his signature cameos are the special ingredient.
"What will be particularly unique about this series," said Andy Heyward, Genius Brands' Chairman, and CEO, "is that there will be an animated cameo of Stan Lee appearing in every episode."
Schwarzenegger's Arnold Armstrong is a gym teacher who was infected by some cosmic comet dust and transformed into Captain Courage. Years after his greatest battle, Captain Courage is working undercover as an everyday kindergarten gym teacher who begins overseeing a newly-emerging crew of super-powered 5-year-olds.
"Of particular pride to me," he added, "is the fact that I am not only teaching kids to use their superpowers, but I am also imparting valuable lessons to kids worldwide about the importance of health, exercise, and nutrition," Schwarzenegger, whose Oak Productions collaborated with Genius Brands and Lee's POW! Entertainment to develop the show told EW.
"Just as his millions of fans look forward to seeing [Stan Lee] appear in each Marvel film, they will look forward to his presence in each episode of this cartoon," Heyward said of Lee, who died at the age of 95 in November 2018.
The show's premiere date has not yet been scheduled.
Apparently, Stan also created one last superhero with his daughter prior to his passing.