"Stranger Things" LEGO Set Will Turn Your World Upside Down [WATCH]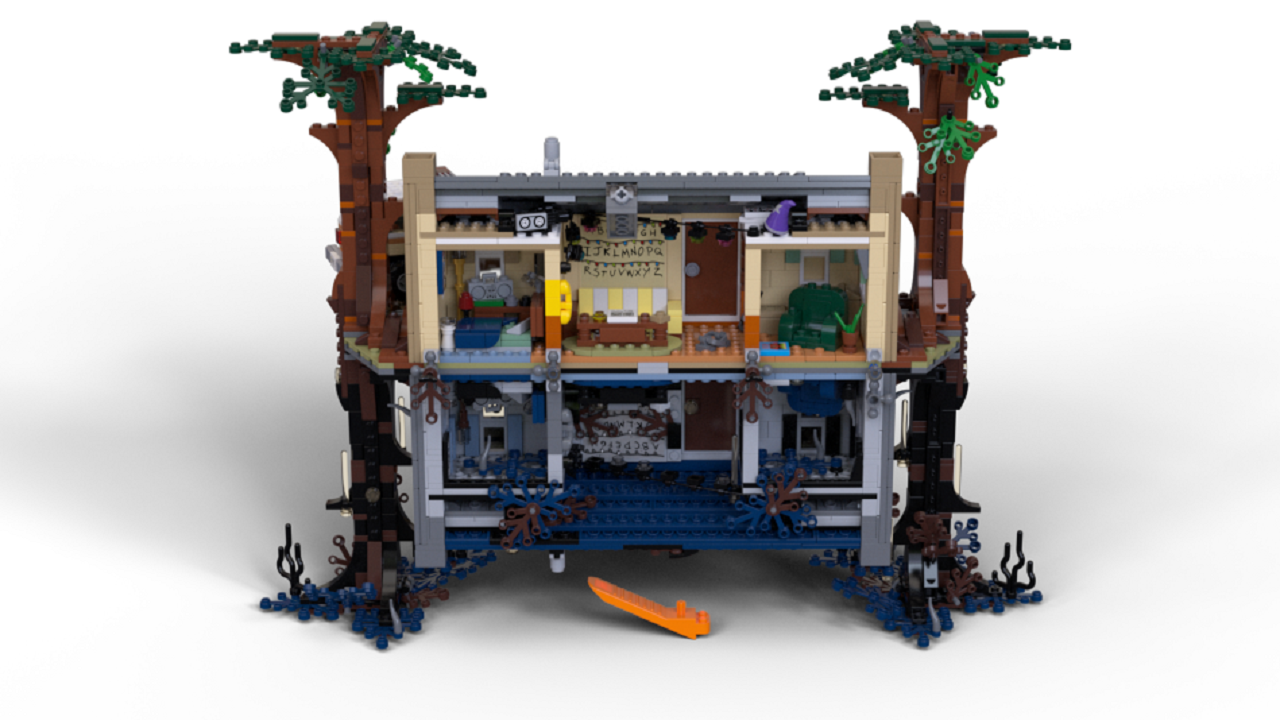 Finally, a LEGO set that literalizes the fear we all have of stepping on an errant piece!
Stranger Things is coming back this summer (check out the star-spangled trailer) and with it is coming a lot of merchandizing and tie-ins. Like the 16-bit video game we reported in April.
Now the Netflix hit being used as inspiration for a new LEGO set, and there's an awesome, unexpected twist that makes these LEGO Stranger, and scarier, than most.
This isn't your normal LEGO set. Because it's inspired by Stranger Things, it serves as both a replica of the Byers' house, where poor victimized Will lives with his mother (played by Winona Ryder) and as a LEGO-version of the Upside Down itself that you can flip over too!
"The Upside Down version of the house, from an alternate dimension, features all the rooms from the real-world model but with a dark, vine-covered, dilapidated look that fans will instantly recognize from the series."
The set includes a bunch of minifigures of the show's cast, including Eleven, Mike Wheeler, Lucas Sinclair, Dustin Henderson, Will Byers, Joyce Byers, Chief Jim Hopper and the Demogorgon itself. And the both the house and Upside Down include tons of tiny details familiar to fans of the show and people who grew up in the 80s, like the Christmas Lights and alphabet wall, a boombox, movie posters, even Chief Jim Hopper's police truck, complete with a removable roof.
Oh my god, oh my god, oh my god! Introducing LEGO Stranger Things, available today for LEGO VIP members! https://t.co/EUTjqXYEAn @NXOnNetflix pic.twitter.com/QBC0ByrE1u

— LEGO (@LEGO_Group) May 14, 2019
And LEGO released a far more detailed promo via YouTube:
"This Stranger Things collectible includes over 2,200 pieces and comes in 11 bags, so the real world and The Upside Down can be built at the same time for a shared building experience."
That's a lot of pieces to step on in the middle of the night and "accidentally" vacuum up the next morning. But you might want to think twice before you do that since the Stranger Things LEGO set costs a hefty $200.
But it's not available until June 1st (unless you're a LEGO VIP, in which case you can get it now), so you have some time to consider it before season three of the series brings the gang bang into your living room.