Students Give a Silent Standing Ovation to Graduating Autistic Classmate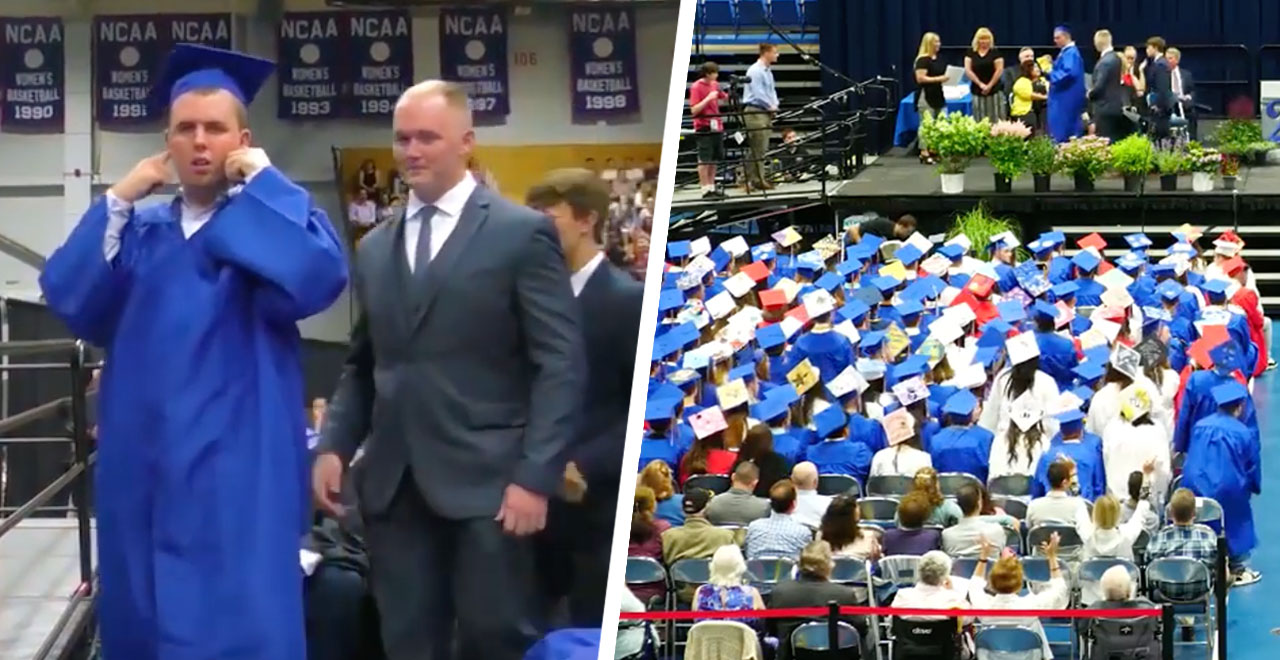 Silence can speak volumes. It's a phrase we've all heard many times, but never has it been illustrated quite so powerfully as it was during a recent graduation ceremony for Carmel High School in Putnam County, New York.
Typically, when graduates take the stage to collect their diploma, crowds erupt in cheers and applause to recognize the student's achievements. However, Lou Riolo, principal of Carmel High, had a special request for all in attendance: "I'm going to ask a big favor of everyone today. I would like everyone to not clap, and not cheer."
While that may seem like an odd thing to ask students and parents on graduation day, many in attendance were already on-board. That's because, after 8 years in the district, student Jack Higgins was set to take the stage. Well-known around the school, Higgins suffers from a severe form of autism and is extremely sensitive to loud noises. Like many of his classmates' parents, Barbara and Pat Higgins were excited to see their son reap the rewards of his years of hard work. They reached out to his teacher, Erin Appelle, who in turn contacted Principal Riolo.
"In our school we have a banner as you enter all of our school buildings #WhatsBestforKids," Riolo told CNN. So the administration came up with a unique idea: have everyone in attendance remain silent for Higgins to receive his diploma.
Riolo said that while pulling off something so unusual would be difficult, he knew how important it was to pull it off. "First off for Jack, second for his family who could experience the same event as every other parent/family whose child reaches this milestone was of great importance. Lastly to give the opportunity to everyone in that arena a chance to assist in making one young man's and his families graduation dreams a reality."
While keeping hundreds of excited teens quiet may seem like a tall order, Riolo was sure his students would rise to the occasion – and rise they did.
On graduation day, as Higgins approached the Principal surrounded by his two brothers and an aide, the crowd was silent. While their jubilation was kept to a minimum, there was no holding back the love and support from students, teachers, and administrators who all watched patiently as Higgins took the stage. Instead of the loud noises and distractions that his teachers had try to prepare him for, Higgins journey was likely as calm as it could be in an auditorium full of people.
As Higgins accepted his diploma, the students, who had remained quiet for his entire trip to the stage, now suddenly and without provocation rose from their seats and gave their classmate a silent standing ovation.
Though Riolo had high expectations for his students, the Principal and former student of Carmel High says they more than exceeded them. "They felt compelled to show their support in that way. They made that amazing compassionate gesture on their own. I have been lucky and blessed to see some really remarkable things in my 31-year career but this so far has to be the most incredible."
As for Jack, Riolo said the new graduate handled the situation with bravery and composure. "It was so brave of him to take that walk which must have seemed like forever and he did it with grace, class and strength."
Congratulations to Jack and all the other 2019 graduates and hats off to everyone who makes the world a more inclusive place.