Stunned by Teen Suicide Rate, Seattle Dad Posts Signs of Encouragement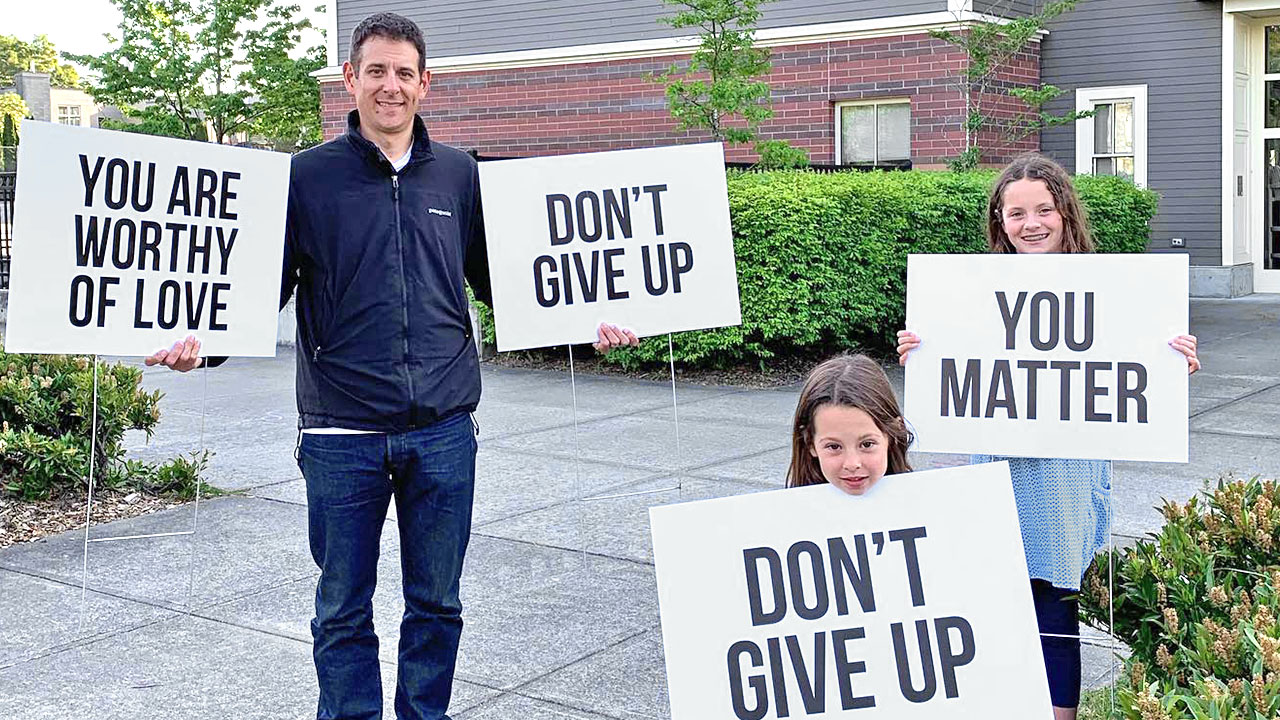 After hearing about several teen suicides in his area, Colby Wallace, a stay-at-home dad from Queen Anne, Seattle, knew something had to be done.
Unsure of exactly where to start, a friend shared information on the "Don't Give Up Movement", a program founded by Amy Wolff in 2017 after the Oregon mom was made aware of the suicide rates in her own community.
"We were just baffled," said Wolff in a video from the organization's website.
"My husband, my two young daughters and myself got in our car on a dreary, rainy Saturday afternoon to stake 20 yard signs around our small town of Newberg, Oregon. The signs said things like 'Don't Give Up', 'Your Mistakes Don't Define You', and 'You are Worthy of Love'."
The response was so great that the family started a non-profit selling the simple, yet powerful signs online. That simple act of caring has now become an international movement, with signs peppered across the United States as well as in seven other countries.
So when Wallace was faced with the same startling statistics, he decided to purchase 15 signs as well as 200 branded wristbands to distribute locally. "We placed signs across the street from my daughter's school and an older woman told me, 'Thank you so much because people my age really need to hear this," Wallace recently told Yahoo Lifestyle.
While it had been youth suicides that initially motivated him to place the signs, the reactions from adults in the community were immediate. "A woman told me she was in tears after dropping off her daughter at school because the sign made her feel heard." says Wallace.
The gentle reminders, a simple push to just keep going, has implications well beyond suicide. Wallace even placed one with "Don't Give Up" on a steep hill for bicyclists who may be in need of a little extra motivation, noting that no matter what you may be facing, a little positive support can go a long way.
"I've learned that you never know who is struggling. Some people seem like they have it together but need to hear this."
Unfortunately, the signs have fallen prey to theft and vandalism, but undeterred, Wallace and the community have raised hundreds of dollars to purchase many more. "Maybe it's someone who needs to hear these messages," says Wallace.
After seeing the positive impact they've had in his town, the father of two now encourages others to do the same in their own communities. "Really, anyone can do this."
Have you seen these signs in your community? Share your photos on our Facebook page.