Teacher's Test Has Unique Extra Credit Questions and a Savage Prank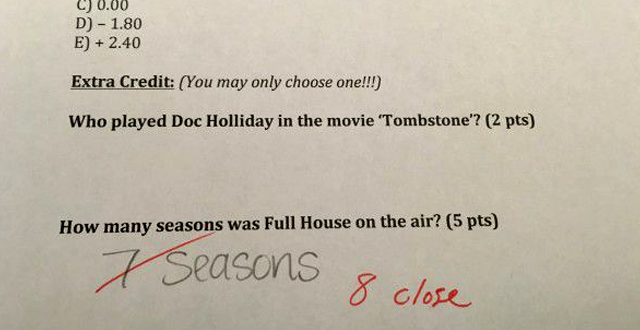 An extra credit question is like finding a life-preserver in the middle of ocean. It won't radically change your outlook, but might just be the one thing that saves your life.
And while most teachers tend to tack on an extra difficult or vague question at the end of an exam, one special scholar has thrown the extra credit rulebook out the window.
Imgur user SharkyTheSharkDog has been taking photos of the extra credit questions from this specific teacher and most of them are outrageously fun… with the most recent being a truly special kind of social torture.
1. How many seasons was "Full House" on the air?
2. Complete the verse… "I been in the game for ten years makin' rap tunes…"

3. What color pants does Jake from State Farm wear?
4. "Yesterday, during my lecture, I quickly mentioned that only a pink pen will save you tomorrow. Draw a stick figure below in that pink pen."
(brutal…)
5. Describe the dumbest conversation you overheard recently.
(extra extra credit!)
6. Including "The Revenant," how many times has Leo DiCaprio been nominated for an Academy Award?
7. (And, finally, a savage test of one's patience and reading comprehension skills…)
First person to read this, stand up proudly on your chair, and yell at the top of your lungs, "Oh Captain, My Captain!" will receive a 95% on this exam.
…
…
…
*Just kidding. Name the drummer for The Beatles.
We proudly reward this fine teacher with an additional 10 points for their hilarious cruelty. Huzzah!