High School Football Team Honors Their Number One Fan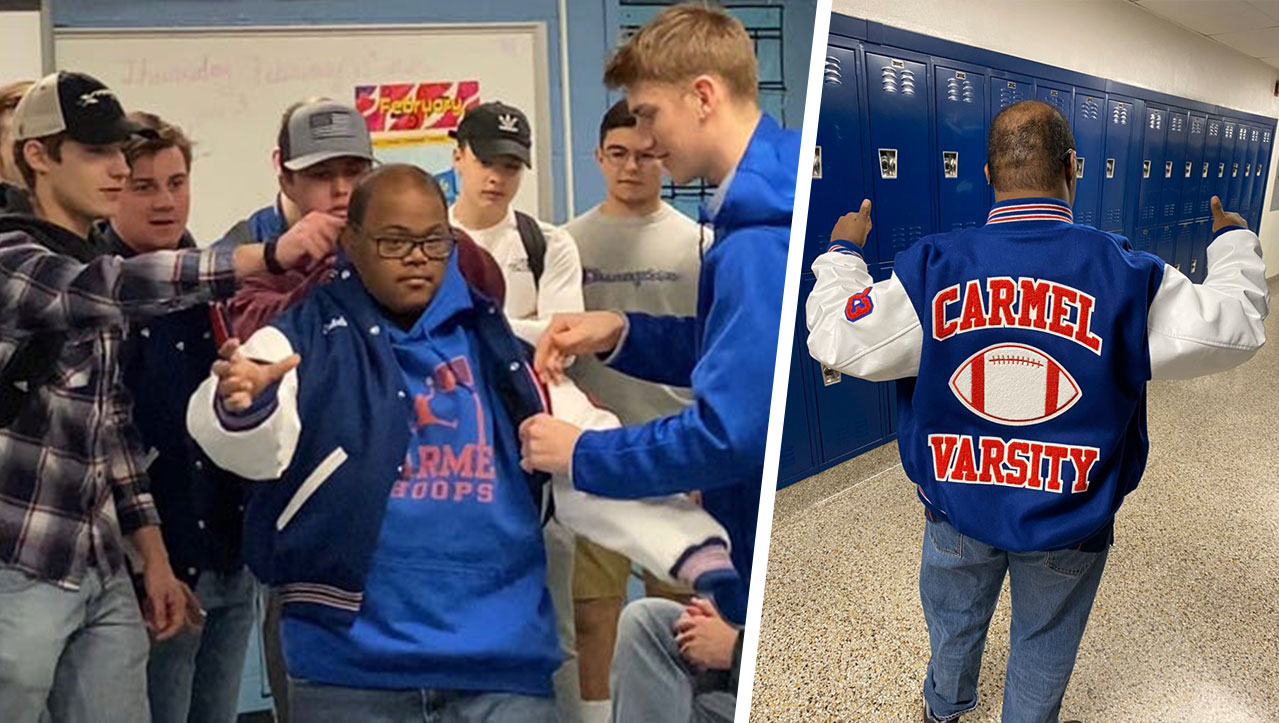 A big part of organized sports is recognizing the contributions of each and every one of your teammates. It's not always the top-scoring player or the best defensive tackle that brings a team success long-term. It's the combination of everyone working towards a common goal, including those on the sidelines.
That's certainly the case at Carmel High School in Patterson, NY where players on the school's varsity football team recently recognized one of their most valuable members. Caleb Cleary has played a major role in the team's success but hasn't played one single minute. That's because Caleb is busy cheering on the team from the stands or the edge of the field as their #1 fan.
Athletic director Susan Dullea says there's no debating Caleb's unwavering fandom. "He attended games, was on the sideline, had his own jersey, and was at every game, home and away," she shared with The Journal News, adding "The kids love him, and he loves the kids for sure. He was just as important part of our team as anyone on it."
Team captain Will Boalt sharing a sentiment that echos across his teammates, saying "He was just always around, and he was so supportive. It makes you realize what you have in life and that you have people rooting for you."
Wanting to recognize Caleb fully and officially, team members took it upon themselves to gather funds to purchase Caleb his very own letterman jacket. When the gear finally arrived, the players were excited to present Caleb with a small token of their appreciation.
The team gathered friends and classmates to share in a special moment, giving Caleb not only the coat but words of sincere appreciation for his time spent cheering them on. "I was talking to him and told him how grateful we were for him," Will said. "I think it meant more to us having him on the team than I think he realized."
The district captured a video they later shared to social media, showing the touching moment when Caleb arrived.
The CHS varsity football team all donated money to buy Caleb, a member of the team, a varsity letterman's jacket. Today they presented it to him in class in front of his classmates, teachers, staff and family. This is what it's all about!!! #Carmel6Cs pic.twitter.com/K77rVfSup4

— CarmelHS_info (@CarmelHS_info) February 13, 2020
"When he walked in, he looked so surprised," Will recalled. "He has a smile that when you see him smile, you want to smile. He looked so happy with what we were doing for him. I don't think he expected that."
While players and coaches are often recognized for their individual achievements, it's nice to have a true unsung hero have their praises shouted for all to hear.
Cheers to the Carmel Varsity Football team for setting an example for high school athletes everywhere while reminding us all the importance of recognizing those who help us to achieve.