Teens Push Stranger's Broken Down Car Five Miles Back to Her Home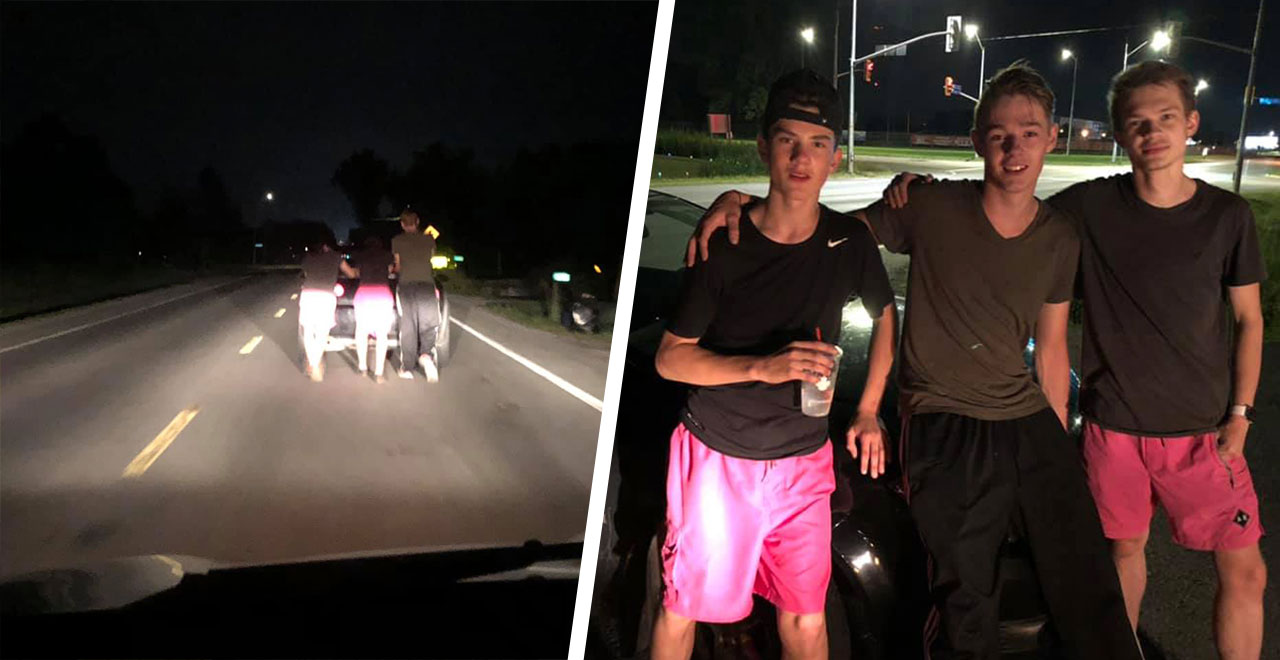 Teenagers are often stereotyped as lazy and selfish, but three Ontario, Canada boys have recently gained notoriety for their unparalleled act of kindness.
At around 12:30 am, Aeron McQuillin, Bailey Campbell and Billy Tarbett were on their way to Tim Hortons when they noticed a motorist pulled over on the side of the road.  The hood was open and steam was billowing out. The three teens approached the driver to see if they could help. After taking a look, the young men advised the woman that she shouldn't drive the vehicle any further before getting it looked at by a mechanic. It appeared as though the engine on her recently purchased Chevy Cobalt had gone caput.
The driver, already distressed by the situation, was now left with no way to get her or her vehicle back home. A passing motorist, Niagara Falls resident, Dan Morrison, had also pulled up to the scene to see if he could help. As the woman explained she didn't have money for a tow truck, Morrison says that's when he heard one of the teens say six words that left him in total shock.
"You boys ready for a push?"
Billy Tarbet's comment to his two friends was all it took. The boys grabbed a few bottles of water and set out to push the disabled vehicle over 5 miles back to the driver's home, with Morrison agreeing to follow them with his hazard lights on. He posted the incredible story on Facebook which immediately was shared across the web.
The three teens say they've been inundated with positive comments since the story took off, but say they only did what they thought was the right thing to do. "We were at the right place at the right time, and this is one of those stories that we can look back on in 10 years and say it was one of those crazy things we did, but it was all worth it," said 18-year-old McQuillin. Many commenters also recognizing their parents for bringing up such awesome kids. The teens, of course, agreeing with the sentiment. "With the way they raised me, they've done an amazing job," Campbell said of his family.
So far, the post has been shared over 24,000 times on Facebook and has cultivated articles like this one on sites around the world. While the accolades and attaboys are still rolling in, McQuillin says the real hope is for their story to inspire others to pitch in when they can. "We hope more people learn from this situation and not be afraid to lend a helping hand to those in need."
If you enjoyed this story, here's another one involving more heroic teens and an automobile.