Texans Test PetCo's "All Leashed Pets Welcome" Policy With 1,600lb Steer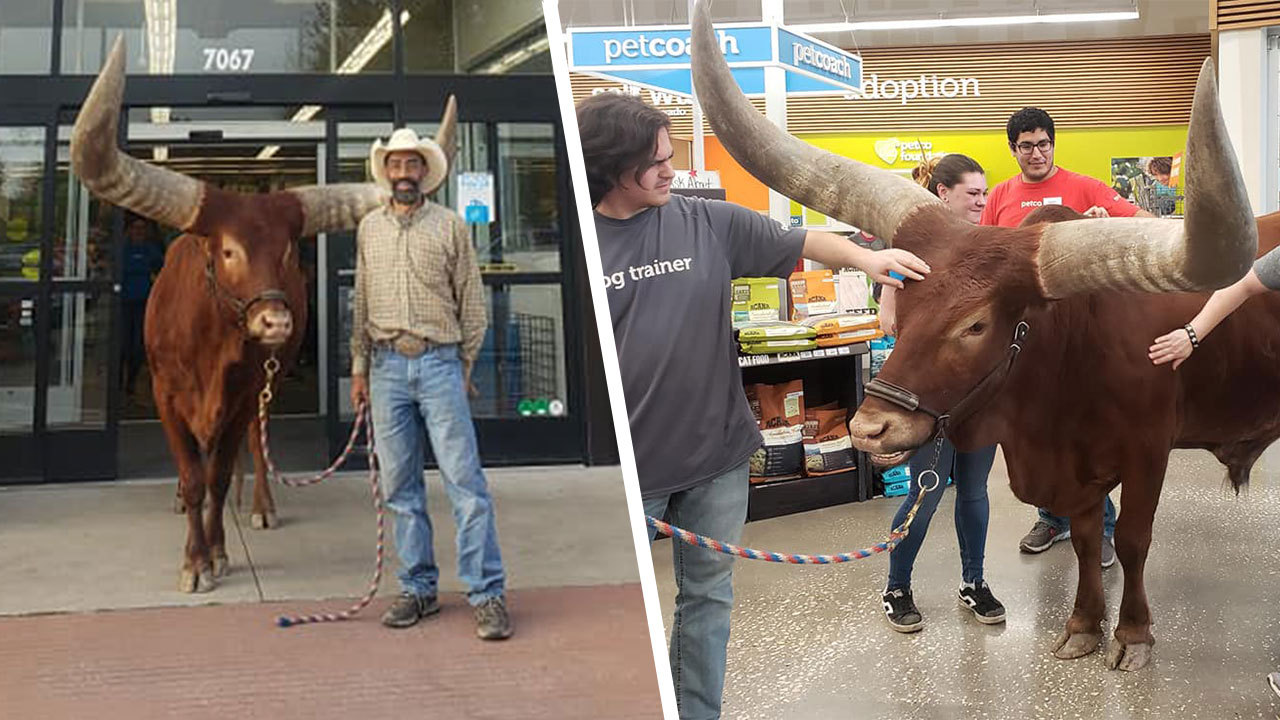 It's no secret that people love their pets. Last year, Americans spent over $72 billion on their furry friends, a number that's only expected to rise in 2019. So when stores say they're "pet-friendly," you can count on people bringing their beloved buddies with them. PetCo is one such retailer, and on any given day, you're likely to spot all sorts or four-legged friends accompanying their owners up and down the aisles.
Vincent Browning recently decided to see just how far their policy extended. The company's website says they welcome "any domesticated companion animals that are legal to own in your county/city/state, and has proper license and is fully vaccinated." So Browning, along with his partner, Shelly, pulled in to their local PetCo in Atascocita, Texas, accompanied by their steer, Oliver.
At 1,600 pounds, Oliver is likely the largest pet to ever enter a PetCo location, but as the phrase goes "everything's bigger in Texas." The couple, who were returning from an event with Oliver in tow, popped in to grab a few items on their way home. Shelly had mentioned to a cashier that Oliver was outside — the cashier then insisting the couple bring him inside to say hello.
So Shelly and Vincent went out to get their Ankole-Watusi steer, first placing him on a leash per store policy, then parading him through the store's double doors. "People couldn't believe it," Shelly said. "The whole staff there was really nice about it and excited." Shelly posted their adventure on Facebook, with tens of thousands of people sharing and liking the larger than life photos. PetCo's social team even caught wind of the incident and chimed in on the post, saying: "We mean it when we say ALL leashed pets are welcome in our stores." 
It may seem like a big day for this steer, but Oliver is no stranger to fame. The African Watusi steer already has over 56,000 fans on his Facebook page, with his owners sharing photos and letting individuals book this big boy for parades and events.
Out hats are off to Oliver and the Brownings, and to PetCo for allowing pet owners to keep their friends close, even where they're away from home.