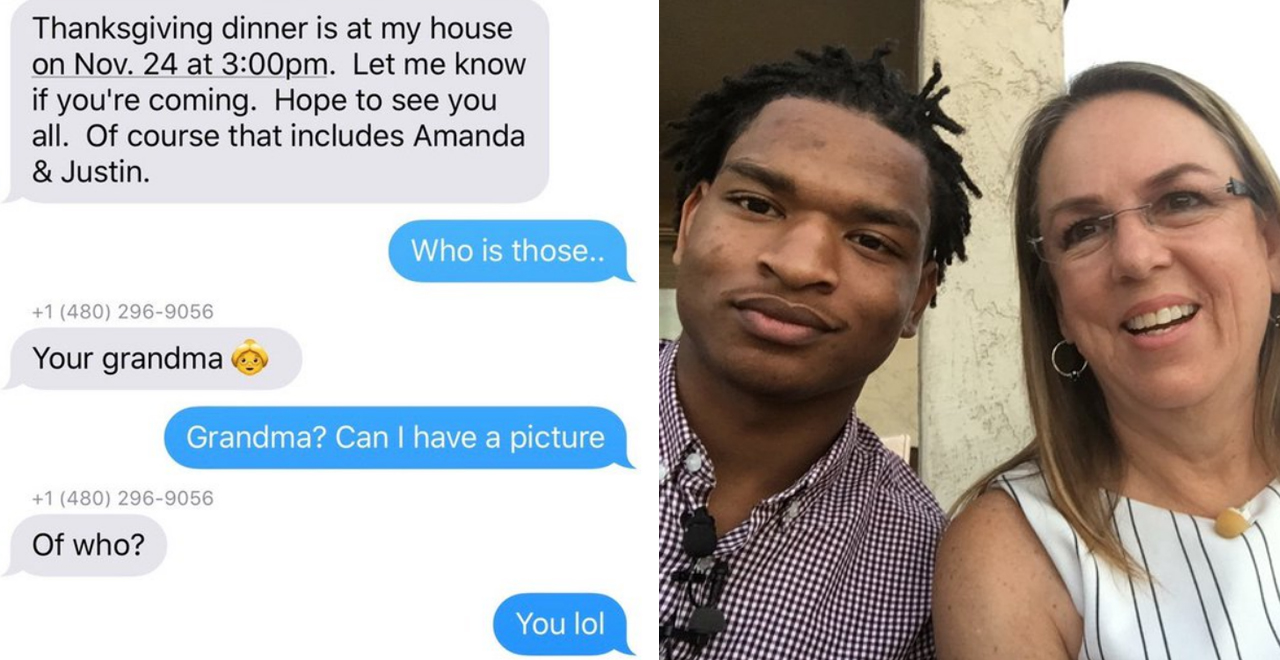 Credit: Twitter/Jamalhinton12
When it started four years ago, it was one of those things that delighted social media and reminded people that the world actually is a good, kind place, sometimes.
Jamal Hinton received a text from a number he didn't recognize, inviting him to Thanksgiving dinner. Wanda Dench had tried to text her grandson, but his number had changed, so she reached Jamal instead. Confused, Jamal asked for a picture of this woman who claimed to be his grandma, and when he got it, he sent his own back. It was immediately clear they weren't related, but that didn't change Wanda's invitation.
"You not my grandma," the then 17-year-old Jamal texted. "Can I still get a plate though?"
"Of course, that's what Grandma's do. Feed everyone," Wanda replied.
Somebody grandma is coming in clutch this year!! Ayee!!! pic.twitter.com/QGrx83nHLl

— Jamal Hinton (@Jamalhinton12) November 15, 2016
Wanda wasn't bluffing. She did have a plate for Jamal that Thanksgiving, and he's been coming back, driving from his home in Tempe, Arizona to Wanda's in Mesa, ever since. This year will be their fourth Thanksgiving together. Unfortunately, it will be a little different. Wanda's husband passed away from Covid in April.
"It's going to be different, my first Thanksgiving without him," she told the New York Times "My husband was always right behind me, telling me how proud he was of Jamal and me for what we've done."
They've stayed in touch, sharing visits, including Jamal's girlfriend, even when it's not Thanksgiving. Jamal has even helped the Denches set up their phones when they upgraded.
how it started how it's going pic.twitter.com/qQkWqNWMzs

— Jamal Hinton (@Jamalhinton12) October 9, 2020
"After meeting her the first time I just knew, she's another person, age is really just a number," Mr. Hinton, who is now 21 and works as a car salesman, said of Ms. Dench. "It doesn't matter, you can be friends with anybody, you can be family with anybody."
This year, due to the pandemic, the pair decided to keep their tradition going with a small dinner last week, just the two of them, and a candle in Mr. Dench's memory.
We miss you Lonnie💔 pic.twitter.com/t9lXt31FLw

— Jamal Hinton (@Jamalhinton12) April 9, 2020
"I'm just grateful that we are here, we are together," Mr. Hinton said. "I don't know what I would be doing for the holidays this year, last year or years before if I didn't have Wanda in my life, so I'm just grateful."