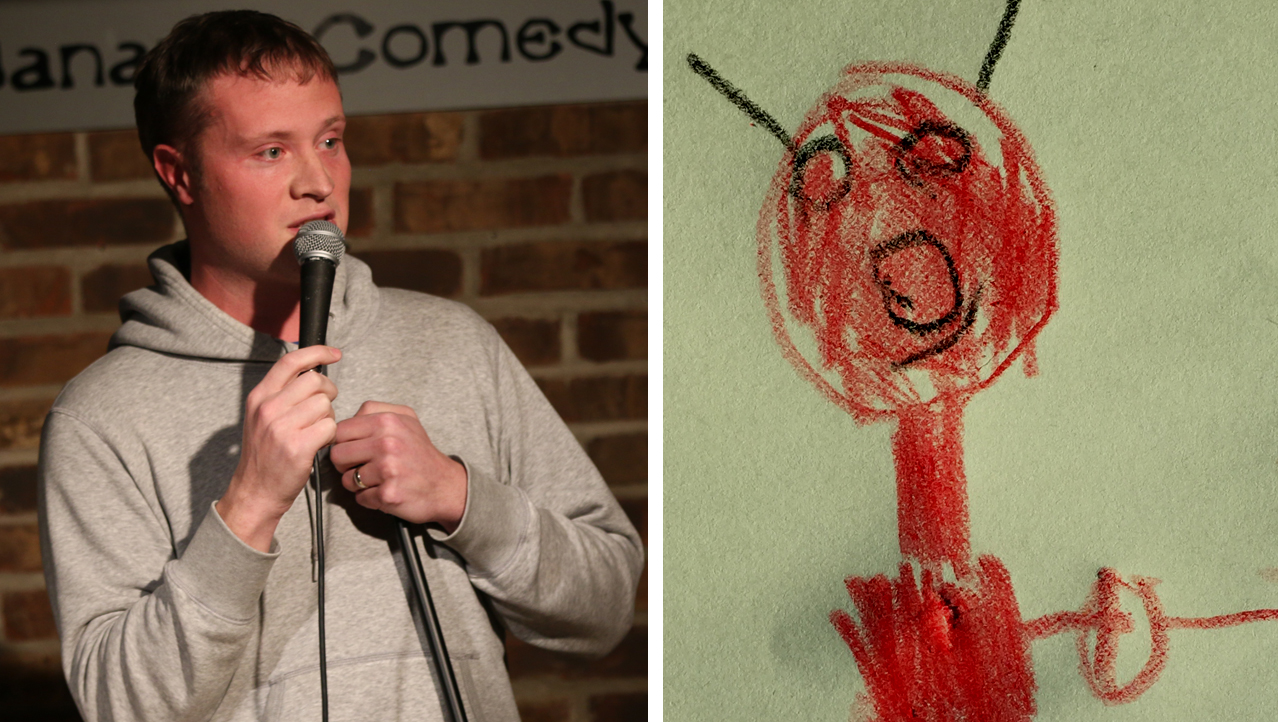 Credit: Mark Chalifoux
I recently had one of those proud dad moments when my daughter's preschool teacher insisted my kid was a genius. Then I had one of those grounding dad moments when I remembered this is the same kid who ran into a wall while trying to hug her own shadow. Needless to say the jury is still out on the "genius" title. The shadow hug story is one most parents trade with a spouse or another sleep-deprived parent. It's standard fare to make fun of your kids, while making sure to praise someone else's. If you encounter a parent who only has good things to say about their offspring, make a mental note to avoid them because they're probably in a cult.
Of course, the difference between a normal person and me is I've shared that shadow story with thousands of strangers across the country as a stand-up comedian. I've told it on a nationally syndicated radio show, and it will soon be streaming on SiriusXM (along with a bunch of other jokes about them).
I was a comedian before I was a dad, so it was inevitable that my kids would work their way into my act. I still remember the first joke I wrote about my daughter, "I realized I don't know anything about being a dad. I had to Google 'when can I start yelling at my baby?'"
Now that my kids are a little older (5 and 2), they get even more coverage in my act. So now a few hundred people in Madison, Wisconsin know about the first time my daughter came up with a story ("Once upon a time a dog sat under water. The end." Yeah, her first story was about a drowning dog, good luck selling that story to Disney). A few thousand people have heard me talk about which kid is my favorite and even more know how my oldest daughter got her name, a fact she doesn't even know herself yet (but she could, if she buys a copy of "Think Fast" on iTunes).
In my defense, I make fun of myself more than anyone on stage. It's not like I just walk up to a microphone and start roasting my kids. Still, it does feel a little weird that so many complete strangers know that I once accidentally brought my two-year-old to story time at the library dressed in Bud Light sunglasses.
I have learned there are a few things to consider when telling a joke about your child to strangers. First, don't be mean for the sake of being mean. It's also probably important to remember is everything is permanent these days. If you can get fired for a tweet, then a joke you make about your kid on a comedy album could probably be tracked down by her high school nemesis. Honestly, I don't worry too much about this, because part of me would be flattered to still be relevant in 15 years. Most importantly, just don't do anything too personal. When your kids are young, you don't know which of their weird personality traits they are going to grow out of and which are going to define their lives, so it's probably best not too go too deep.
It's much easier to make fun of failures you share or something that's (kind of) normal for kids.
For instance, my oldest daughter is currently into drawing. She learned how to draw stick figures, and she makes holes for the eyes, but she puts nothing in them, so they are just horrifying. She drew a "family picture" that makes us all look like soulless demons but it HAS to go on the fridge because that's just how it works. That's something you can joke about, because she's going to get older and better at drawing.
And if she doesn't, it's because she's possessed by the devil, and at that point you have some bigger concerns anyway.
Mark Chalifoux is a nationally touring standup comedian and a contributor to TheDad. His debut album, "Think Fast", is set for release on August 17 and is available NOW on iTunes for pre-order.