We have a lot of fun at The Dad. But we also love to celebrate people doing amazing things for dads and families. So we're starting Good Cause Spotlight, a new series where we recognize (and support with $$$) important causes and organizations.
For the inaugural Good Cause Spotlight, we are pleased to highlight Ronald McDonald House Charities, specifically Ronald McDonald House Charities of the Inland Northwest.
We donated $500 to Ronald McDonald House Charities on behalf of The Dad community. Our team is also personally donating. We encourage you to do the same if you feel inclined. (Make sure to write "The Dad" in the Additional Comments section so we can track and share the combined impact of The Dad community!) $32 provides one night of lodging for a family in need.
Has your family or anyone you know benefited from Ronald McDonald House? Have you ever volunteer there? Tell us about it at [email protected].
What Are They All About?
Ronald McDonald House Charities is a charitable organization providing temporary lodging for families that have critically ill or injured children seeking medical treatment. There are over 350 houses worldwide.
"The majority of families, 60% or more, arrive via helicopter or ambulance and show up with nothing but the clothes on their back," Julie Delaney, Director of Marketing and Communications for RMHC of the Inland Northwest explained.
The Spokane Chapter house currently has 22 rooms that are always full. The rooms are free of charge. Additionally, there are Ronald McDonald Family Rooms in the hospital that provide a kitchen, laundry room, play area, sleeping spaces, and full showers. Servicing rural communities across Central Washington, the RMHC care mobile is essentially a doctor's office on wheels.
Globally, Ronald McDonald House Charities is working to keep families with sick children together and near the care and resources they need. Last year RMHC served millions of children and families in more than 64 countries and regions. These families saved an estimated $880,104,484 in out-of-pocket lodging and meal expenses.
How Are They Helping?
Ronald McDonald Houses – a home environment providing support and resources that help keep families together.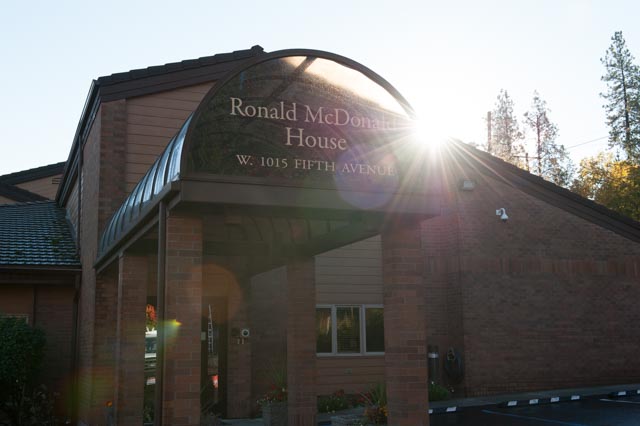 Ronald McDonald Family Rooms – A place for families to rest and regroup right in the hospital.
Ronald McDonald Care Mobiles – Access to health care where children need it most.
Who Are They Helping? Meet the Young Family.
Having twins only 23 weeks into gestation can be a very emotional experience family. For Charlie and Kaitlin Young, that experience was compounded by having no choice but check into the NICU in an unfamiliar city without contacts or prearranged housing.
Living minutes away from a Level III NICU in their hometown of Orem, Utah, the Youngs had already thoroughly considered their birth plan. Then unexpectedly, Kaitlin went into labor while visiting family in Grangeville, Idaho. The Boise NICU was full, and their family was transferred to Spokane, Washington to receive care at Sacred Heart Children's Hospital NICU.
"It was definitely unexpected," explained Kaitlin, the proud new mother of twin babies, Rex and Eleanor Young. "We had no idea where we were going to stay and we really didn't want to be far from the hospital," expressed Charlie, Rex and Eleanor's father. "That was the most comforting aspect of the house. We were constantly worried about making sure we were close by. The house gave us the opportunity to stay close and be within minutes of Rex and Eleanor."
Upon moving into the Ronald McDonald House, Charlie and Kaitlin found a source of strength and security. Meeting the other families in the house going through similar situations gave them a support system they did not expect to have. "There are so many families that you meet that are going through tough times just like you, so to have each other to talk to and to help everyone cope during these difficult times was an invaluable experience I will never forget."
While caring for children receiving care at the NICU, parents often forget to attend to their own basic needs like food and sleep. "The sack lunch program is amazing. It is not something I would have even thought about but it helped us so many days when we simply didn't have enough time to think about meals."
The Young family were happy to report that Rex and Eleanor turned a corner for the better and are doing well. They will be forever grateful for the love and support that Ronald McDonald House and the city of Spokane showed to them while bringing Rex and Eleanor into the world, 760 miles away from home.
Read more stories of families impacted by RMHC of the Inland Northwest.
Need RMHC Services Or Want To Get Involved?
Contact your local RMHC chapter for volunteer opportunities and available services.
Buy something from the House Wishlist!
Amazon is donating 5-10% of all purchases made from this link to RMHC, whether it's a wishlist item, or your own personal shopping.
Follow RMHC of the Inland NW on Facebook, Twitter, Pinterest, Instagram, or YouTube.
"Start liking and sharing! The more people we have access to, the greater the financial impact and results when we ask for help." -Julie Delaney
Do You Have A Story To Tell?
If you have a positive experience with this charity, or a cause close to your heart, tell us about it at [email protected].