The Dad of the Month, January 2019: Sam Monin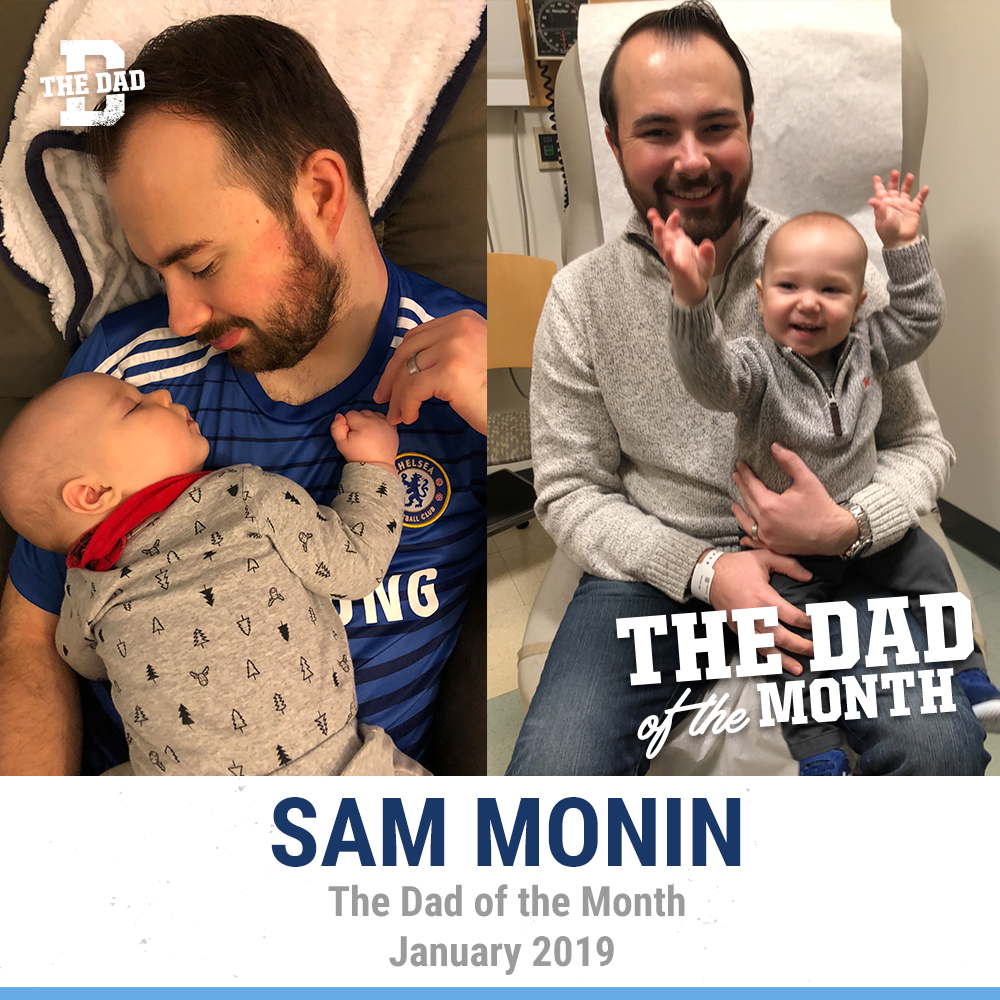 We are excited to announce The Dad of the Month for January 2019: Sam Monin!
Sam is a real dad who is doing the best he can for his family, no matter what. He faced hard times and continues to face them with positivity and strength. Check out his story in his wife's nomination:
"I would like to nominate my husband, Sam Monin, as dad of the month. We have had a pretty difficult last year and he has never stopped being an amazing father to our 1-year-old son. He works hard supporting us so that I can stay home with our son, who he is so proud of.
Sam was diagnosed in September with a 4cm brain tumor called craniophyrangioma, after having severe headaches for a year and losing some of his vision. He had to have emergency surgery the day after he got the MRI. The hardest part for him during recovery was not being able to pick up our son. He only took a week off of work, and still managed to be the one providing comfort and reassurance to his family.
We found out I was pregnant 6 weeks after his surgery, to our surprise and joy. He was so excited and didn't worry for one minute about the medical bills we already owed, or that he may have a lot on his plate.
Then, in December I had a bad bleed and found out I had a very large hemorrhage. We were told in the hospital that I had a 99% chance of having a miscarriage, and the only thing that may help is bed rest. So just when Sam finally had the okay to pick up our son again, I couldn't lift anything heavier than 5 lbs. He should still be focused on his own recovery, and now he is taking over all the household chores, doing pretty much everything for our son, and working a very demanding job, all while remaining grateful for everything we have been blessed with.
We are hoping for a good outcome, but I know everything will be okay either way because we have such a strong man in our life. He is so loving and patient (and pretty goofy sometimes), and I couldn't think of a better Dad for our son."
We can tell how much this dad loves his family and shows up for them every day, through good times and bad. Along with earning the coveted DAD OF THE MONTH title, we'll be sending Sam $500 and The Dad gear, including a very special, not-for-sale The Dad of the Month shirt! (Wear it with pride, Sam.)
Click here to read more or nominate a special dad in your life.