The Dad of the Month May 2019: Ernie Rospierski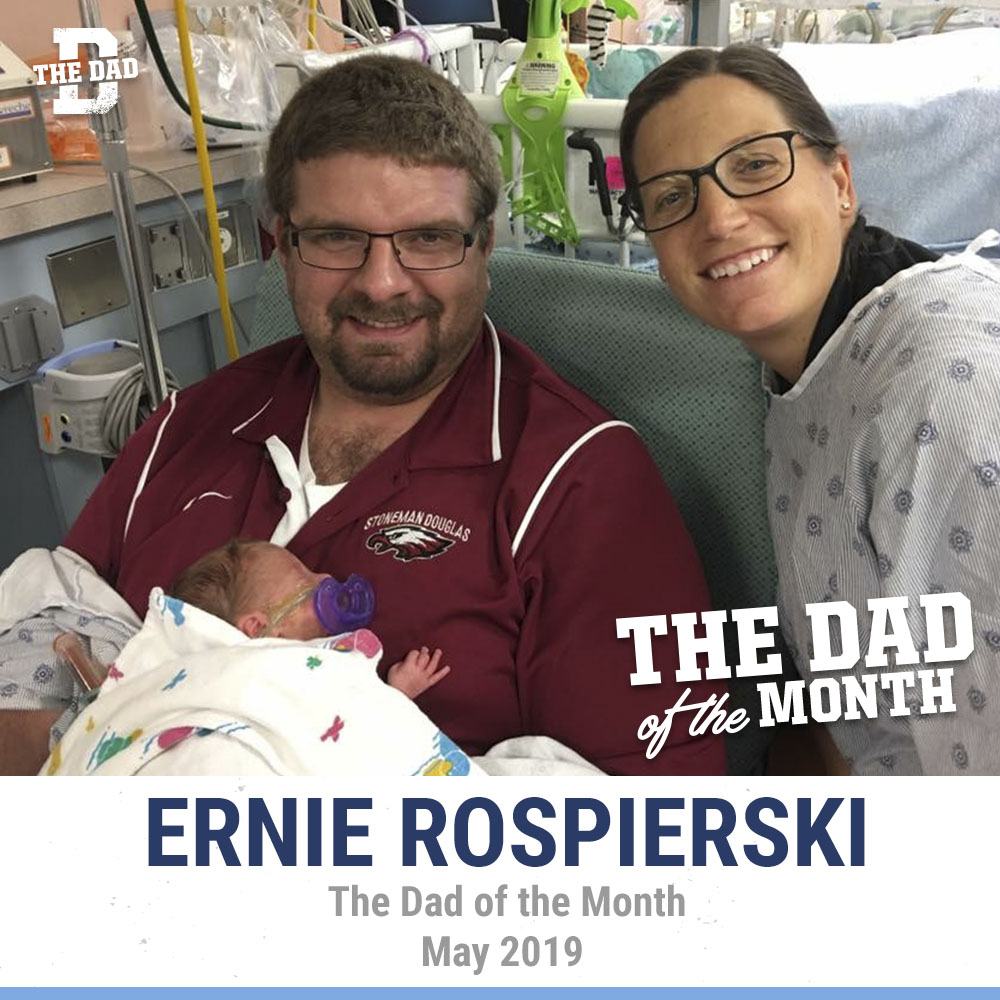 We are happy to announce The Dad of the Month for May 2019: Ernie Rospierski. A dedicated father and educator, Ernie has shown bravery and compassion through his wife's difficult pregnancy, childbirth, and recovery, and in his job teaching at Stoneman Douglas High School. Read Ernie's nomination submitted by his wife:
"Ernie Rospierski is my husband and a truly amazing father to our son, also named Ernie Rospierski. Ernie is a very engaged dad who has been through so much the last few years. Our son was born 10 weeks premature and stayed in the NICU for 51 days before we were able to finally bring him home. Prior to his birth, I was on permanent hospital bedrest for 29 days. Ernie was with me every day. He kept me sane and calm while we were both scared and uncertain about the survival of our unborn child.
When the time came, I nearly died giving birth to our boy and again a month later due to complications from the delivery. I know Ernie was just as scared as I was, but he held it together and we made it through with a healthy boy who is now almost 3. Ernie is a caring, compassionate, and dedicated father who spends as much time as he can with our son and with me.
My husband and I are both teachers at Stoneman Douglas High School in Parkland, Florida. On February 14, 2018 my class and I evacuated our building, but Ernie nearly lost his life when he was grazed by 2 bullets in the process of protecting students. My husband is a selfless man who puts his family and his students before himself. I am a better mother, wife, and person because of him, and I am ecstatic to be raising our son with him."
To honor Ernie's resilience and courage in fatherhood and beyond we're giving him $500 and special edition dad gear. Enjoy. Thank you for being a role model for your son and students and dads everywhere. We salute you.
Click here to read more or nominate a special dad in your life.