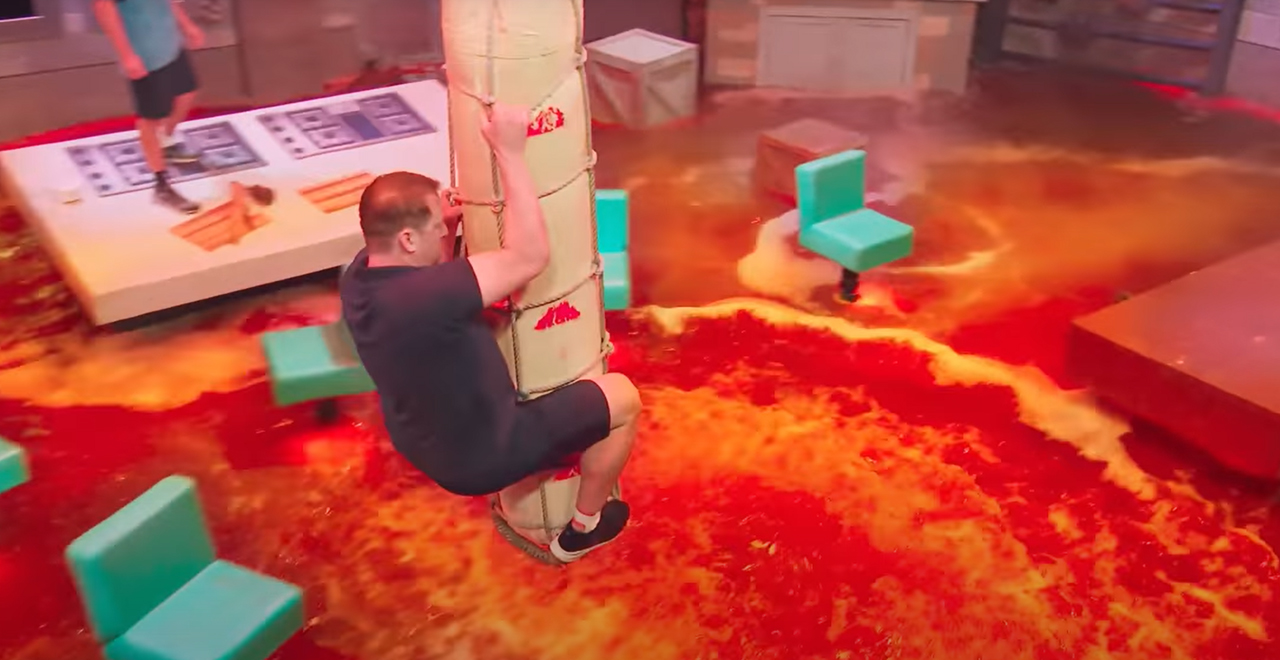 Credit: Netflix
Kids have been playing "the floor is lava" for years. Mine have, especially during quarantine, and I remember playing a variation of it with my brother, in which we viciously tried to kick each other off the couch or bed to our doom.
Somebody finally realized that this was a natural game show and made it happen, and now that someone – Netflix – is reaping the rewards.
The game, which is highly reminiscent of Nickelodeon's classic Double Dare, in which contestants couldn't help but fall into goo and slime and other gross things while they attempted to navigate challenges and obstacle courses, dominated the streaming service over the weekend, coming it at #1 on their list of most-watched shows.
Mashable has a breakdown of how the show works:
"Host Rutledge Wood, known for his role on Top Gear, presents the rules as follows: (1) anything and everything in the room is in play; (2) for every player that gets across, the team receives a point; (3) the team with the most points at the end of their run, or the fastest time in case of a tie, wins $10,000; and (4) don't fall in because — say it with me — the floor is LAAAVAAAA!
Episode to episode, viewers watch as teams go head-to-head for their shot at the grand prize. Deceptively tricky puzzles, hurdles, and mind games block their way as "volcanic eruptions" coat every available surface with water, further increasing the likelihood of slipping. At the same time, the steps needed to get out at the exit are slowly falling away as the lava levels rise, making the game harder with each second that ticks by. It's a pressure cooker of anxiety that forces the series' daring trios to leave it all out on the faux basalt, or be reduced to a metaphorical pile of ashes."
My kids were transfixed by the show – but they're also transfixed by other people opening toys and playing video games, so that's not saying much – so it looks like Netflix has a hit on its hands.
Don't take my word for it, check out this review of the show from an actual 7-year-old.