The Heartwarming Origin Story Behind the Viral 9-Yr-Old 'Anthem Girl'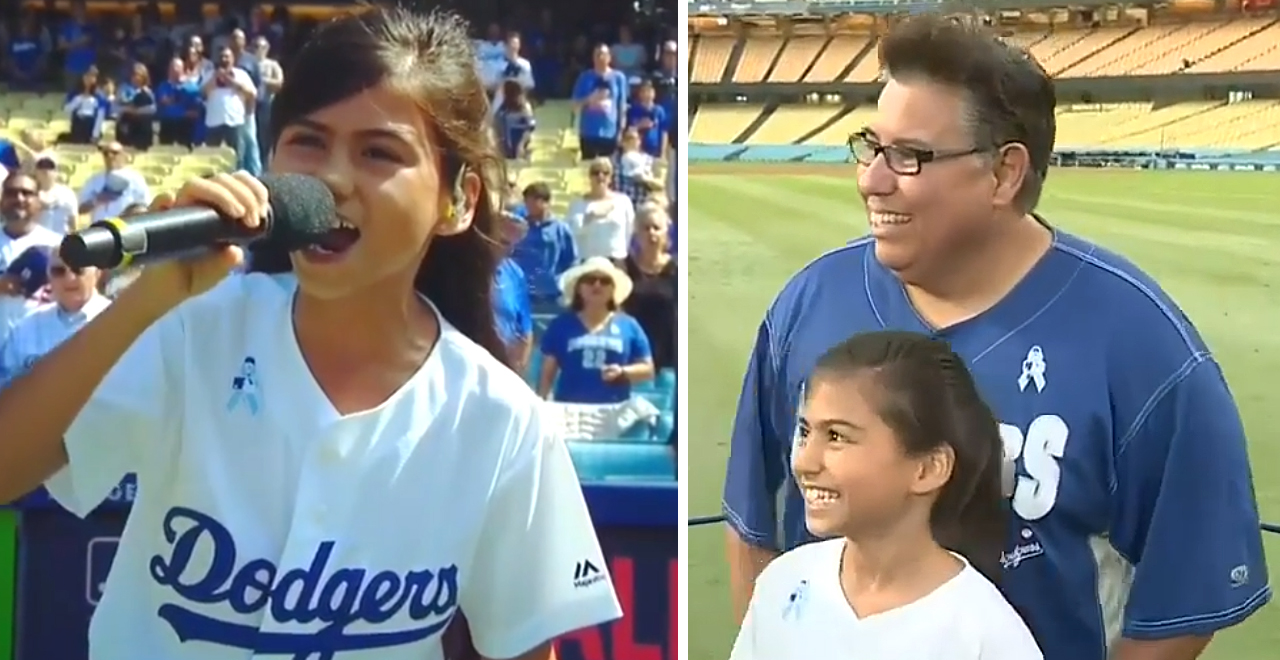 Having a chance to sing the national anthem is a dream for performers of every age. Being able to do it multiple times likely means you're one of the most well-known musicians in the world — or nine-year-old Madison Baez.
While her name may not ring any bells, Madison is known as "The Anthem Girl" by fans at Dodger Stadium, a monicker that may come as a surprise considering the talented young performer only began singing six short years ago. But it's the reason why she started that has people around the world singing her praises.
Back in 2013, Madison's father Chris was diagnosed with stage 4 colon cancer. The next several years were riddled with chemotherapy appointments and surgeries, but Madison was right by her father's side. "Madison starting singing to me at my hospital bedside, at home though all my chemo treatments," Chris told Los Angeles affiliate CBSN. "Her amazing voice developed from the last six years of her singing to me to help me get though my diagnosis." She began learning new songs to pass the time. "She saw how uplifting it was, even at 3 years old," Chris told Dodger Insider last July. "She understood I'm making dad feel good."
At age 7, Chris taught his daughter the national anthem. Flash forward two years and watch as Madison belts out a rendition that would have even the most seasoned progressional in awe of her raw talent.
Last Friday, over 50,000 fans watched as the brave girl give it her all, leaving all in attendance amazed by the soulful sounds coming out of such a young performer. A moment that began with a daughter just wanting to spend time with her dad has now spread to television screens and news sites across the country.
While her latest rendition has gone viral, the nine-year-old is now a vocal veteran, having performed the anthem for the LA Rams, the Los Angeles Lakers, the LA Galaxy, and even the Harlem Globetrotters.
While this may be the first time you've heard of Madison Baez, it's likely not the last. As for Chris, the proud papa has been cancer-free for just over a year now, with all signs indicating he'll be around to see her perform for many years to come.