The Rock Makes Grandma's Century by Singing Her Happy Birthday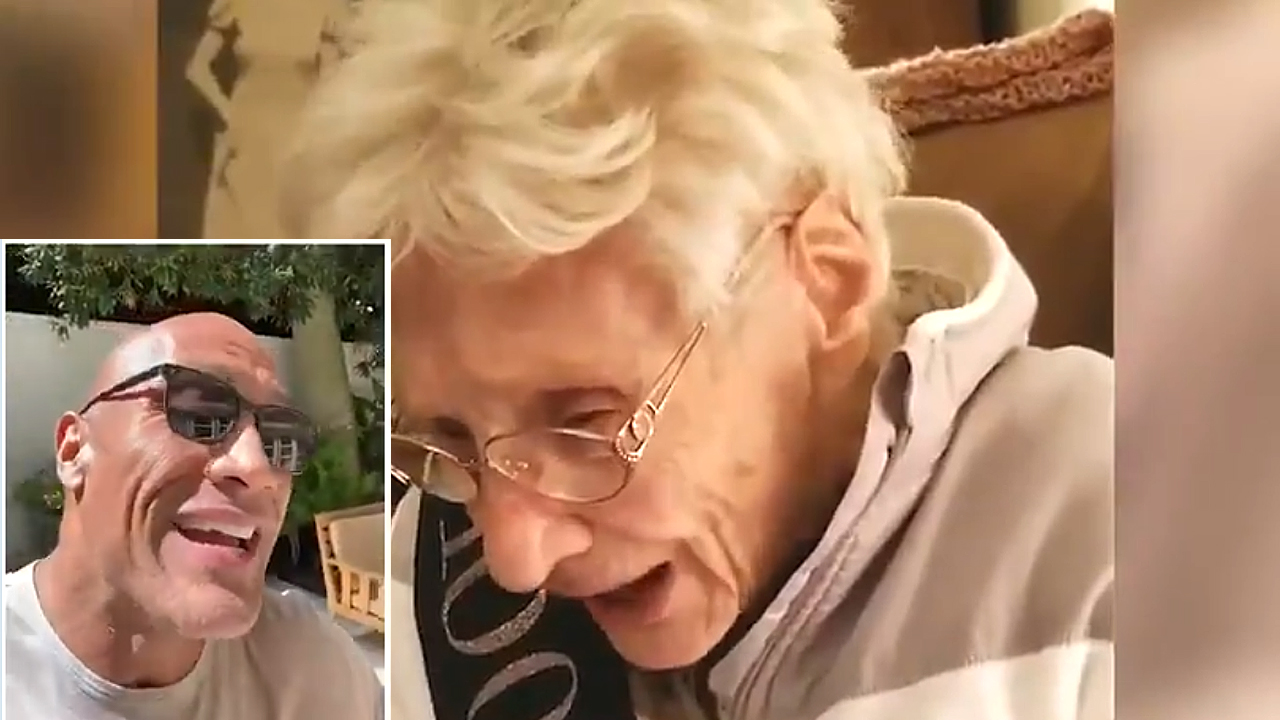 Dwayne "The Rock" Johnson, a college football player turned WWE superstar turned biggest movie star on the planet, is a nice guy. Everyone knows this. It's just obvious. Even if you've only remember his heel turn in wrestling, or you only remember him trading blows with Vin Diesel in the Fast and Furious movies, you probably already know he's a nice guy. His face just screams NICE GUY. (It also screams insanely intense exercise regimen, but you knew that already too.)
In case you didn't know he's a nice guy, well, you're about to learn. Because Dwayne, who has already made fans' lives by acknowledging them on social media, sometimes interacting with them, and occasionally going even further and meeting them, recently went above and beyond for an extra special fan on her extra special day.
Jamie Klingler, a communications professional, and native Philadelphian now living in London was attempting to find a way to get The Rock to wish her best friend's grandmother, and 30-year fan of the wrestler/movie star, a happy 100th birthday. Klingler was working behind the scenes to reach the star's publicist, but it was when she tweeted that things started to happen. The Rock is active on Twitter and Instagram and when she tagged him in her tweet about her plans, he noticed.
Oh my god-my punt to get @TheRock to wish my best friend's gram a happy 100th birthday as she adores him might work.A friend of a friend is in touch.She will lose her mind. When we were in high school (25 years ago) she would wear a rock sweat shirt and tell us how handsome he is

— Jamie Klingler (@jamieklingler) September 22, 2019
And then he responded.
What?? First I'm hearing of this! Who's turning 100? Beautiful age! What do you need, Jamie?

— Dwayne Johnson (@TheRock) September 22, 2019
Jaime – who somehow, to her credit, didn't immediately freak out that the global superstar had deigned to respond to her tweet – let him know what she was hoping for.
If you would record a little video saying happy 100th birthday video for Marie Grover she would be so surprised and laugh so much! She used to have a sweatshirt of you and adores you. Would be so fun.

— Jamie Klingler (@jamieklingler) September 22, 2019
And wouldn't you know it? The Rock, aka, the nicest guy in showbiz, delivered with a video in which he wished the birthday girl a happy birthday, in song, and told her, "I'm sending you so much love and a huge congratulations on 100 years. What an amazing life."
Grandma Grover smelled what The Rock was cooking and she loved every second of it.
Happy 100th birthday to Grandmom Grover, I cannot begin to thank @TheRock enough for making this happen. pic.twitter.com/qZ9iOcsiJI

— Jamie Klingler (@jamieklingler) October 2, 2019
For that matter, so did the Rock himself, who retweeted the video and said that such opportunities were "the best part of fame."
Love seeing this. Happy 100th Grandma Grover! I'm honored you're a fan and grateful you were born! Much love, Rock.
(wish my grandma was still around, but stuff like this is always the best part of fame) #phillystrong 💝 https://t.co/EvuKAbuULT

— Dwayne Johnson (@TheRock) October 2, 2019