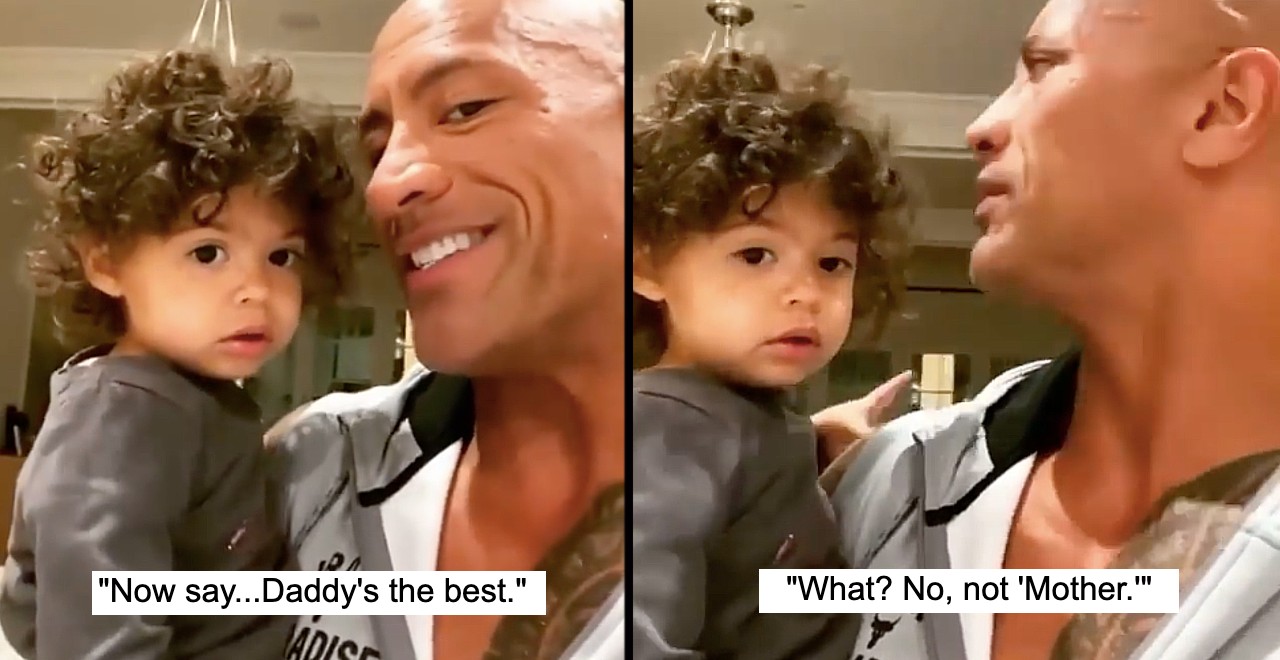 Credit: Instagram/therock
Wrestling legend turned actor Dwayne "The Rock" Johnson is vocal about just how much he loves being a girl dad. The Rock shares pictures and videos on social media, highlighting his passion for parenting and reminding us that even the most seemingly average moments are worth celebrating. On International Women's Day, the father of three took to Instagram once again to share an important message with his 2-year-old, and with the world.
In The Rock's adorable video, he holds 2-year-old Tiana in his arms and gives her an empowering pep talk. "Can you say, 'I'm a pretty girl?'" Dwayne begins, to which Tiana responds softly, "I'm a pretty girl."
"That's right!" the proud dad encourages. "And even more importantly than that can you say, 'I'm an awesome girl?'" and Tiana adorably echoes, "awthum girl."
The precious duo continues, with Tiana acknowledging that she is both a smart girl (a very smart girl), and that she can do anything.
Dwayne glances off-camera at his wife before trying to sneak one more in, but this time, it was just for him. "Daddy's the best," The Rock attempts, emboldened by his pep talk success. "MUDDER!" Tiana exclaims, the only truly unmistakable thing she's said throughout the entire video.
"What? No … mother??" He repeats, processing the adorable and completely unintentional burn. "No, just … daddy's the best," he says, smiling at the camera.
View this post on Instagram
Though it may seem silly for a 2-year-old to attempt to absorb a pep talk like this, you're never too young to start building confidence in yourself. Dwayne Johnson has endured a huge amount of hardship throughout his life, and if he hadn't had been self-assured, he could have quit a million times along the road to where he is today. Even more than the words themselves, what they represent is essential: The Rock wants to ensure that his kids love themselves unconditionally.
"She can say 'Awthum gurl' all day long… as long as she knows she's awesome, that's all that matters," The Rock captioned his post. "And her declarative MUDDER!! at the end seals the whole deal – she knows who the real boss is."