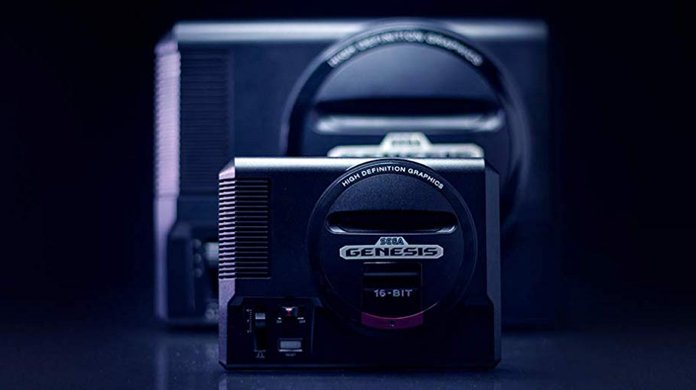 Credit: Twitter/Sega
Mark your calendars and stretch your thumbs because things are about to get crazy nostalgic.
Thursday, September 19 will be a big day for fans of the Sega Genesis System as it's finally set to make a triumphant return to the market – this time in a slightly smaller package.
According to Sega, it will launch worldwide in 2019, a relief for fans that have been eagerly awaiting its release since the company first touted their plans in April of last year.
The company made the announcement at Sega Fes 2019, their annual fan event held in Tokyo and followed up with this tweet:
SEEEEGGGGAAAA!

The iconic SEGA Genesis returns September 19, 2019, with our lovingly crafted SEGA Genesis Mini for $79.99!

Simply plug-in and play 40 of the console's legendary titles, 10 of which we're announcing today.

Learn more and pre-order today: https://t.co/zRqELdIXgt pic.twitter.com/bjtlqMEgEU

— SEGA (@SEGA) March 30, 2019
SEEEEEGGGAAAA! Can you still hear it?
Originally dubbed the Mega Drive Mini, Sega had delayed the release of the console citing concerns over quality.
The newly revamped, but familiar little black box was initially set to be released only in Japan when the company decided to pivot. They will now release the Mega Drive Mini in Japan and the Sega Genesis Mini in US markets.
The US version of the system is slated to go on sale for $79.99, which honestly isn't too shabby considering it's set to ship with 40 games preloaded on the console.
While the full list of titles hasn't been released, Sega announced the following will be included on the US version:
Ecco the Dolphin
Castlevania: Bloodlines
Space Harrier II
Shining Force
Dr. Robotnik's Mean Bean Machine
ToeJam & Earl
Comix Zone
Sonic The Hedgehog
Altered Beast
Gunstar Heroes
Some bad news for those of you who somehow held on to your original genesis gamepads: They will not be compatible. Instead, two USB versions of the iconic three button controllers will be included with the Mini.
The company says pre-order links will be available here.
With tech giants like Apple tossing their hat into the ring, the next few years in gaming are going to be pretty crazy. It's comforting to know that if things get a little too real, you can always go back to your comfort zone of collecting coins and bopping Dr. Robotnik on the noggin.
If September seems like too long to wait, Mario Kart Tour should be dropping this summer on mobile.