The Super Bowl Was Garbage and the President's Kid Can't Play Football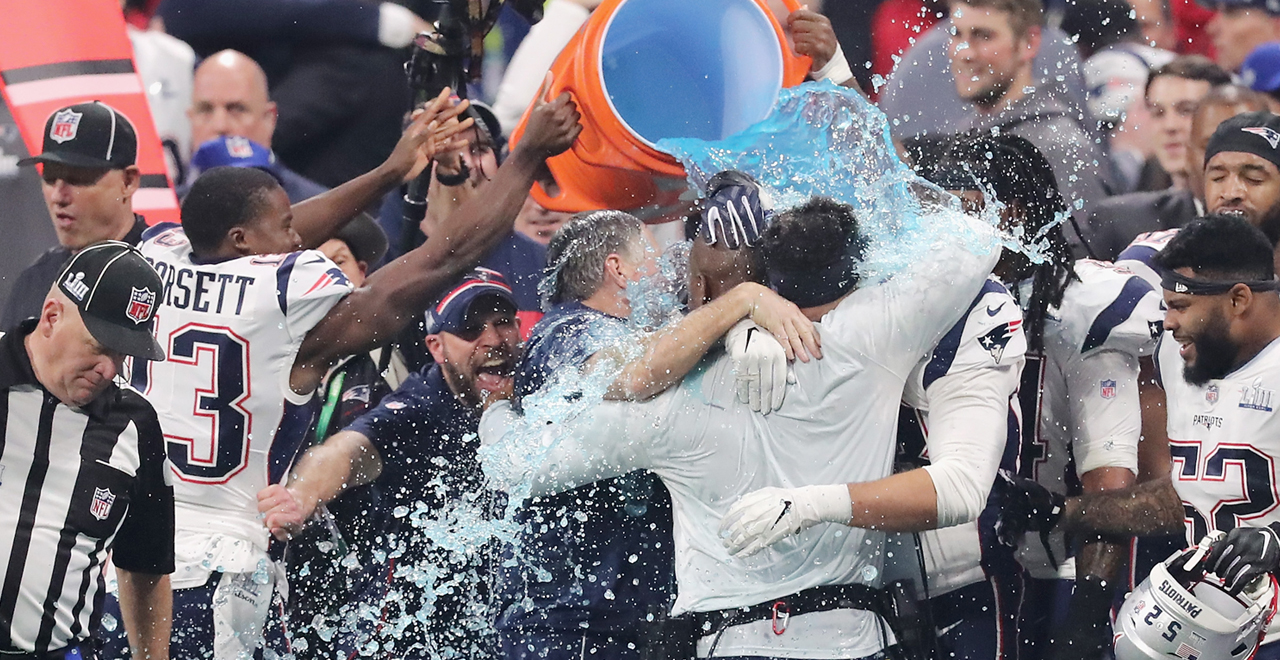 The Super Bowl was garbage and it was loved only by two kinds of people: Bostonians and people over the age of 50. If there is one thing old people love, it's "the way things used to be," so an astonishingly boring Super Bowl made up mostly of errant third-down passes, unremarkable punts and good enough defense is like reruns of M*A*S*H* to them (that's such an old reference that I wouldn't have known to put the * in there without Googling it).
Even before it was over, you heard nearly 60-year-old Jim Nantz haughtily mocking "the year of unstoppable offense" that was the 2018 NFL season and launching into a boring soliloquy about how defense truly wins championships. As if we weren't coming off two wildly entertaining Super Bowl shootouts and an incredible conference championship weekend. We were due for a dud.! Yes, the child-coach of the Rams was dramatically outcoached by grizzled veteran ("football is war"-old people) Bill Belichick, but the game really has changed, offense is here to stay, and we'll be back to Super Bowls that rarely dip below 60 points before we know it.
The commercials were fine. It's 2019 and America's new favorite pastime is hating things online, so of course, the commercials could live up to no one's expectations. Just like last year. And the year before. People treat Super Bowl commercials like they do Saturday Night Live, and wax nostalgically about how they used to be funny. Yet, SNL continues to churn out some of the funniest people in the world (if you really need proof, start with Kate McKinnon and John Mulaney) and Super Bowl commercials weren't any better or worse than they were last year. Some of them were even funnier than just OK! Like, what could be funnier than a universe where people prefer Pepsi over Coke?
I missed half of the game. My daughters are three and five, so their Super Bowl hype lasted about a quarter before they were whining about being bored with the intensity of the first five minutes of a long car ride. So, I selflessly missed some of the most boring Super Bowl ever and even missed what I can only assume was a legendary halftime show from Maroon 5. I hope they appreciate my sacrifice.
Where was Todd Gurley? The Rams have the best running back in football and he seemingly fell off a cliff after he finished terrorizing my fantasy football season. He was a complete nonfactor in the NFC Championship game and barely played in the Super Bowl. Both Gurley and his coach insist he was healthy, which only makes it more confusing that one of the best weapons in football spent most of his Super Bowl as a spectator. It's like the end of the Sopranos, everyone has a theory about what really happened, none of them are ever confirmed, and we will all sort of lose interest eventually. But this was very bizarre!
President Trump would have a hard time letting his kid play football. I know just typing his name has likely caused dozens to reflexively chamber some very helpful and productive internet comments, but divorce yourself of your cyber warrior role for a minute and consider it from the hypothetical. How could ANY president's kid play football? Every game would become an absurd spectacle. Any time he dropped back to pass, the first quarterback would be protected by an offensive line of grown secret service agents looking to punish anyone who even dares to get close (in the NFL, these people are refs and the President's son is Tom Brady).
In fact, I'm not entirely sure that this isn't the plot of an existing Disney channel movie. Besides, the children of billionaires have their own category of sports, which don't exist anywhere else besides Harvard and Yale (you don't really see too many pickup games of rowing).
I joked about being a degenerate gambler in this space last week, but there are certain moments where you feel like you've hit a new low. For me, it was right after the game where I had to exchange several texts with friends to find out what color Gatorade was dumped on Bill Belichick to see if we hit our prop bet on red (we did not).
I used to work in sports talk radio in Cincinnati and got to witness first-hand the misery of people who live and die by one team. Few things are sadder than watching someone base their happiness on the hope of Marvin Lewis winning a Super Bowl. I learned that one of the most important things as a sports fan is to diversify your portfolio of favorite teams. Don't go all-in on one. Entire sports fan years of mine have been saved because I follow a college basketball team that is a perennial factor in March. In years they've been bad, I've been picked up by a great year by the college football team I root for, or that one time the Bengals were actually good.
That being said, this was not a great month for me. My college basketball team is having its worst season in decades, my college football team is Notre Dame, which got obliterated in the college football playoffs. I became a Knicks fan when I lived in New York, and they just gave away their best player since Patrick Ewing, and the Bengals just announced their new head coach is a position coach on the recently humiliated L.A. Rams offense. Sports are so fun!