The Viral Premature Baby "Doing Manly Things" Has a Sister!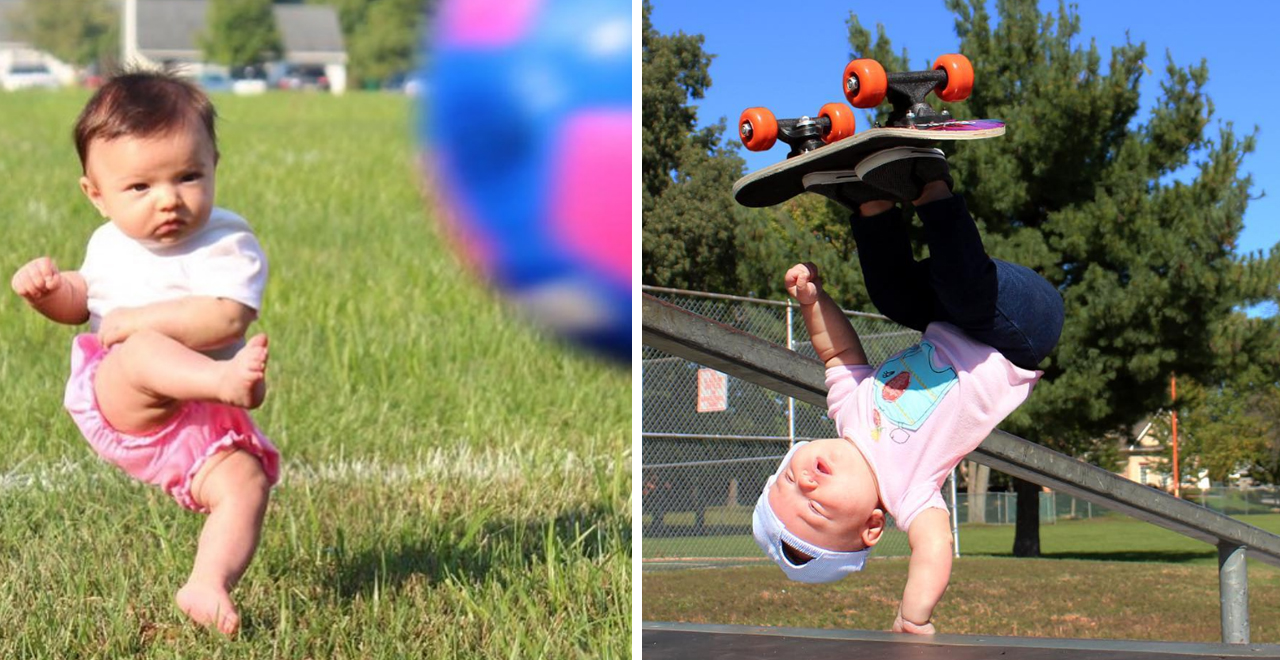 When Ryan MacMillan was born 9 weeks premature, he weighed just 2 pounds, 15 ounces. He had to spend the first 6 weeks of his life in the NICU until his parents, Matt and Alyssa, could finally take him home.
"Although things didn't go according to plan we didn't let it slow us down," Matt wrote on Bored Panda. "We joked that he wasn't premature just 'advanced' – so I came up with the idea that we should do a photoshoot of him doing manly adult things."
So Matt and Ryan began their series of hilariously detailed photoshoots, ranging from giving the car a tune-up to hitting the bench press and everything in between. Many of the props were made specifically for Ryan by his parents (check out that frickin' baby-sized briefcase) while others were simply photoshopped in for a real comedic punch.
The photo series recently went viral due to how freakin' cute they are combined with amazing photographic ingenuity and props.
"Some of the setups were elaborate – like for the benchpress photo. For this one, I made a rig that hung from the ceiling. It mounted the camera and also held the barbell above Ryan so all he had to do was grip it rather than hold it up."
Caring for a premature child is one of the most difficult experiences parents can endure, which made the outpouring of love and support around these photos even more special to the MacMillans. Specifically, other parents of premature babies have reached out to Matt to share how the photos have been a light-hearted reminder that even the smallest babies can grow up to be amazing.
"People seemed to love the photos – there was a lot of disappointment when the series came to an end," Matt wrote, now with Ryan as a healthy, bouncing 6-month. "I'm curious to see what Ryan thinks of them 18 years from now when he's actually grown up."
The good news is that there's more to this story! Before Ryan's adventures in premature adulting the couple's firstborn, Ella, was already knocking 'em out of the park at one month old!
Then she made waves as a diver.
And had a highly successful run as a goalkeeper.
Then things got pretty extreme.
At only 4 months old she tackled the sport of football.
The older Ella is not afraid to carry the weight of the world on her shoulders.
A big cheers to Matt and his family!
P.S. The internet is collectively hoping you have more babies!