There's a Contest for a Pizza Themed Wedding That Can't Be Topped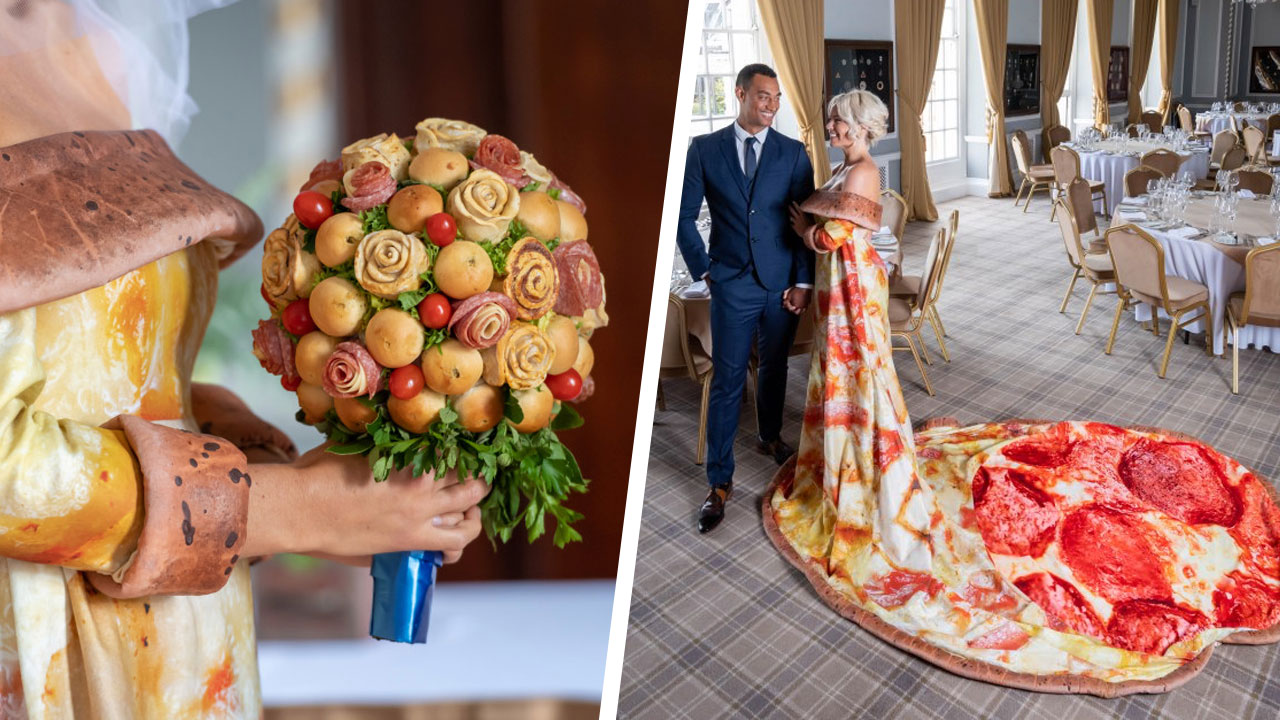 Let's all admit that the typical wedding ceremony is pretty cheesy. Now if only someone would find a way to make it even cheesier.
Well, the wait is over as one UK company is officially rising to the occasion. Chicago Town pizza has announced its Pizza Bridal Package. Yep. An entire wedding themed around pizza. It's likely not what your future wife had imagined – hell, maybe it is. Either way, the package is actually pretty appetizing once you break it down. Here's the deep dish on all the details:
First up, you'll need to say hell yes to the dress. Picture the love of your life floating down the aisle draped in cheese and pepperoni as this one-of-a-kind gown embraces her like some sort of inside-out fabric calzone. "The unique pizza wedding dress is loosely modeled on Rihanna's iconic 2018 Met Gala dress," the company said in a statement.
Next on the list is a beautiful bouquet simply bursting with blooms baked from pizza dough, roses crafted out of meat, and little cherry tomatoes to give it that extra pop of color that every bride yearns for in a classy food-based floral arrangement.
Ok, this all sounds fine, but what about the guests? Luckily the package includes a six-tier, deep-dish style pizza wedding cake that will more than feed everyone in attendance.
Finally, the pizza de résistance: The package includes a honeymoon to Chicago. While the windy city may not be your ideal destination, this part is sure to save you some serious dough.
So what brought this idea to light? Rachel Bradshaw, Brand Manager at Chicago Town, said the company polled 2,000 residents and found some interesting data. "Weddings are the ultimate celebration of love, but it seems like our obsession with food trumps everything else when it comes to anticipating and enjoying someone else's big day. Our research has revealed that more than half (64 percent) of Brits would be more excited about attending a wedding if they knew pizza was on the menu."
The same study revealed that 8 percent of those surveyed would turn down a wedding invitation if the dining options weren't up to snuff. Food for thought.
So if you or someone you know is based in the UK and also an insane lover of pizza, why not toss your name in the mix? It may not be the Grease themed wedding your other half dreamed of, but it's probably time they got used to lowering expectations anyhow.
Interested couples can email [email protected] with the subject line 'Pizza Wedding'.