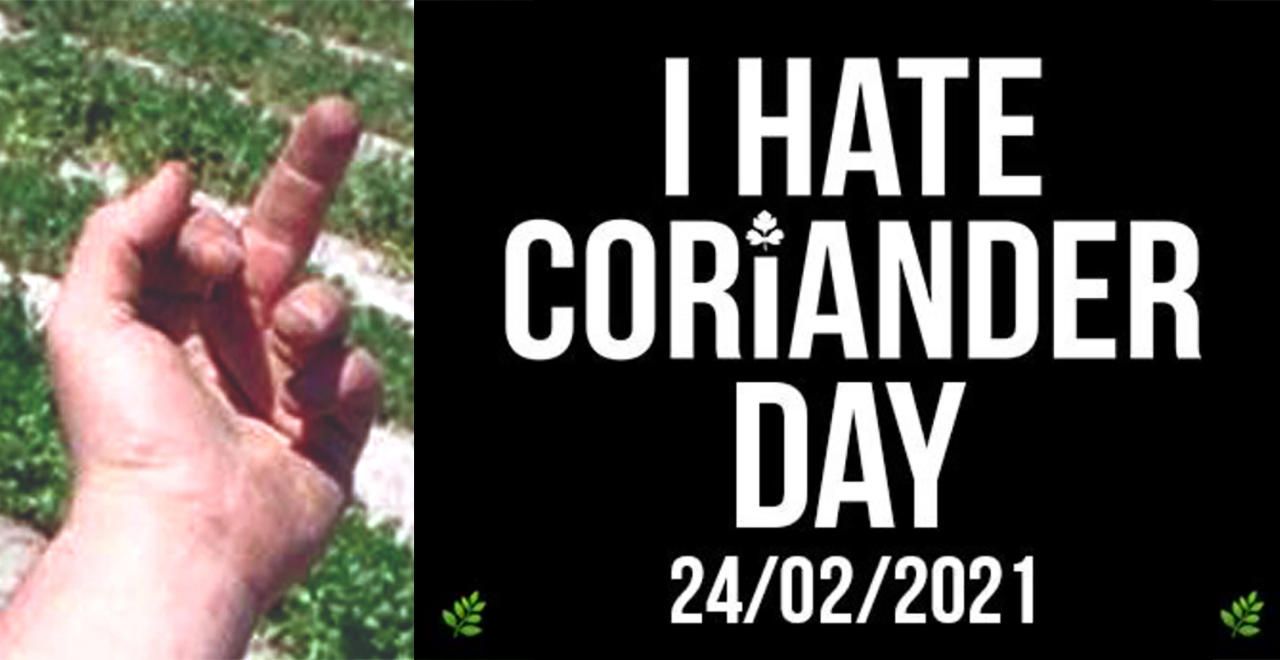 Credit: Facebook/I Hate Coriander
Thanks to the power of the internet, it's pretty easy to find people with whom you can share just about any interest, no matter how obscure. Of course, that also means you can come together just to communally hate something, too.
That's where Facebook pages like I Hate Coriander come in.
We first caught wind of the group last year when they were celebrating "I Hate Coriander Day," a day they undoubtedly coined – unless it was Mayor Quimby.
Now they boast a stunning 285,000+ followers, the group is pretty straightforward with its message and purpose: "We. Hate. Coriander," the group's founder, Jack Bailey, has succinctly written in the page's About section.
And this year they've put together an official event page to celebrate hate for the herb: The 3rd Annual 'I Hate Coriander Day.'
For that confused, coriander, the leafy herb is colloquially known as 'cilantro' in the United States, literally tastes different to people depending on their DNA. Researchers have discovered a specific gene that makes the plant taste strangely soapy.
"These people have a variation in a group of olfactory-receptor genes that allows them to strongly perceive the soapy-flavored aldehydes in cilantro leaves," as stated in Encyclopedia Britannica. "This genetic quirk is usually only found in a small percent of the population, though it varies geographically."
So it makes sense why Jack and his loyal tribe of haters are totally over it infiltrating their Mexican food. It literally tastes like someone drizzled dish soap over their carnitas, which would probably cause you to start a vengeful Facebook group too.
I Hate Corriander is chock-full of folks ragging on the herb, photos of members giving coriander fields the middle finger, and other colorful ways of expressing a big "F*** YOU" to the little green plant.
It's gained so much popularity, in fact, that they've started selling their own merchandise, allowing members to finally convey their feelings about the hateful herb to the world. Items include tees ($29.95), hoodies ($44.95), vinyl stickers ($10), and bottle openers ($6.95).
On the bright side, Encyclopedia Britannica cites evidence that cilantrophobes might be able to overcome their aversion to the herb through repeated exposure, but sometimes giving a plant the finger just feels way more satisfying.