This 82-Year-Old Polar Vortex-Battling Granny is More Badass Than You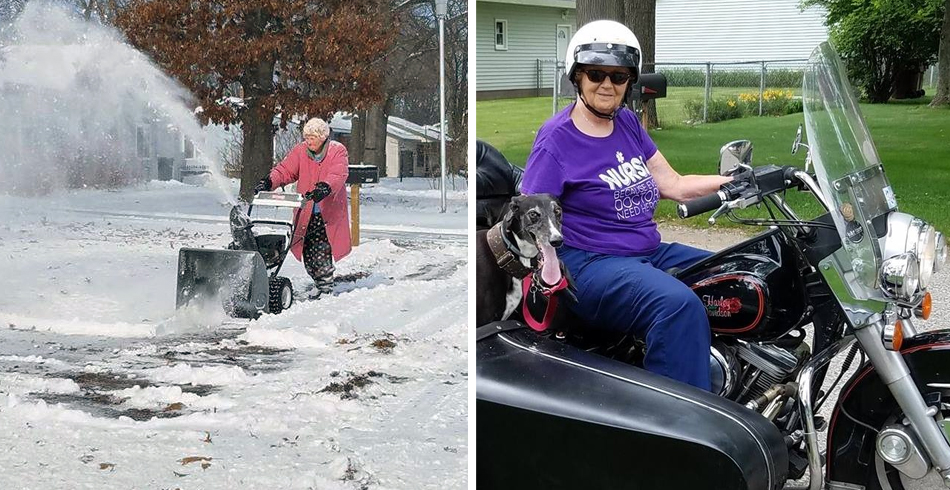 There are abilities in this world that people can attain through education, training, or simple, repetitive practice, but being a badass is not one of those things.
Take Marlene Downing of Muskegon, Michigan, for example.
When the 2019 polar vortex swooped down to blast much of the country with icy below-freezing temperatures, this 82-year-old grandma didn't drape herself with an another afghan and sip chamomile from a pastel-colored teacup—no sir. She was outside maneuvering a snowblower along the sidewalks in her neighborhood, clearing the walkways for her more mild-mannered neighbors, and laughing directly in the face of a blizzard.
Nick LaFave, a reporter for local WZZM-TV, spotted Marlene motoring around and had to snap a few pictures. The images, which he shared on Facebook, quickly went viral.
His caption reads:
"This is Marlene in Muskegon. At 82 years old, she still fires up the snowblower and gets to work. Says she loves being out there… and helps out the neighbors, too! She also says that she grew up in North Dakota and calls herself a 'tough, old broad!' That's awesome, Marlene! Now go put your hat on! You'll catch cold!"
Marlene only retired a year ago but she loves any opportunity to get outside and stay active, even if it means showing the extreme wintery elements who's boss.
Her children and grandchildren don't love the idea of their elderly matriarch roaming the frigid outdoors all alone, but Marlene makes it quite clear that she's beyond capable of handling a little cold, much fewer orders from her own children.
"They think I'm crazy," she says to the reporter with a laugh. The best part of snow blowing, though, according to Marlene, is that the sound reminds her of the frickin' Harley-Davidson motorcycle currently parked in her garage.
Yes, with a sidecar attached for her trusty pooch co-pilot, Marlene has cruised over 135,000 miles on the bike and is ready and raring to fire her back up once all this blasted snow melts.
So, try as you might with your leather jacket, tattoos, and lifted trucks—I'm still going with Marlene when it comes to pure, unadulterated badassery. She's going to outlive us all.