Big Brother of the Year Snags Foul Ball for His Sister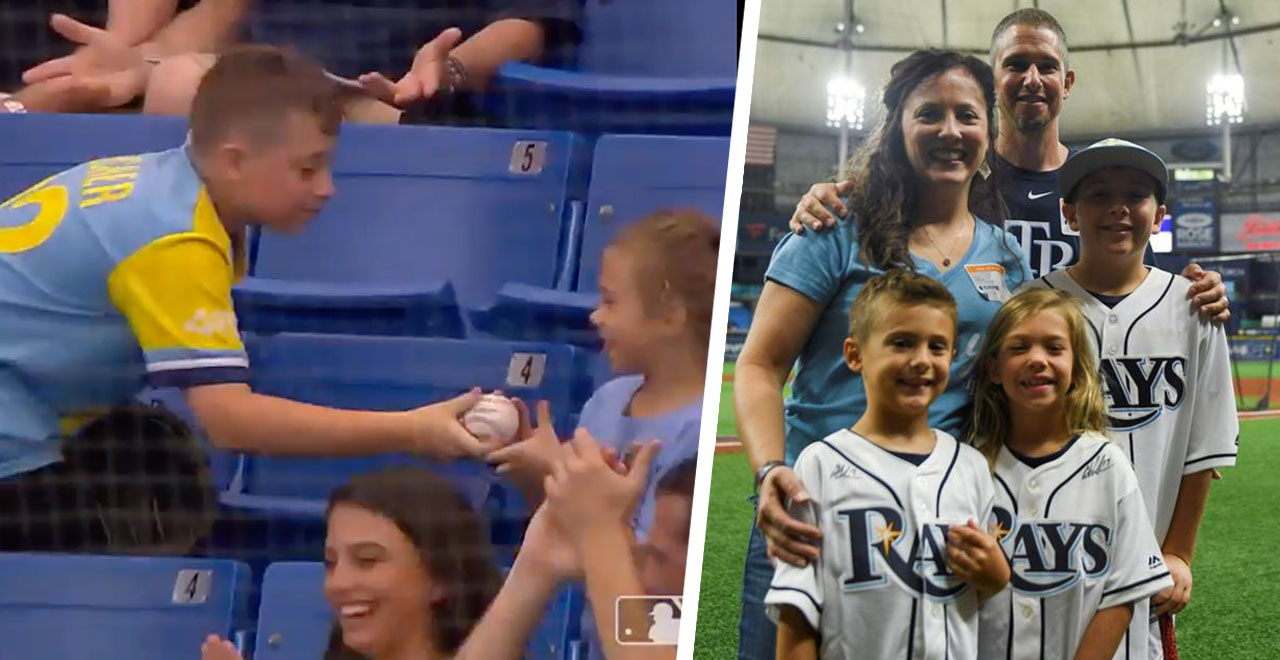 On her way to a Tampa Bay Rays baseball game last week, 7-year-old Mary Grace Hartman realized she had left her mitt at home. Like many who attend America's favorite pastime, Mary Grace was hoping to catch a foul ball. Her father, Rob, reassuring the young fan that it wouldn't much matter.
"I said, 'You know kids, it's really rare to catch a ball. You know how many games I went to as a kid, and I never got a baseball. It never happens!" The father of three recently told TODAY. Thankfully, Mary Grace's older brother Joseph remembered his glove, as their dad's off-the-cuff comment must have tempted fate.
In the bottom of the first, the Rays' Austin Meadows fouled off a 91mph fastball that soared high in the sky, eventually bouncing off the top of the dugout and into the ready mitt of Joseph Hartman. The 12-year-old little leaguer looked like one of the pros as he quickly snagged the ball and turned to run back to his family. Without hesitation or prompting, the classy young gentleman handed the ball to his younger sibling, Mary Grace, bringing a huge smile to not only her face but the faces of everyone watching.
While the catch was solid, Joseph's good deed is what truly drew applause from the crowd. The video spread, as true acts of kindness tends to do these days, garnering millions of views in just a matter of days. Thousands of comments poured in, with most asking how his parents managed to raise such an awesome kid, seeking advice on getting their own kids to be so kind to the siblings. His dad, Ryan, saying only that Joseph is still "a 12-year-old boy." His Junior high school advisor even chimed in on Facebook saying she feels lucky to get to work with students like Joseph. "He will be one of those kids who excels in the community service requirement for sure. He enjoys helping others."
The family, who live in nearby Temple Terrace, have been attending games for years. While they've ended up with a few fouls balls before, this is the first time they've actually caught one on their own. Joseph even managed to get both team mascots to autograph the ball, which now sits on display in Mary Grace's bedroom. The Rays even invited the family to Friday night's game against the Yankees, awarding the family custom jerseys and allowing them down on the field.
After fan video goes viral online, Rays invite family to a night at the Trop https://t.co/slNdw7VESj

— Tampa Bay Times (@TB_Times) July 6, 2019
While Rob jokes that "siblings will always be siblings," but he says Joseph is indeed "a really good kid."
"That was one of those moments when his real kindness just came out," Rob said. "It was just his instinct; he didn't think about it."
Here's to Joseph for being a great example and to his parents for raising a phenomenal young man.