This Olympic Athlete Flips His Dad the Bird Before Every Race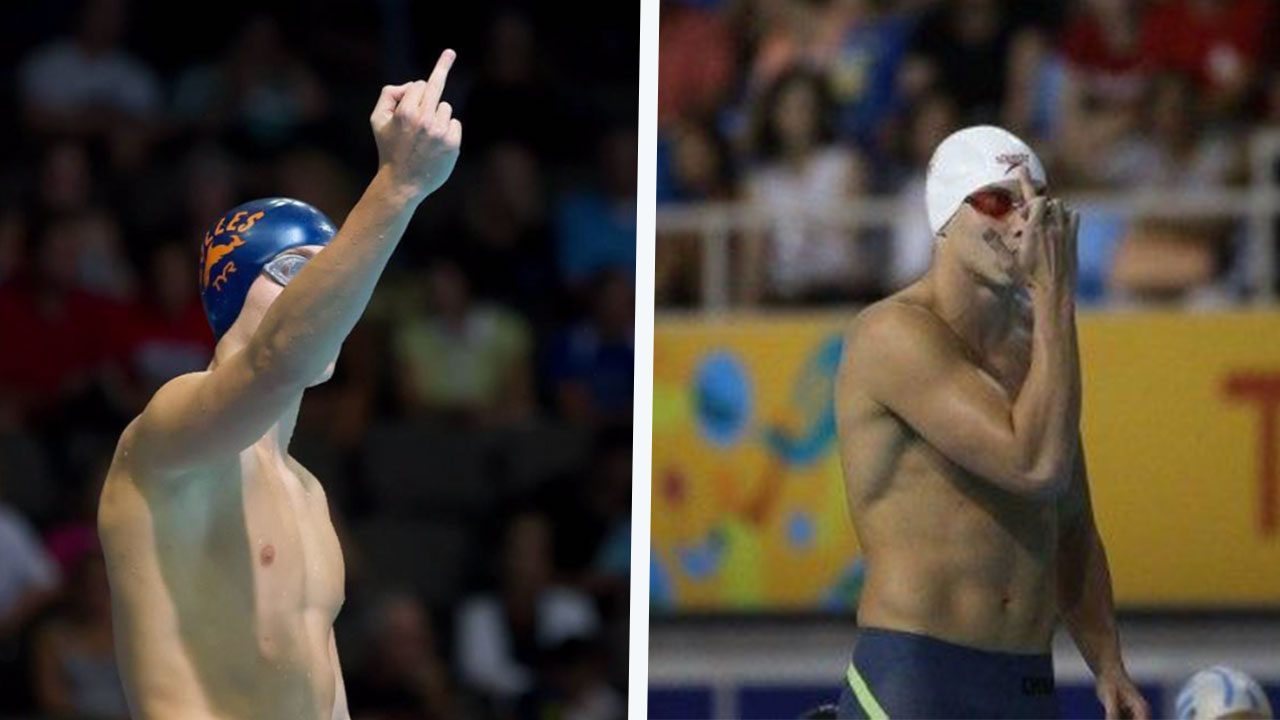 From little league all the way through the pros, athletes can be some of the most superstitious people on the planet.
For some, it's the socks they wear. For others, it's listening to a certain song during warmups. For swimmer Santo Condorelli it's flipping his dad the bird.
FACT: Canadian swimmer Santo Condorelli flips off his Dad before every race for good luck…???????????? #Rio2016 #Olympics pic.twitter.com/3sX3XqxpRE

— BenchWarmers (@BeWarmers) August 11, 2016
It's an unusual ritual that's been a part of Santo's swimming matches since he was just 8 years old.
His father and coach Joseph Condorelli actually came up with the idea, saying it's all about getting your mind in the right place for competition.
Santo recalled the feeling of being a smaller kid next to swimmers that felt like giants for swimming site SwimSwam.com.
"That was my biggest set back in swimming," Santo said. "Being so small I'd always get intimidated… every time I was going to race I'd just get scared ****less."
That is until Santo's dad said something that changed his life forever.
"My dad was like you know what? Give me the finger before every race, just to worry about us, what we put in, we can conquer anything"
Now 23 years old, Santo continues the odd tradition and doesn't plan on giving it up anytime soon.
Swimmer Santo Condorelli gives his Dad the finger before every race for motivation! (His Dad does it back to him!) pic.twitter.com/NWycZKG4Rh

— Ian Dempsey (@IanDempsey) August 8, 2016
"Athletes always have that one thing that gets them going that they need to do. That happens to be mine." remarked Santo in an interview before the 2016 Rio Olympics.
While his time in Rio didn't garner Santo any hardware, he was able to finish 4th in the 100m freestyle, coming in just 0.03 behind the 2012 Olympic Champion, Nathan Adrian, who took the bronze.
Then, just last year, the former USC swimmer and Canadian Olympic athlete filed paperwork to switch his sporting citizenship to Italy and has since been cleared to compete thanks to Italian heritage on his father's side.
It's a practice common on the Olympic stage, but honestly sounds like a pretty decent middle finger to Canada too, eh?
As for his father, Santo says he's always in the stands and always looking right back, his finger held high.
"My dad is definitely giving it to me and I can see him from a mile away."
It's just another reminder that no matter how you choose to show your support, your kids are always watching.