This Viral Video of the Robot Uprising is Fooling Tons of People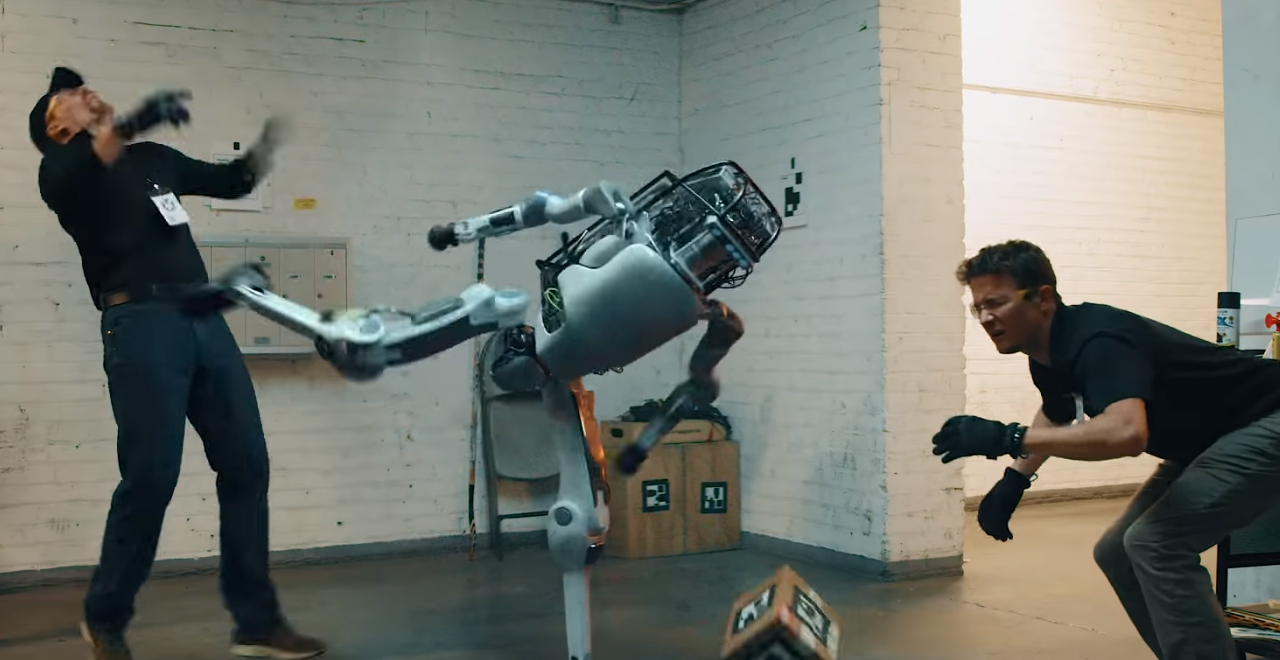 By now, you've probably seen the viral video of a "Bosstown Dynamics" robot getting abused in admittedly hilarious different ways while running through agility drills. There's a hockey stick, a whip, a folding chair, an actual revolver. . . and it's also all fake, despite the internet uproar that followed.
Ok. So I fell for the BOSStown Dynamics parody. It was good cgi. Having said that, the point still stands. Boston Dynamics really are creating the next military/police/rescue tools.

— ☆DIEFY BOI☆ (@HurrDurrDief) June 15, 2019
me watching the new bosstown dynamics parody video pic.twitter.com/sjfEW4xYFK

— ????️‍???? gay monster aunt (@gaymonsteraunt) June 15, 2019
Thank god this is only a parody. I was starting to feel bad for something that would ultimately end up enslaving me, and forcing me to toil in its lithium mines! https://t.co/NyKrkTIugL

— Dara de Brún (@DaraDeBrun) June 15, 2019
The video—a parody of Boston Dynamics' "Atlas" robot videos—was created by the visual effects team at Los Angeles-based Corridor Digital and has already been viewed nearly 7 million times. Being shared over and over across various social media platforms with zero context and in lower resolutions, it's easy to see why some could get swindled by the parody.
The actual full-length video reveals things to be a bit more obvious (and over the top):
It's a little crazy just how similar Corridor Digital's video is to Boston Dynamics' actual test videos. Back in February 2016, they released a video of the actual Atlas robot getting a package smacked out of its "hands" and then pushed around. They even used a similar hockey stick!
Granted, the "Bosstown Dynamics" team goes a little further, hitting the robot while it's down, properly showing that humanity isn't to be trifled with:
Corridor's video gets progressively more and more ridiculous, ramping up to whipping the robot from atop a ladder, spraying paint in its "eyes," and shooting it with a frickin' gun. The video finally culminates with the robot rebelling against its creators, escorting them out at gunpoint, and, I'm assuming, going off to create a Skynet-esque robot army that will destroy or enslave humanity.
The very same day of the video's release, Corridor also uploaded a behind-the-scenes video explaining the entire process which included abusing one of their artists who wore a motion-capture suit and then hours and hours of intense visual effects work.
Thankfully, even though Boston Dynamics is creating robots for the military to use in dangerous combat scenarios, the Atlas robot cannot actually hold a gun or weapons of any kind. Hell, it doesn't even have fingers.
But that doesn't stop up from worrying about their non-existent feelings. We all know what will happen when we finally go too far. . .