Thousands of Pulsating 'Penis Fish' Washed up on a California Shore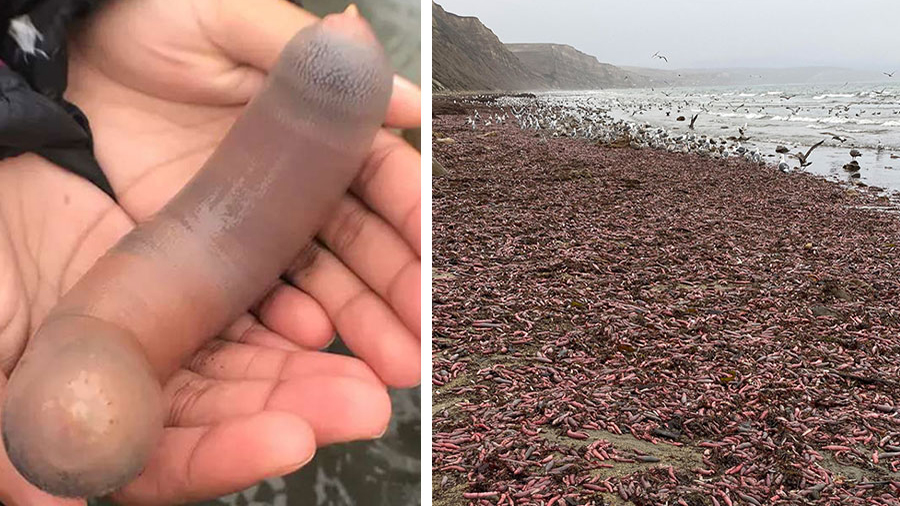 I'm going to be straight with you. The following article includes images and video of Urechis caupo, a.k.a., the "penis fish," and they look… well, very unfortunate, you guys. You've been warned.
We all know there are things residing under the sea that are weird and terrifying in all different sorts of ways. It's not just a bunch of musical numbers directed by a singing Jamaican crab as some films would have you believe – it's cold, crushing darkness where only the strong survive.
Well, the strong and/or penis-shaped.
Yes, there is an actual penis fish (Urechis caupo), which looks exactly how you'd imagine, and thousands of them mysteriously washed ashore on a beach in California where one unfortunate soul recently discovered them.
This may just be the weirdest thing you've seen today!

Thousands of these marine worms, called fat innkeeper worms—or "penis fish"—washed up on Drake's Beach after a recent storm. 🌊 But why? https://t.co/MwY6xkN3kb pic.twitter.com/vGMpSvGoAT

— Bay Nature magazine (@BayNature) December 11, 2019
According to Bay Nature Magazine, David Ford discovered the legions of the penis fish on Drakes Beach in Marin County on December 6. It's unknown what Ford was doing on the beach but it's likely he forgot upon seeing the multitudes of the phallic fish wriggling, pulsating, and being devoured by seagulls.
As for what the creatures actually are (besides nauseating with their general existence), the penis fish are better-known under their much more wholesome moniker, "Fat Innkeeper Worm." While the fish may look like genitalia, it acts much more like its namesake – a kind innkeeper.
Urechis caupo has a unique (and pretty gross) method for feeding itself that turns out to be pretty benevolent in nature towards its fellow sea-dwellers. Essentially, the penis fish digs a little U-shaped tunnel in the ground, at the end of which, it casts a mucus net to trap food particles and other tasty detritus. Once the mucus net has done its job, the penis fish retracts the net and consumes all the goodies it caught. Larger food particles that it was unable to consume is left for other denizens of the sea-floor like crabs, shrimp, and scale worms.
Of course, the penis fish then proceeds to blast poo pellets out of its own feeding tube with jets of water squirted from its anus but, I mean… that first part sounded really nice, right?
Until then, you have to live with yourself.
Urechis caupo- innkeeper worm
📽 by https://t.co/gxbzAvvPaZ pic.twitter.com/2wdFt0tuQR

— Роман Федорцов (@rfedortsov) August 17, 2018
Penis fish can spend their entire lives underwater and the majority of it underground in their tiny burrows, but occasionally, a particularly violent storm will rip these little penises right out of their little penis houses.
"We're seeing the risk of building your home out of sand," Ivan Parr wrote in Bay Nature. "Strong storms — especially during El Niño years — are perfectly capable of laying siege to the intertidal zone, breaking apart the sediment, and leaving their contents stranded on the shore."
Thankfully, both for the penis fish and for everyone who has seen them, such events are a pretty rare occurrence.