Tiger's Masters Victory Ensures Dad-to-Be Gets to Name Son Tiger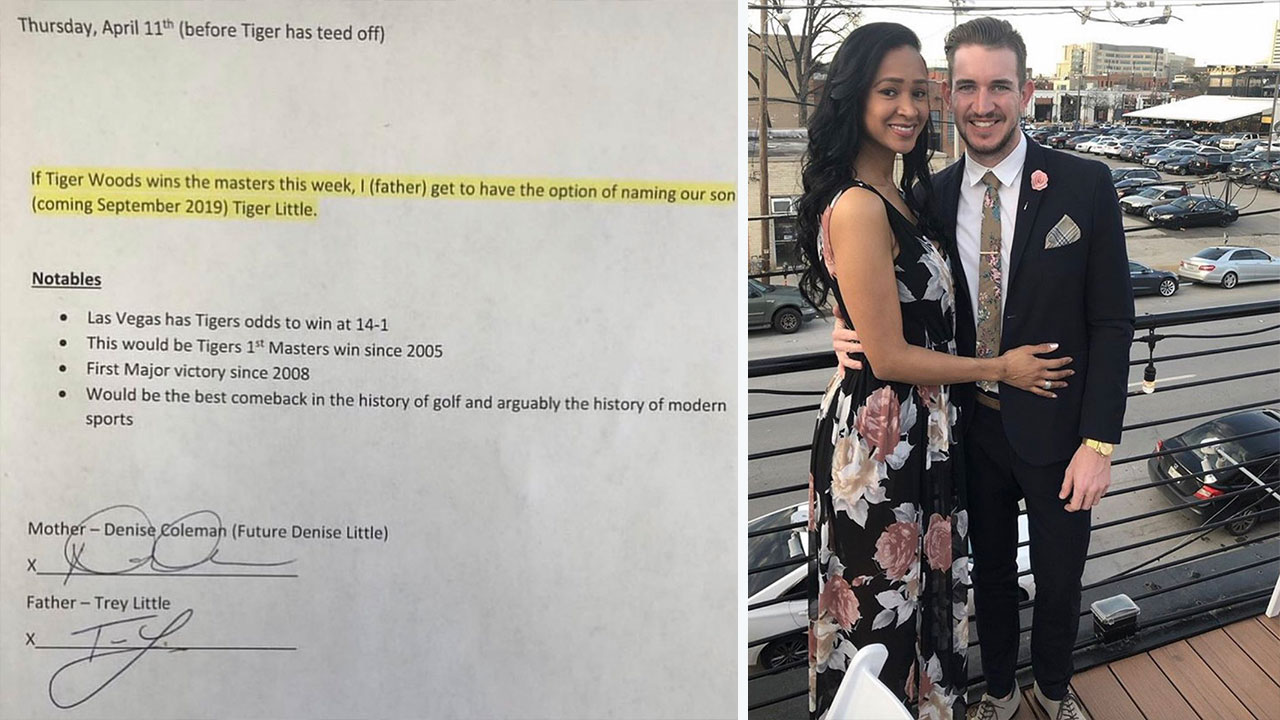 When Tiger Woods won The Masters last week, it was a big day for the game of golf.
The win was Tiger's first Masters victory since 2005 and his first major tournament win on the PGA tour since 2008.
It was a great day for Tiger, his fans, and for most of us who just wanted to see him close the deal, even just one last time.
But the butterfly effect is now surfacing from the incredible victory as several other lives have been forever changed in the process.
You may have read how one Wisconsin man put down $85,000 on Tiger to win, netting him just over $1.2 million and setting a new record for sports book William Hill for golf winnings on a single ticket.
While most of us can only dream of a huge payout like that, one man from Texas truly hit the jackpot.
Trey Little made a bet of his own with his fiancé Denise that if Tiger won The Masters, a long shot that Vegas had going off at 14-1, Trey would have naming rights to their future son.
The name? You guessed it: Tiger Little.
Future dad, @_treylittle, now can name his son Tiger after contract with the mother of his future child gave him rights to do that if Tiger won the Masters pic.twitter.com/3mMTE0Saxd

— Darren Rovell (@darrenrovell) April 18, 2019
Before Tiger teed off on Thursday, Trey and Denise signed the very official looking contract and the rest they say is history.
Trey even broke down how incredible the win would be, noting the betting odds, the fact Tiger hadn't won a major since 2008, and best of all that it "Would be the best comeback in the history of golf and arguably the history of modern sports", a sentiment that has now been shared by fans and professional sportscasters alike.
Twitter's crack team of legal experts were quick to attack the validity of such a contract:
Wasn't notarized

— Brady Buchanan (@bradyb9) April 18, 2019
There is no consideration in return so the contract is not binding

— ben schoen (@bensschoen) April 18, 2019
There's no sign that "Future Denise Little" plans on contesting this contract in court, however, we certainly think Trey has crossed his tees on the legalese.
Sorry for that one. Unless you thought it was good, in which case – nailed it.
Stay tuned – we'll likely circle back in 10 years to cover Tiger Little's meteoric rise into junior golf superstardom.