Toddler Repeatedly Enters Wrong Password, Locks Dad's iPad Until 2067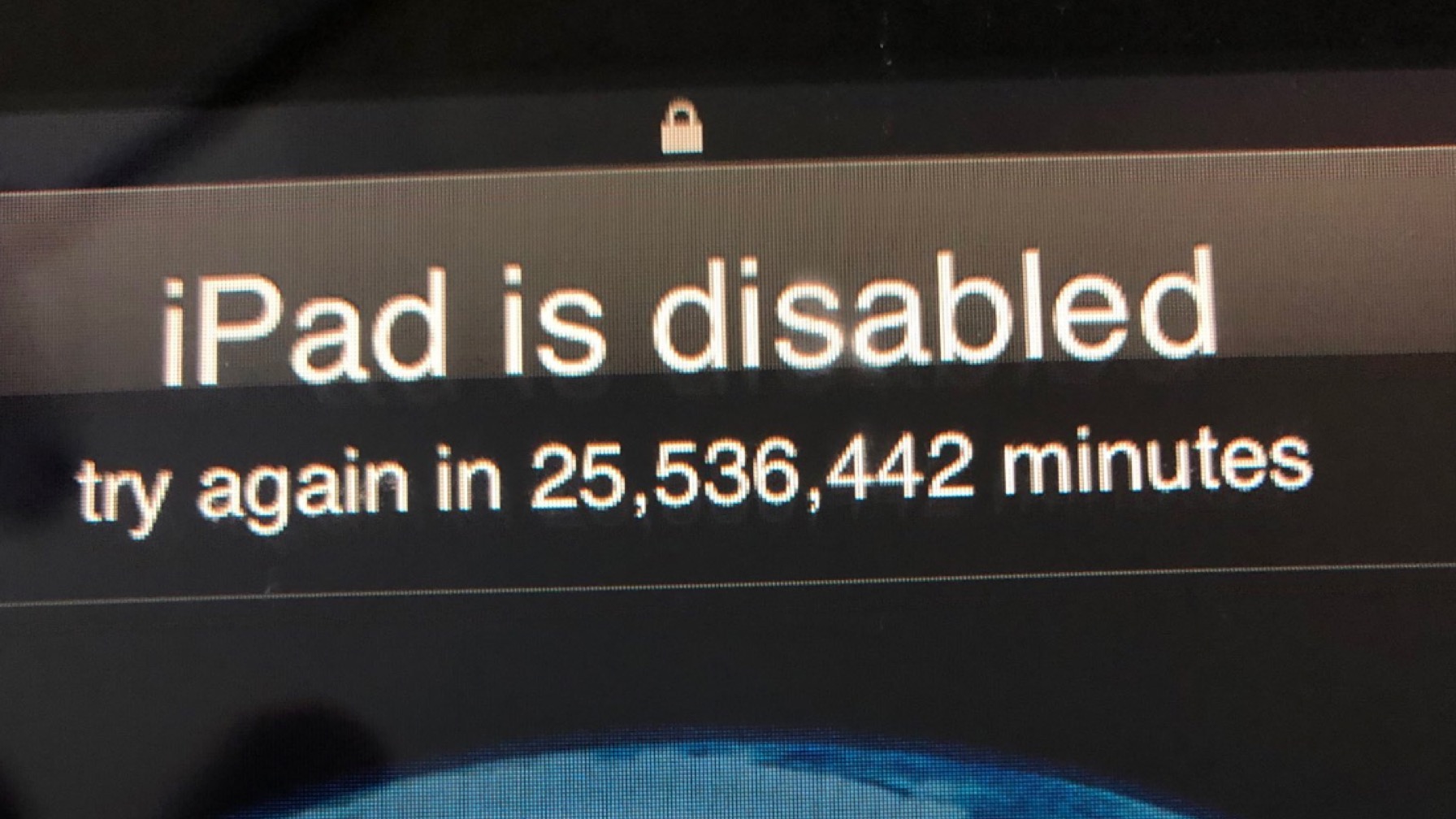 We constantly hear about how kids are getting more and more accustomed to technology at an earlier age, but don't let that fool you into thinking they always know what they're doing.
Evan Osnos, a staff writer at The New Yorker, learned this lesson the hard way when he recently let his 3-year-old son take a spin on his iPad unsupervised.
RELATED: The Best Toddler Tablets Are Packed With Educational Games and Can Survive Anything – Fatherly
He transmitted a cry for help via Twitter along with a gut-wrenching image:
Uh, this looks fake but, alas, it's our iPad today after 3-year-old tried (repeatedly) to unlock. Ideas? pic.twitter.com/5i7ZBxx9rW

— Evan Osnos (@eosnos) April 6, 2019
iPad's have a fancy security feature that locks users out of the device after too many failed password attempts. Each incorrect entry results in a longer wait time.
Of course, they didn't take into account the tenacious fingers of a 3-year-old. Now, Osnos has to wait roughly 48 years to access his tablet.
Some folks did their best to provide useful advice:
The reason its disabled for so many minutes is because the time has been reset to January 1st 1970.
The bug has since been fixed in a later version of IOS (IOS 8 i believe)
If the iPad supports a sim, insert one that will fix the time.
Otherwise you need to itunes recovery wipe

— Hugh Jeffreys (@HughJeffreys) April 10, 2019
The only solution that doesn't involve iTunes is whether this iPad can get back on a network it already knows.

The problem is the battery died and the date is incorrect.

If it has access to a wifi network it's been on before, NTP should fix the clock.

— mikeymikey (@mikeymikey) April 7, 2019
While others simply poked fun at Osnos's technological mishap with some, admittedly, pretty solid jokes:
Reboot your 3 y.o.

— Grady Booch (@Grady_Booch) April 7, 2019
Time travel seems to be your best bet.

— GeorgeFWatson (@Geopilot) April 7, 2019
Put it in a bag of rice

— аⅾаⅿ (@Ad4m____) April 7, 2019
According to Apple, you can restore access to a locked device by connecting to a computer and performing a restore. This will remove the password but will also erase any data stored on the device.
As of Monday, April 8, Osnos was still locked out of the tablet.
"It's down a few hundred minutes from yesterday, but it looks like we've still got 25 million minutes to go," he told New York Daily News. "The consensus seems to be that we're using an old operating system that won't let us restart fresh from iTunes."
Later that day, however, Osnos finally tweeted a positive update:
Update on toddler-iPad-lock-out: Got it into DFU mode (don't hold down the sleep/power button too long or you end up in recovery). Now restoring. Thanks to those who shared advice!

— Evan Osnos (@eosnos) April 9, 2019
Osnos did not share whether or not he would give his toddler the new password but it'll probably be another 48 years until he lets him use the tablet unsupervised again.