Toddler Steals the Spotlight During Governor's Inauguration Speech [WATCH]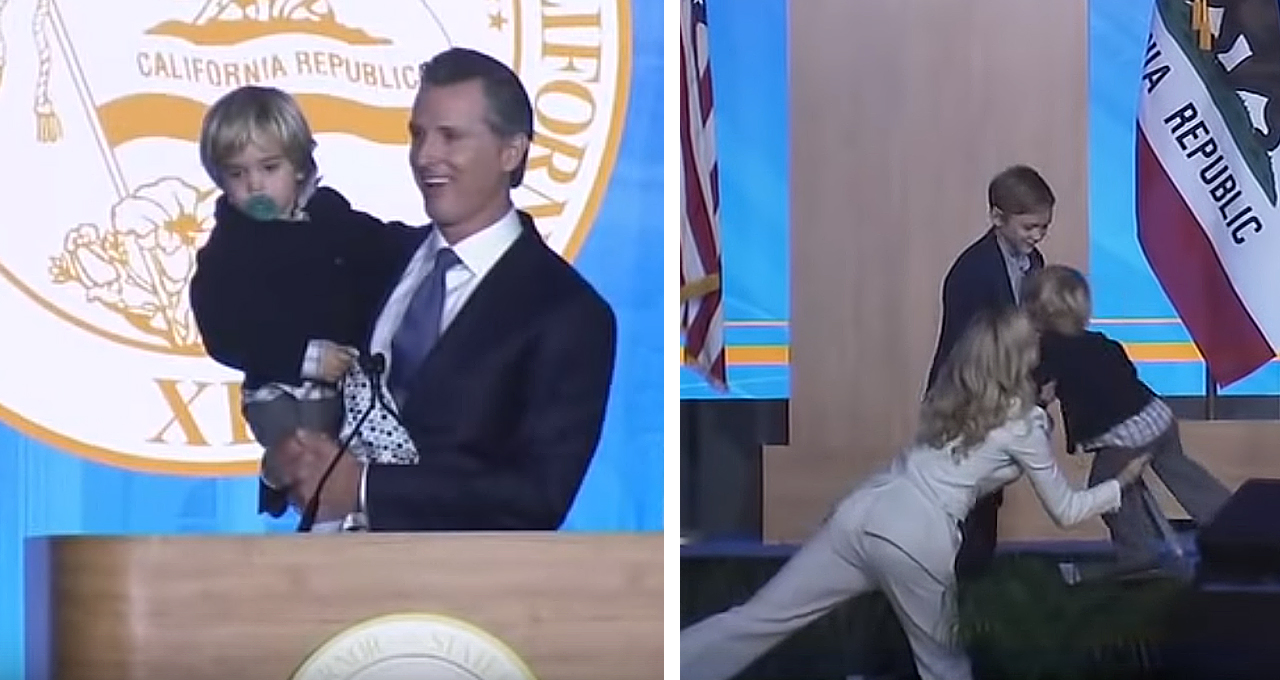 On Monday Gavin Newsom was sworn into office as the 40th governor of California. Later that evening he intended on delivering a serious speech at his inauguration – but his toddler son decided to lighten the mood!
Anyone who has a toddler knows that they are immune to decorum, or rules, or reason. They are creatures of destruction. They can't be bargained with. They can't be reasoned with. They don't feel pity, or remorse, or fear. And they absolutely will not stop, ever, until, well, until they pass out or you put on "Paw Patrol."
The Newsoms got their first taste of toddler mayhem in the arena of public office when their adorable son stormed the stage during his dad's speech.
The 2-year old, named Dutch, climbed up on stage, paying no heed to his dad's important job and complicated speech addressing California's future. No, all Dutch wanted was his daddy. To his credit, Newsom didn't hesitate to scoop the cute little guy up into his arms, along with his blankie and pacifier, during his remarks on upholding California's values, before giving his son a kiss on the cheek.
The governor didn't miss a beat during his speech, even incorporating the mishap into his speech as the crowd laughed.
"This is exactly how it was scripted," the governor joked. "We will support parents… they need support. Trust me… so that they can give their kids the love and support that they need."
Dutch isn't the first child to interrupt his dad at work – my 3-year-old enjoys banging on my keyboard as I write (thank god for spellcheck!) – and not long ago Ian Rapoport was just as cool and collected when his live NFL broadcast was interrupted by his son.
This most recent toddler cameo ends with his mother trying to lure him off the stage with little success is making the rounds on Twitter.
#ICYMI: Dutch Newsom, son of @GavinNewsom and @JenSiebelNewsom steals the show during Dad's gubernatorial inauguration speech in California's capital. https://t.co/tMtTLNnnCm pic.twitter.com/wag3XS9wCC

— NBC Bay Area (@nbcbayarea) January 8, 2019