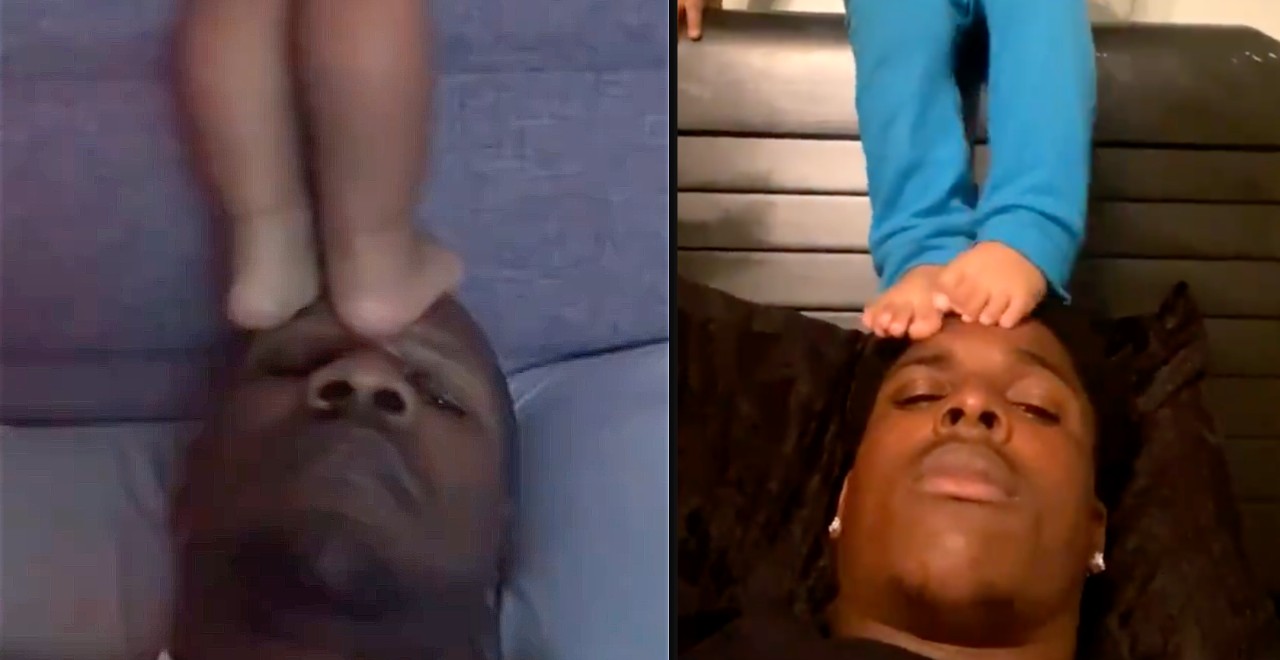 Credit: Twitter/9bills,_BraceYaself
Until you have kids, it's impossible to know how wrong you were about what it's like to actually be a parent. The boundaries you imagined setting for your future kids are laughable, naive dreams of someone who's never had to calm a 2-year-old scream-crying because they aren't a dinosaur. You used to whisper about the toddler having a nuclear meltdown in the middle of an Olive Garden, fully believing that your child would never. It'd be funny now, it would definitely be funny if you weren't so exhausted.
Another fun surprise that comes with parenting is the complete lack of personal space, something you probably anticipated to a degree – but not like this. Twitter user 9bills recently shared a video that captured the adorably stifling phenomenon perfectly, so much so that it led to parents all over the world sharing their own experiences. In the video that's been viewed over 1.2 million times in just two weeks, a clearly exhausted dad lays down with his toddler. And by "lays down with his toddler," we mean dad is laying down, the toddler is standing directly on dad's face. Obviously.
Giggs enjoying fatherhood 🤣🤣 pic.twitter.com/2a4XfErSM2

— 9bills (@9bills) March 31, 2021
Before long, parents were sharing their very own hilarious videos featuring their own kids' complete disregard for personal space.
You know what they say, when you fall off dad's face, just gotta get right back on
So i should just fight this dude is wat you saying? pic.twitter.com/2drhehZqaD

— Marvin Bracy-Williams Jr. (@_BraceYaself) April 2, 2021
It's so easy to laugh when there's no toddler standing on your face
It be our own kids man smh pic.twitter.com/JycBaRz6iw

— Ray B Ⓥ (@raybodestyne) April 1, 2021
Have kids, they said
Then he got upset because I said something 😂 pic.twitter.com/iNw7tAclQR

— TacoManHester🌮 (@1TheezyHeem) April 1, 2021
That balance is honestly impressive
ain't no hood like ParentHood 🤦🏾‍♂️😂 pic.twitter.com/KfWZvrDD5L

— Moe🥷🏾 (@ReWrite_History) April 1, 2021
I'm so tired
Fatherhood is easy they say pic.twitter.com/8CJbCbxPt6

— McLovin (@Proh_zach) April 2, 2021
Fortunately, other parents are always there to reassure you that everything is going to be ok.
Don't worry @officialgiggs you have a lot more to come pic.twitter.com/skxSe2iAUP

— Jamelie_findley (@FindleyJamelie) March 31, 2021