SNL Returns Amid COVID-19 With Tom Hanks Hosting From His Kitchen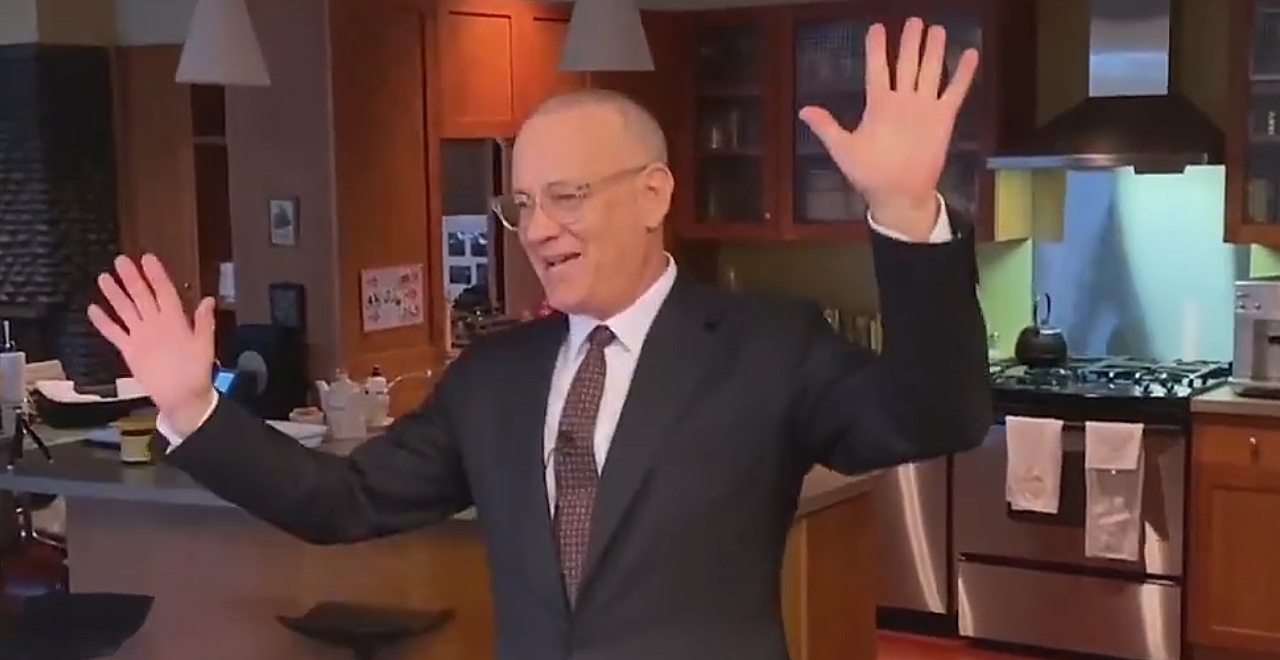 A few days ago, when it was announced that Saturday Night Live was coming back with original material amid the coronavirus quarantine, there was a lot of speculation as to what the show would look like. No one knew if there'd be a host, or a musical guest, or how the large cast could possibly perform under these circumstances.
Someone (*coughMEcough*) even guessed that Tom Hanks might appear, fresh off his own bout with COVID-19. And not only did Hanks appear, but he also hosted the show, delivering a monologue from his kitchen. Chris Martin, from Coldplay, performed as the musical guest and the show featured a remixed intro.
Kate McKinnon kicked off the show with the unique and appropriate "Live from Zoom, it's sometime between March and August," before Hanks appeared.
"It's good to be here, but it's also weird to be here hosting 'Saturday Night Live' from home," Hanks said from the safe confines of his home. "It is a strange time to try and be funny, but trying to be funny is 'SNL's' whole thing, so what the heck, let's give it a shot."
He wore a suit, which he admitted wasn't normal these days, confessing that it's the first time in a month he changed out of sweatpants. He also greeted his fellow Netflix and Chillers with the familiar, 'Hey all you cool cats and kittens!"
The two-time Oscar winner's monologue directly addressed the two elephants in the room, namely the fact that the country is currently consumed with the quarantine…
"This 'Saturday Night Live' is going to be a little different, for one thing, it's been filmed entirely by the 'SNL' cast who are currently quarantined in their homes. … Also, there's no such thing as Saturdays anymore," he said. "And we're not really live, but we're doing everything we can to make this feel like the 'SNL' you know and love."
…and that the celebrated actor himself had acquired the virus while filming a movie in Australia:
"Ever since being diagnosed I have been more like America's dad than ever before since no one wants to be around me very long and I make people uncomfortable," Hanks said.
The show also featured Colin Jost and Michael Che manning their Weekend Update desks in their respective homes, via Zoom, Larry David performing as Bernie Sanders, and a pre-filmed video segment with Pete Davidson spoofing Drake with a music video he filmed in his mom's basement. Chris Martin performed a cover of Bob Dylan's 'Shelter from the Storm."
It wasn't the traditional Saturday Night Live, but it worked, and much like the show's famous return after 9/11, it was a memorable way to try to bring back a little normalcy in decidedly less-than-normal times.