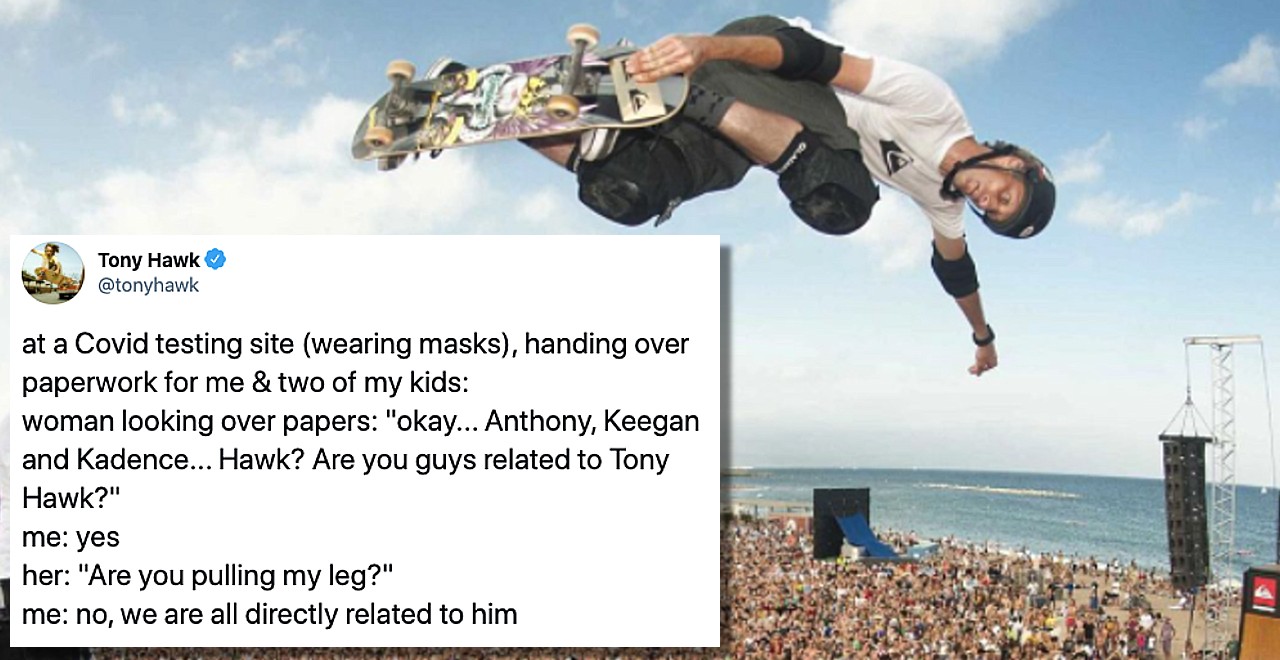 Credit: Instagram/tonyhawk, Twitter/tonyhawk
Depending on how you look at it, Tony Hawk either has a recurring problem or a superpower. The dude is an icon, and he's a household name even for people who have never in their lives touched a skateboard. But despite several decades of fame, the pro-skater is frequently not recognized by people who clearly know who he is, and the stories he shares on social media will never stop being funny.
On New Year's Eve, Hawk shared the latest installment in his life-long series of incredible public encounters. In case you didn't know (or in case you ever run into him), legally, Tony's name is actually Anthony. With such a recognizable last name, people frequently make a half-connection in their brains but fail to make it the rest of the way. Like, for example, the lovely woman who recently encountered the Hawk family at a COVID-19 testing site.
Hawk described the encounter in a tweet, explaining that something clicked when the woman read their last name. After asking the family if they were related to Tony Hawk, the X-Gaming legend had the absolute perfect response.
at a Covid testing site (wearing masks), handing over paperwork for me & two of my kids:
woman looking over papers: "okay… Anthony, Keegan and Kadence… Hawk? Are you guys related to Tony Hawk?"
me: yes
her: "Are you pulling my leg?"
me: no, we are all directly related to him

— Tony Hawk (@tonyhawk) December 31, 2020
This is far from the first time Hawk has experienced this type of interaction, and incredibly, most of these people will only ever find out the truth if they use social media.
There was that one glorious time with a TSA agent
TSA agent (staring intently): I'm trying to figure out who you look like before checking your ID.
Me: ok
TSA: that cyclist Armstrong!
Nearby agent: that ain't Lance Armstrong
Me: he's right
TSA: oh you look like that skateboarder (checks ID). Same last name too! Crazy!
Me: crazy

— Tony Hawk (@tonyhawk) August 21, 2018
Ok, two glorious times
TSA agent (checking my ID): "Hawk, like that skateboarder Tony Hawk!"
Me: exactly
Her: "Cool, I wonder what he's up to these days"
Me: this

— Tony Hawk (@tonyhawk) March 21, 2017
You know what, we'll just give them a whole chapter when this becomes a book
To clarify: my legal name is Anthony

TSA agent checks my ID, looks at me, looks at ID, looks back at me quizzically and loudly says
"Tony Hawk's my favorite skater"
Me: I'll tell him.

— Tony Hawk (@tonyhawk) June 21, 2018
These kids who will never know how lucky they were
Kid at skatepark (as I arrive): "you a good skater?
me: sometimes
him: you ever been here?
me: no
him: you travel a lot?
me: yes, perhaps too much
him: are you a YouTuber?
me: no, I'm just a skater and a dad
him: wanna see me do a jump?
me: absolutely
..and I then shot this pic pic.twitter.com/IBODPauEe2

— Tony Hawk (@tonyhawk) October 30, 2019
And on that same day, those kids became legends
Follow up: I asked him his name and he said Irving. I told him my name is Tony, to which he replied sarcastically "like Tony Hawk haha"
and then he left.

— Tony Hawk (@tonyhawk) October 31, 2019
This was a great day for everyone
Dude at gas station in Iowa: "Anyone ever tell you that you look like a young Tony Hawk?" He is my new favorite person.

— Tony Hawk (@tonyhawk) August 17, 2014
This guy gets a 90%
Guy at grocery store:
"you ever get mistaken for Tony Hawk… or are you Tony Hawk?
Me: both!

— Tony Hawk (@tonyhawk) July 14, 2018
Fortunately, Tony Hawk himself loves it as much as we do.
To all the people who now approach me (especially at airports) to say "hey, you look like Tony Hawk" and then laugh: I got you… and thank you for your service.

— Tony Hawk (@tonyhawk) August 15, 2019