Tweet Roundup: 11 of the Funniest Tweets About Internet Life for #InternetDay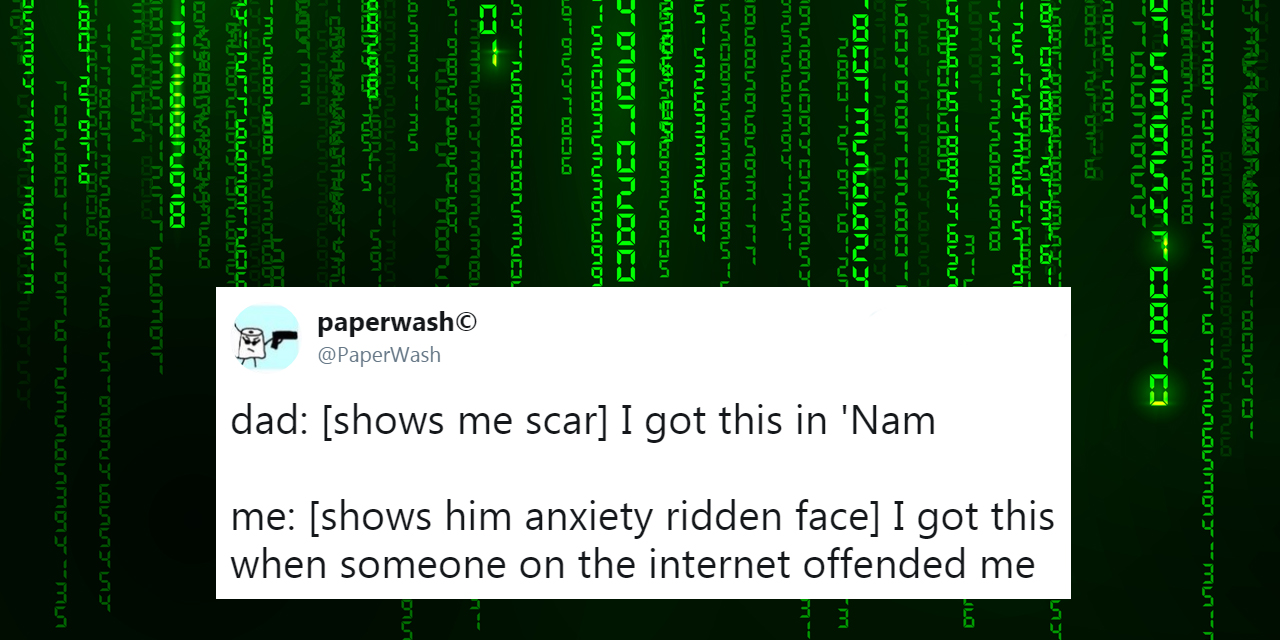 Did you know October 29th is Internet Day? It's true! Use the internet to Google it!
Sure, most people just use the world wide web to look at cat memes, complain in comment sections, or pretend to be someone they're not, but that's the beauty of it — it's the digital Wild West! There's no way to know what you're going to find when you open that browser, which only makes the experience more addictive and exciting.
Here's 11 hilarious tweets to celebrate #InternetDay and sum up the high highs and very low lows of being bound to the internet.
Linda! The computer says it's my lucky day again!
my dad: nothing u do on the internet is safe & it can all be hacked

also my dad: imma click on this email attachment named "the big prize"

— Bob Vulfov (@bobvulfov) March 14, 2017
There's always someone who will relate to you online.
I didn't have internet for a few hours so I had to yell I WISH MIKE FROM BETTER CALL SAUL WAS MY DAD at families in the park

— Deirdre (@figgled) September 25, 2018
Hack the mainframe. Take that punk down.
My son put a Minecraft server called "my dad sucks" on the Internet and the police won't arrest him for it

— Pumpkin Spiceotope (@BuckyIsotope) March 8, 2016
No one is more of a creature of habit than a dad.
Me (to child): The internet can be a wonderful place. You literally have access to all the information in the world.

Also Me: *only looks at the same 7 websites over and over and over*

— ???????????? Tim ???????????? (@Playing_Dad) July 27, 2018
Where's that dang flux capacitor?
The easiest way to get an unflattering picture of yourself off the Internet is to go back in time and prevent your parents from meeting.

— Bryan Donaldson (@TheNardvark) October 23, 2014
I'm not crying, my eyeliner is just running into my eyes.
Life comes at you fast. One minute you're a rebellious teen and the next you're a goth dad arguing about anime in online forums

— Boo! or whatever idk (@SortaBad) March 28, 2017
Time to go get yelled at by strangers again.
dad: [shows me scar] I got this in 'Nam

me: [shows him anxiety ridden face] I got this when someone on the internet offended me

— paperwash© (@PaperWash) July 24, 2016
PSA:
I am what happens when your parents don't check your internet history growing up.

— Dani Fernandez (@msdanifernandez) January 23, 2013
Half Windsor? Listen, you either go Full Windsor or you don't Windsor at all.
Whenever my Dad complains about young people being on the internet I like to remind him that Google taught me how to properly tie a tie

— halljoeween (@sad_tree) April 30, 2015
They just contact him via email now.
Kids on the internet these days don't know the struggle of having to play cassette tapes backwards to hear the devil

— Dumb Beezie (@dumbbeezie) January 8, 2018
I wonder why I'm not tired? Oh, that's right. Rage.
Every night before bed my wife reads a book and I scroll the internet, so she gets even smarter while I get quietly furious.

— Josh Gondelman (@joshgondelman) July 25, 2018