Twitter Remembers the Most Embarrassing Things Their Parents Did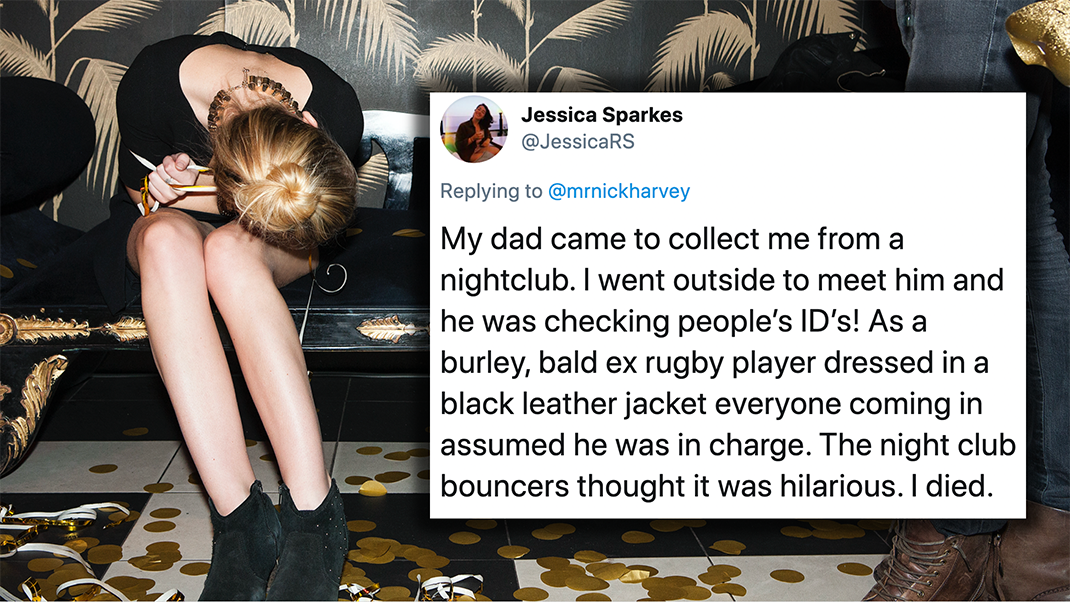 Parents are embarrassing. It's a fact of nature.
As you get older, you become more and more secure in who you are and simply stop worrying about some of those silly social norms that used to mean so much. And yes, sometimes this results in the absolute mortification of one's kids.
Many will even remember these moments for the rest of their lives, which is exactly what Nick Harvey hoped when he posed the question, "What is the most embarrassing thing your parents have ever done in front of you?"
He shared his own to get the conversation rolling:
What is the most embarrassing thing your parents have ever done in front of you?

Mine is probably when, half way through a punk gig, my mum, having heard that I was there, turned up at the rough local pub and dragged me home.

I was sixteen.

I was also the band's lead singer.

— Nick Harvey (@mrnickharvey) November 8, 2019
Nick's mom strolled down to a bar and dragged him and his hardcore, punk rock persona right out of there in the middle of a show.
While definitely humiliating, others had stories that were even worse, or at least, equally bad. Admittedly, most of them involve fathers.
A cycling holiday with my parents in the 80s, my dad wearing a pair of far too short shorts and when getting off his bike flashed his testicles at the entire cafe. Remember my mum shouting 'Peter! Your balls!'

— Happy Project Ldn (@HappyProjectLDN) November 10, 2019
We had to be interviewed by the scary headmistress of my school before I could be accepted as a pupil. Dad had a bad back & mum had just had a minor operation. So he spent the interview lying on the office floor while my mum could only stand up. Weirdest 45 minutes of my life

— Boo (@BermondseyBoo) November 9, 2019
It was the 70s and my dad (working class lad made good) rocked up at at a very posh restaurant. Was told jeans weren't allowed so he took them off. There. In front of the maitre d' & guests 😵

— Sue Veneer🕸 (@sueveneer) November 10, 2019
My dad came to collect me from a nightclub. I went outside to meet him and he was checking people's ID's! As a burley, bald ex rugby player dressed in a black leather jacket everyone coming in assumed he was in charge. The night club bouncers thought it was hilarious. I died.

— Jessica Sparkes (@JessicaRS) November 10, 2019
Grandparent story…hope it's allowed. My grandad loudly farted on every single step in a department store. When he got to the bottom, he looked at the horrified shoppers and reassured them that there was no structural damage.

— Nic ⚫️ (@TheNoisyTable) November 8, 2019
Similar to your story except I was 15 and in a club. My grandad decided to come and get me😫. Even worse, he got the DJ to call out my name and say 'your grandads here to pick you up'.

— Dollyday (@welovepampering) November 8, 2019
I once told Mother that my friends and I would keep our money in our teenage girly bras so we didn't need a handbag. She said she couldn't do that as she didn't wear one – and proved it by lifting her top up in the high street and singing "WOOOO" loudly.

— Mitten d'Amour (@MittenDAmour) November 8, 2019
We had to go to a pre-viewing of my 10 year old sister's sex education class so all the parents could approve it. We were a bit late and he burst in declaring to the room "sorry, typical bloke, missed the foreplay"

— Sam Whyte (@SamWhyte) November 9, 2019
My Mum turned up drunk at my 18th birthday in a club and punched my boyfriend in the face for talking to another girl. The girl was his cousin. I was almost dumped on my 18th birthday.

— Life Didn't Begin At 40 (@did_40) November 8, 2019
When we were teenagers with mates over later at night, dad was famous for storming downstairs in the nude, shouting at everyone "DON'T YOU THINK IT'S TIME YOU WENT HOME", realising he was naked, styling it out, slamming the door and stomping back upstairs. Happened more than once

— Legs (@L3GSV) November 8, 2019
When I was 11 I left the house and made it to the school bus without my coat, despite it being below freezing, once the bus was moving I claimed victory, until my father overtook us, did a handbrake turn in the road to make it stop then boarded the bus to hand me my coat.

— Marcus Mitchell 🎸 (@MarcusjMitchell) November 9, 2019
Some stories initially framed themselves as being embarrassing, but actually turned out to be remarkably sweet.
..from the toilets I heard a huge roar as he started playing Beatles songs brilliantly. The whole pub was swaying and singing as my old man blew the roof off. It was the most embarrassing moment followed quickly by my proudest. You were the best Dad, I miss you 🙌

— Chris Jennings (@chrisfishdish) November 9, 2019
That's rough. At 16 my brother was lead guitarist in a punk band. I once saw my mum, a classically-trained musician, standing at the back of one of his gigs in her smartest clothes, quietly beaming with pride. Love my mum.

— Jason Davies (@JasonPtrDavies) November 8, 2019
Do you have a particularly humiliating story from your childhood involving your parents? Have you already gifted your own kids with one?