Twitter Users Search For Dad in Notre Dame Photo and Share Pre-Fire Photos and Videos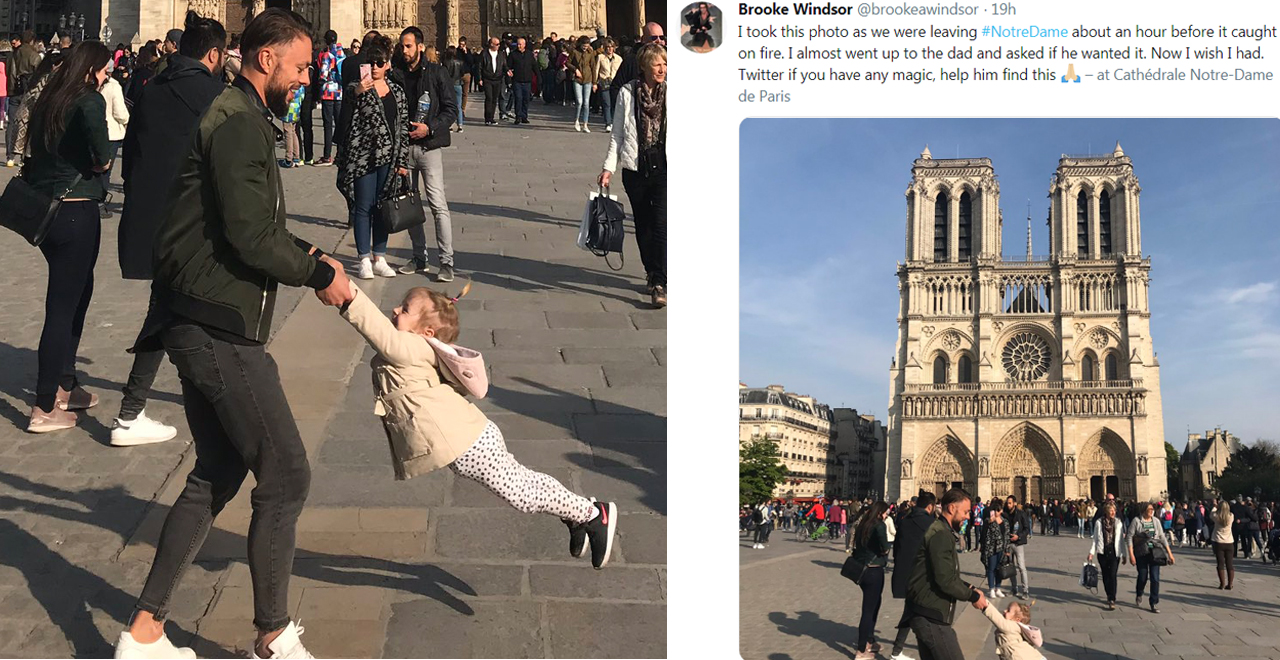 Just before the tragic events unfolded yesterday in Paris, Brooke Windsor shot a photo of what appears to be a father swinging his young daughter in the air with the famed Notre Dame Cathedral set in the background.
An hour later, the iconic structure was engulfed in flames and that moment she so casually captured would be one the last shots of the peaceful landmark before chaos erupted.
I took this photo as we were leaving #NotreDame about an hour before it caught on fire. I almost went up to the dad and asked if he wanted it. Now I wish I had. Twitter if you have any magic, help him find this ???????? pic.twitter.com/pEu33ubqCK

— Brooke Windsor (@brookeawindsor) April 16, 2019
"I almost went up to the dad and asked if he wanted it. Now I wish I had," she posted on Monday.
Wanting to find a little light on an otherwise very dark day, Windsor shared the photo and asked social media to help her identify the man in the shot.
"Twitter if you have any magic, help him find this"
The post has now been shared over 143,000 times and has just under 300,000 likes.
Windsor went on to add she isn't positive the man in the photo was the girl's father:
"I do not know for sure if it was a dad and daughter, it's simply the dynamic I observed from them while debating on interrupting this moment. It may be an uncle, brother, friend, who knows until we find them. -It was taken at 5:57 local time"
Armchair detectives jumped in with little actual information but plenty of observations nonetheless:
Did anybody notice that the dad had a doppleganger with little bit more beard ???????? pic.twitter.com/ySTc7dj52t

— Ta rocks (@ta_rocks) April 16, 2019
More prevalent however were the comments of support and memories of people's own experiences visiting Notre Dame.
This photo captures connections between generations, between eras. It is so beautiful, so poignant. #NotreDame

— Omar Pemberton (@omapemby73) April 16, 2019
This was just a few days ago. So privelaged to have been able to experience this amazing place. ???? pic.twitter.com/EDHVMj95eA

— janine kane (@KeysJaninepkane) April 16, 2019
My last photos of our beautiful Notre Dame ???? mon cœur est brisé pic.twitter.com/r0xAEDBRXg

— X claire X (@ladybaguettee) April 16, 2019
News stations also chimed in saying they would share the story with their viewers, so it's likely only a matter of time before the mystery is solved.
When tragedy strikes, small acts like these can be a reminder that every moment should be treasured and that despite its often negative reputation, social media can actually be a pretty powerful tool for good as well.