Girl Adrift at Sea in Giant Inflatable Unicorn Is Rescued by Hero Ferry Workers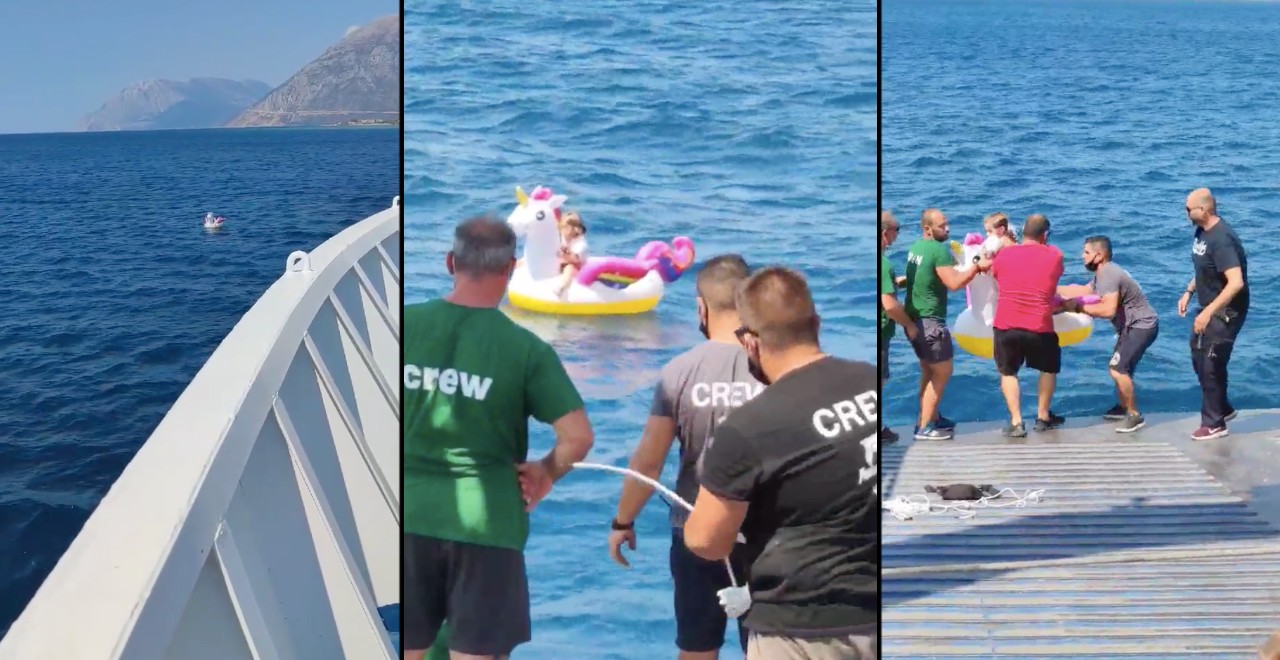 A trip to the beach is the perfect time to sit back, relax, and soak up the beauty of nature. That is unless your giant inflatable unicorn has other plans. A young girl believed to be between 4-5 years old was visiting the Greek coast with her family on Sunday when the ordinary trip took a terrifying turn. While floating in her inflatable unicorn, the youngster was swept out to sea.
With nothing but her trusty inflatable steed and a pair of water wings, the young girl floated for half a mile into the ocean near the town of Antirio in the Gulf of Corinth. Upon realizing their daughter had quietly drifted away, her parents were understandably panicked. Fortunately, they were able to get in contact with a local ferry, frantically explaining their terrifying situation.
These heroic ferry workers, led by their captain, searched for the little girl and quickly spotted her floating peacefully in her inflatable unicorn (which, fortunately, was enormous and brightly-colored – the perfect toddler "SOS"). The incredible rescue was caught on film. Knowing what's coming, we hold our breath as the video opens with only the open ocean in sight.
Viewers don't have to wait long to breathe a sigh of relief – a spot comes into view in the distance, and as the ferry drifts closer, we see the unmistakable outline of a unicorn. Seemingly unbothered by the rocking of the ocean, the little girl sits and waits as the ferry staff prepares to pull the girl to safety. Several members of the ferry's staff stand or kneel along the edge of the boat, waiting for the young girl to be within reach. Finally, after what seemed like hours but in reality, was only about a minute, three men pull the girl to safety, unicorn and all.
Captain Grigoris Karnesis told Skai TV, "The child was flabbergasted. She was terrified, and that is why she had grabbed so firmly onto her inflatable swing ring."
Karnesis refuses to take credit for his heroic deed, stating "I'm obligated to do it, not because of the nature of my work, but as a person. There is no need for someone to thank me," he said modestly. "I did something that any one of us would do."
Well, we're going to do it anyway. Thank you Captain Karnesis, and thank you to your incredible staff. Whether you accept the title or not, you're truly the heroes we need.