Universal Studios' Bare-Assed Glitter Farting Troll Is Not Embarrassed [WATCH]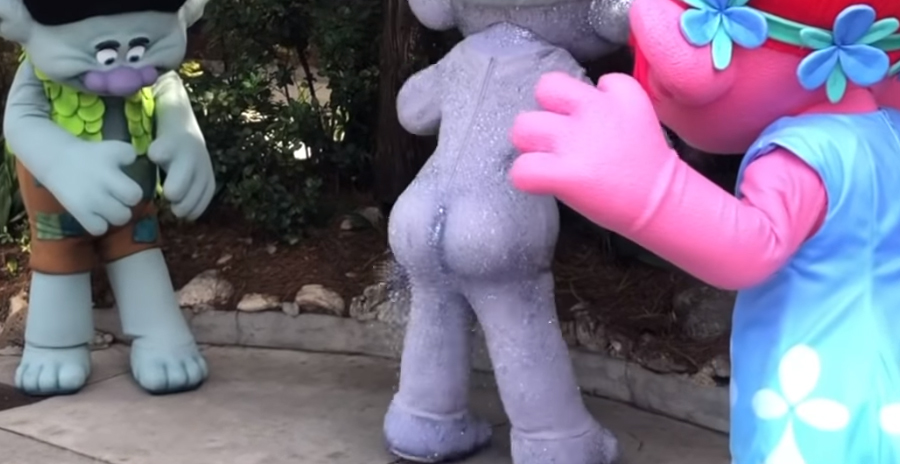 Universal Studios Orlando is known, like many theme parks, for its army of costumed characters roaming the premises ready to high-five, finger gun, or snap a photo with any number of giddy guests.
The newest character to join the group, however, adds a unique move to that typical skill set.
Guy Diamond, a troll from the aptly named "Trolls" animated film, walks bare-assed around the park to not only fart but spray glitter on unsuspecting guests when he lets it rip.
Guy "indecent exposure" Diamond joins fully-clothed trolls Branch and Poppy, who have been staples at the park since soon after the film's release.
The trio performs dance routines around the KidZone in Universal Studios Florida, each of which concludes with a shimmery shart conveniently at what appears to be face-level for a small child.
As you might suspect, the internet has opinions about shiny craft supplies being expelled from a giant troll's oddly sculpted patoot.
Thank you @UniversalORL for squashing what was a growing desire to visit your parks again. I love your Harry Potter spaces, but there is no way you're getting a dime of my family's hard-earned money if you think a naked glitter-farting-Troll roaming about is acceptable.

— Karen Whyte (@KarenWhyte) February 3, 2019
I vote for @UniversalORL glitter farting troll for the halftime show next year #SuperBowl #HalftimeShow

— Jake C. (@JakeCoonfare) February 4, 2019
Imagine getting a BFA in musical theatre to fart glitter https://t.co/mMAQABDs0A

— em (@emily_muench) February 3, 2019
I hate the troll that farts glitter but I appreciate Universal for making me feel something again

— ???????????? ???????????????????????????????????????? (@disneyjail) February 3, 2019
In a @UniversalORL board room somewhere 4ish months ago.

"Okay, time to get to business on the farting troll."

Today : pic.twitter.com/IcKqHzSgBV

— Kelley jo (@kelleyjo_) February 4, 2019