UPS Driver Does Best to Hide Box for Mom, Fails Hilariously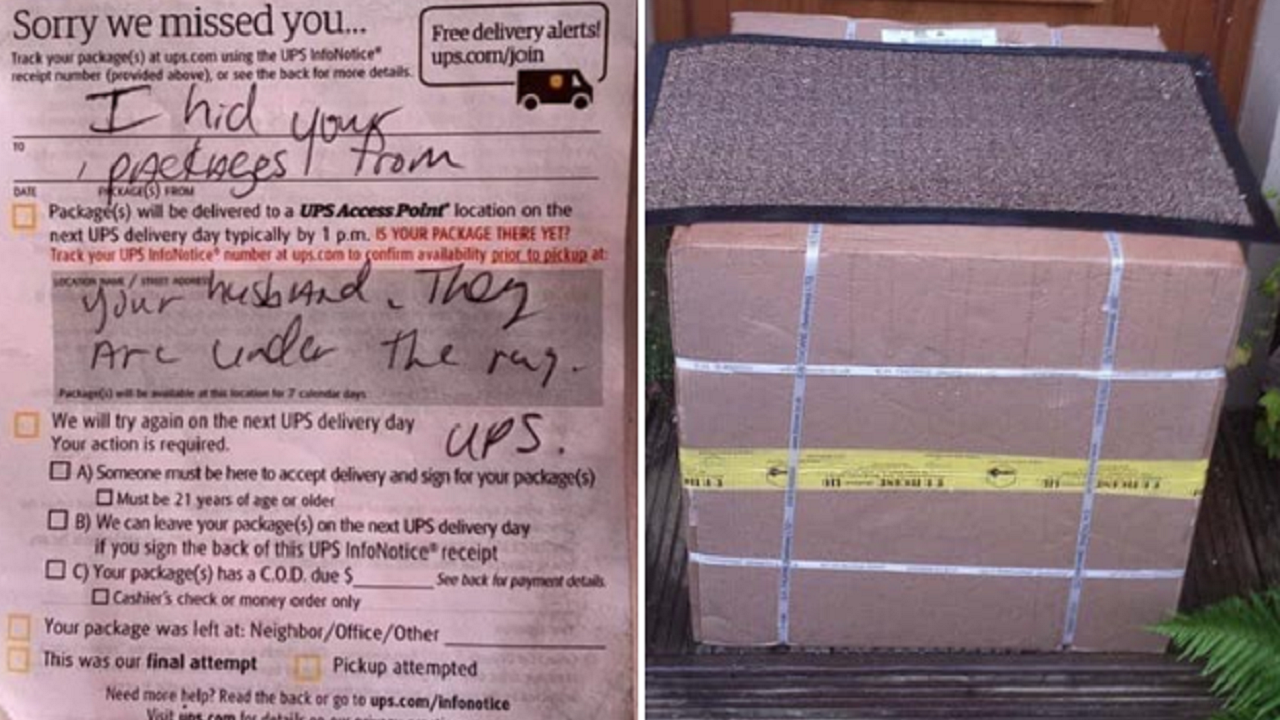 The convenience that today's technology offers us is unparalleled, and in many ways, life-changing.
But there's a flip-side to that coin. Sometimes the ease with which we can order and receive things can lead to pitfalls, like spending way too much money on Amazon and needing to hide all your purchases from your husband. (If he gets you an Amazon box cake, you might have a problem)
Alexis Thomas was trying to keep her purchases covert but didn't get much help from her UPS driver. The military mom of four has been ordering an awful lot of items from Amazon lately, and she was a little self-conscious about it – and worried her husband wouldn't be a huge fan either. So she asked the delivery person to help her out.
Her husband recently got back from being stationed overseas, and before they relocate to Japan for his next round, they've been staying at her mother-in-law's, in a rural area of the States. Alexis told CafeMom that when she went a little overboard on Amazon Prime Day, her husband noticed all the packages that were arriving. So she asked for a favor, writing a little added instruction into her order notes requesting that the delivery person hide the packages for her, rather than leave them sitting at the front door for the world to see.
The driver obliged. Sort of.
It was a mini-fridge, which obviously isn't so mini.
"Oh my gosh, I had forgotten that I even ordered the damn thing!" Alexis said. "When I got an email with proof of delivery, I was like 'Oh OK.' So I walk out to the front door and was so dumbfounded at first. Then I saw the note and I was uncontrollably laughing."
Clearly there was no easy way to hide such a large box. But the driver did his best, and even left a cheeky little note for Alexis: "I hid your packages from your husband. They are under the rug. UPS."
The mom of four got a big kick out of it too, and posted the photo to Facebook with the caption "UPS this is not what I meant lol". Her post received 12,000 likes and 52,000 shares.
It's probably safe to that her husband found out! But that's okay.
"My husband just got back from a yearlong tour overseas, and I gave birth in December to a VERY colicky baby, so my online shopping was so crazy."
Sounds like Mom deserves a break. And the laugh UPS gave her.