Busy Delivery Driver's Son Only Wants One Thing for Christmas, Time With His Dad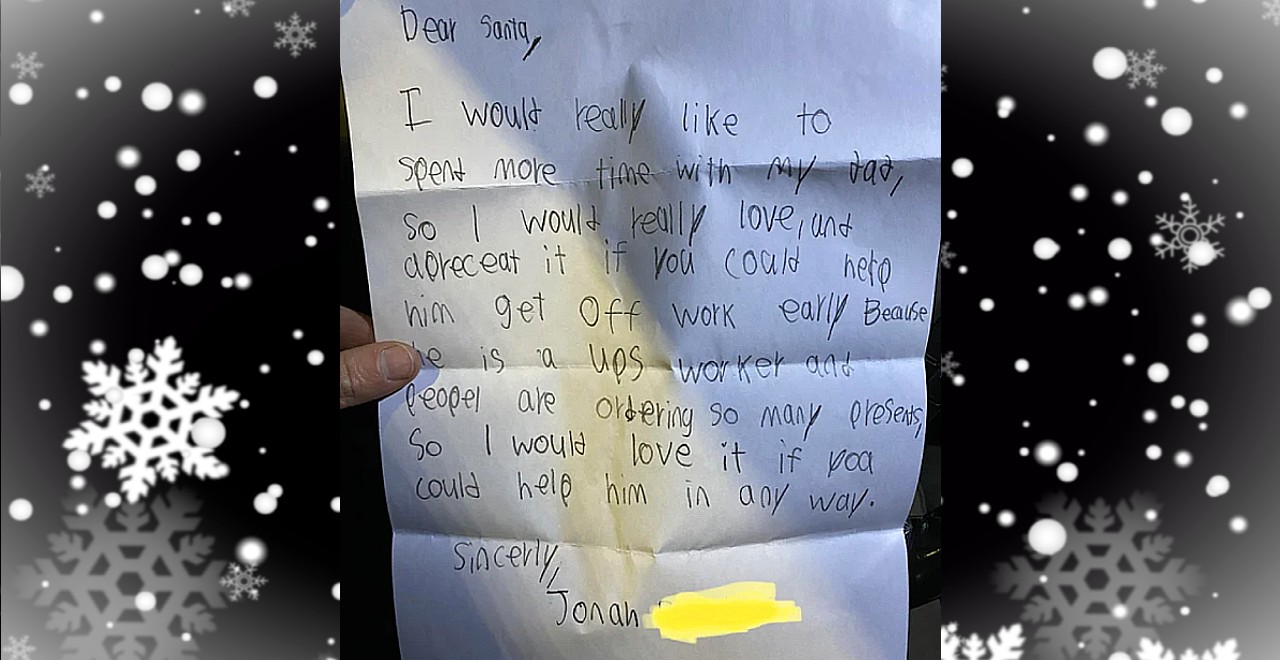 Writing a letter to Santa is a delicate process. First, evaluate how good you've been this year – that'll help determine what sort of compensation you're entitled to. Then, strategize. What route do you take, a practical gift or one that's strictly fun? Do you over-ask or under-ask? There's a lot to consider, most of the time – but not for 9-year-old Jonah. For nearly nine months, he's known exactly what he wants for Christmas. Last week, Jonah decided to shoot his shot and drafted a heartfelt letter to Santa.
The letter landed in the right hands, but they weren't Santa's. Let's be honest, most parents use their kids' letters to Santa as a sort of wish list, trying to deliver on as many requests as possible (assuming their requests are within reason). When Scott opened his 9-year-old son's letter to Santa, his son's Christmas wish hit him like a ton of bricks.
Scott shared the heartbreaking letter on Reddit with the caption "I'm a UPS driver and I cried when I opened up our son's letter to Santa." The post quickly went viral, gaining over 120,000 upvotes.
Jonah's note read, "Dear Santa, I would really like to spend more time with my dad. So I would really love and appreciate it if you could help him get off work early because he is a UPS worker and people are ordering so many presents so I would love it if you could help him in any way," he concluded. "Sincerely, Jonah."
"All of the time I've missed with my family hit me all at once and I just kinda lost it for minute and cried," Scott told The Dad. "I've always just kinda assumed my kids understood and were ok with my work hours. This was really the first time I've seen any fallout from my working all the time. It was eye opening to say the least."
Like many delivery drivers, Scott's work has picked up tremendously during the era of COVID. The father of three has been working peak hours since late March, meaning that he hasn't been home nearly as much as he'd like for almost a full year.
"My wife is amazing and we couldn't do life without her," Scott explained. "She's a stay at home mom and does a fantastic job."
Though Scott's wife takes care of things at home while he's out working long hours, Jonah's letter made him realize just how much his kids missed him during the day. The holiday season is always busy, but combined with the increased COVID workload, this year has been barely manageable.
Delivery drivers' jobs are difficult, but there are some things we can do to help. "Treats are always nice," Scott says. "Meeting us at the truck saves us time, numbers on houses/boxes are always appreciated, and if your dog is even slightly aggressive, please put it up."
Scott and his hard-working coworkers will continue to make sure we all get our holiday gifts as quickly as possible. As for Jonah, well, his holiday gift came early.
"I took him to the local Entertainment Park which is sort of like a Dave and Busters," said Scott. "We spent a few hours there, went and got food and just hung out. We had a blast."